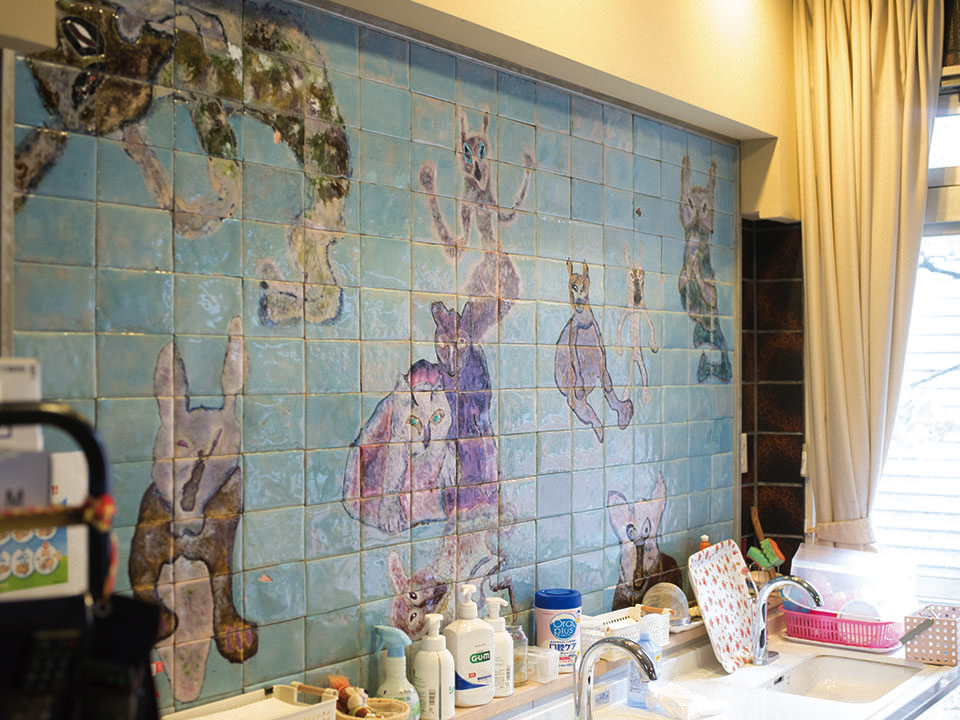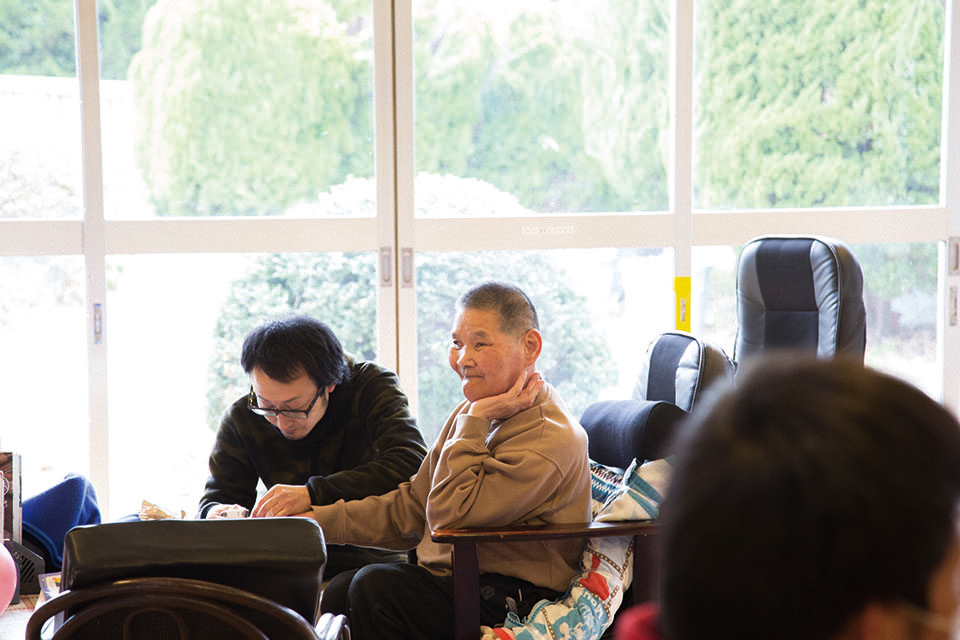 Art Teaches Us that Everyone is Different
We visited Mizunoki, a nursing home for people with disabilities. It is located among vast stretches of rice fields in Kameoka, 20 minutes from Kyoto Station on the JR Sagano Line. A few paintings are displayed on the wall of the entrance. Beguiled by their high artistic quality, we went further inside. Paintings also hang at certain intervals along the walls of staircase corridors and dining hall.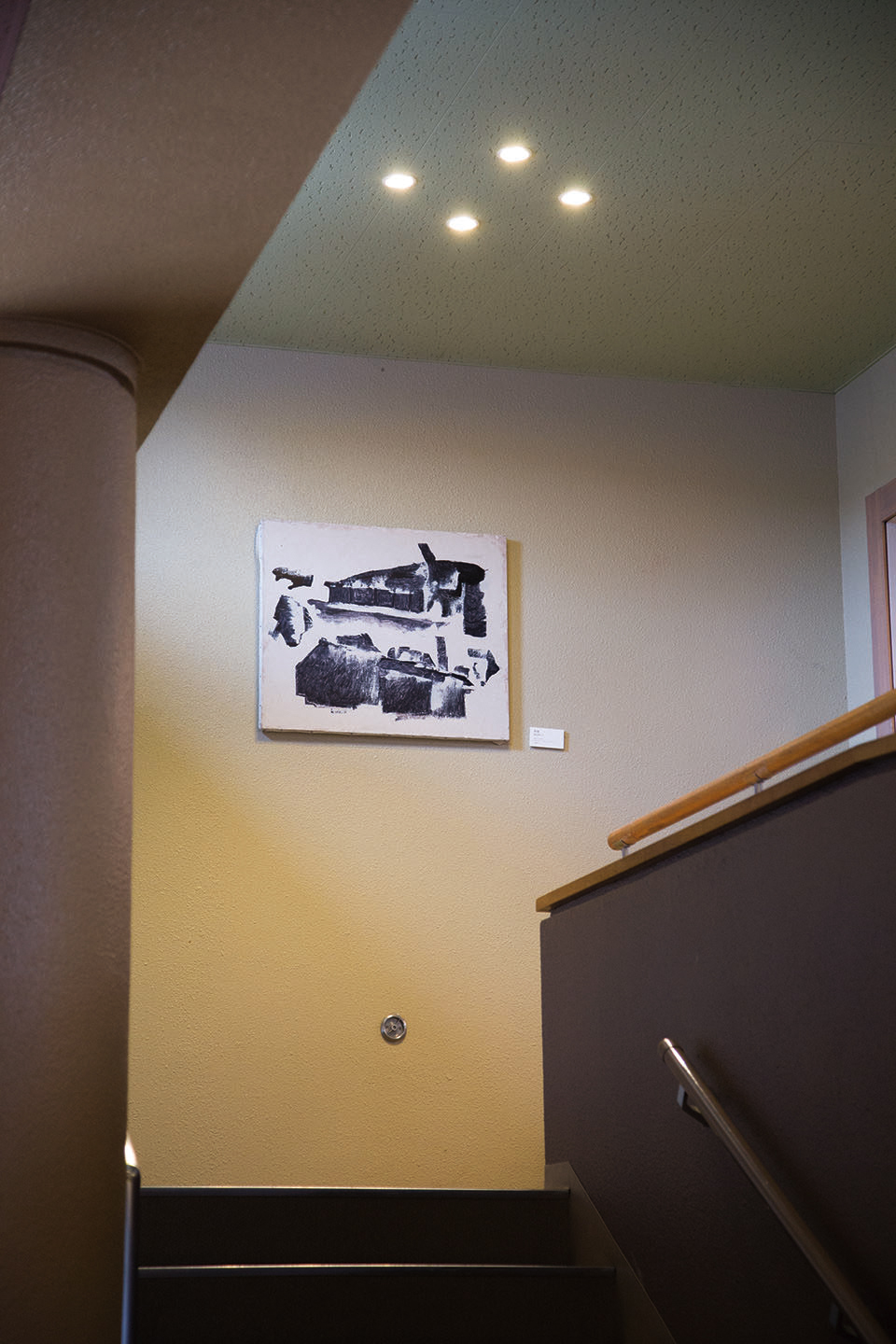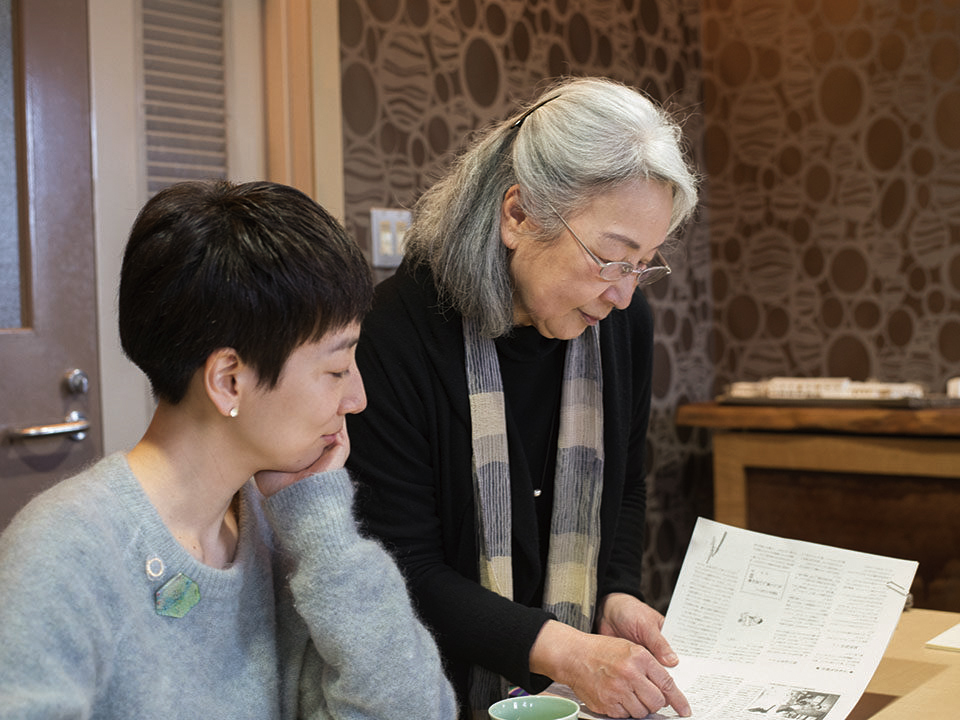 ---
All the paintings were created by Mizunoki residents. Stopping for a while to look closely at the paintings, we realized that the day-to-day life of the residents and care staff exist right alongside works of art. Here at Mizunoki, the exciting experience of encountering paintings and the various incidents that happen every day are all interconnected.
NUMAZU Masako says: "I try to think about the time our residents spend in this facility from an artistic point of view. Art is not just about methods like painting, but also about perspective and ways of thinking. Art encourages us to understand and accept that everyone is different."
Mizunoki's approach is rooted in the painting classes, which started in 1964 as part of the facility's recreational activities. DEGUCHI Kohei, the founder of Mizunoki, set aside time for painting in order to advance the home's mission of building an environment where people with severe disabilities can lead enriched lives. NISHIGAKI Chuichi, a nihonga (Japanese-style painting) artist, taught the original classes. Using the former henhouse as classroom, the lessons encouraged residents to draw freely on paper with pastel crayons.
"After 15 years of running the course, Mr. Nishigaki noticed the high artistic quality latent in some of the residents," explains Numazu. "Forming a select group, he decided to start a full training program with the objective of educating them to become painters. Nishigaki seriously engaged with the question of what makes a work of art 'good' or 'bad,' and judged their output on its own merits, regardless of the painters' disabilities."
Assuming the position of facility director right before Nishigaki died, Numazu did not personally experience the inception of the painting class. However, moved by how residents had continued to paint under Nishigaki's guidance as well as their paintings that are the fruits of their labors, even today Numazu keeps on inquiring into the essence of what Nishigaki tried to convey in his teaching.
"It was important for Mr. Nishigaki to understand the inner self of individual residents. He wanted to cultivate their basic abilities through painting so that they could take these with them and live in society. He didn't merely cram them with techniques. I think his concrete teaching methods alone cannot possibly explain the level of success the painting class achieved. First and foremost, it was the personal interactions between Mr. Nishigaki and his students that undeniably contributed to the success of the classes."
Today the members of the original painting class are elderly while others have already passed away. The class itself no longer exists, yet, as Numazu explained, some residents wish to continue painting as they feel at home doing it. About 10 people, including young people who go to a daycare facility in the area as well as the older members of the painting class, continue painting in a studio under the gaze of the artist MORI Taizo. Time is also set aside for painting every Saturday morning, when residents can paint in a relaxed atmosphere under the guidance of a special education teacher who is also an artist.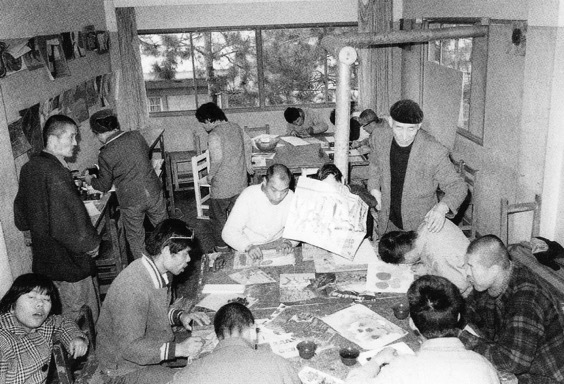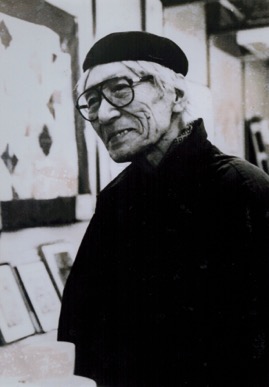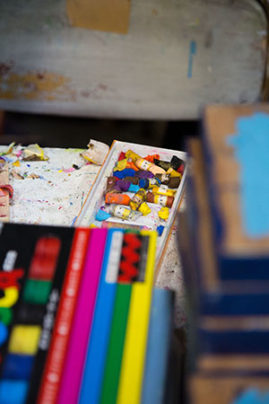 ---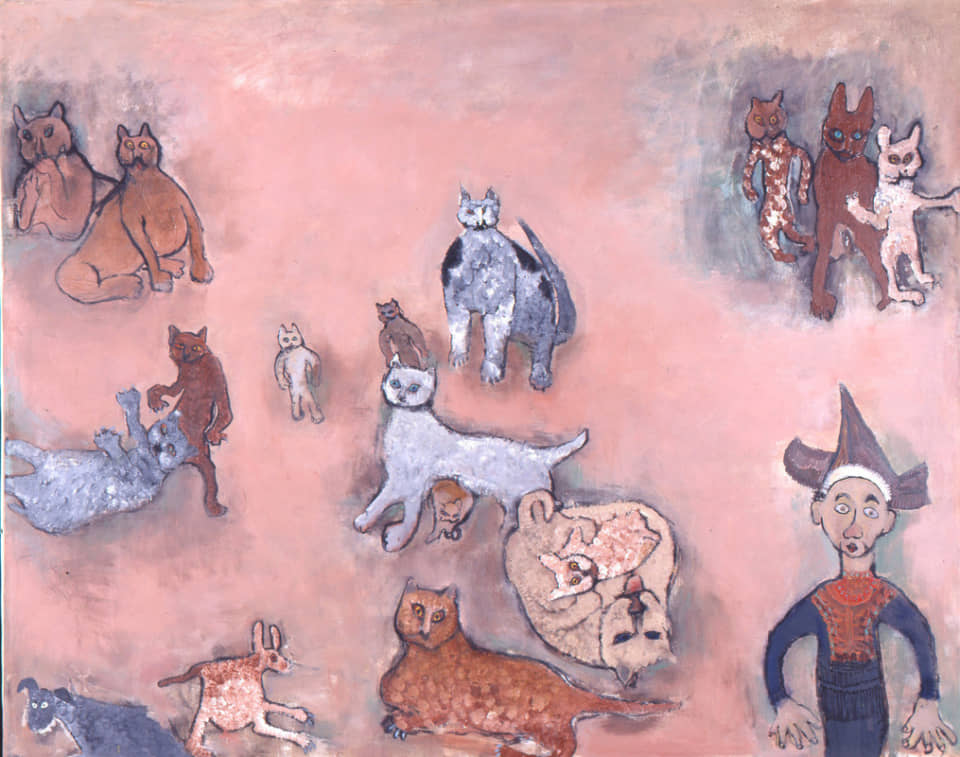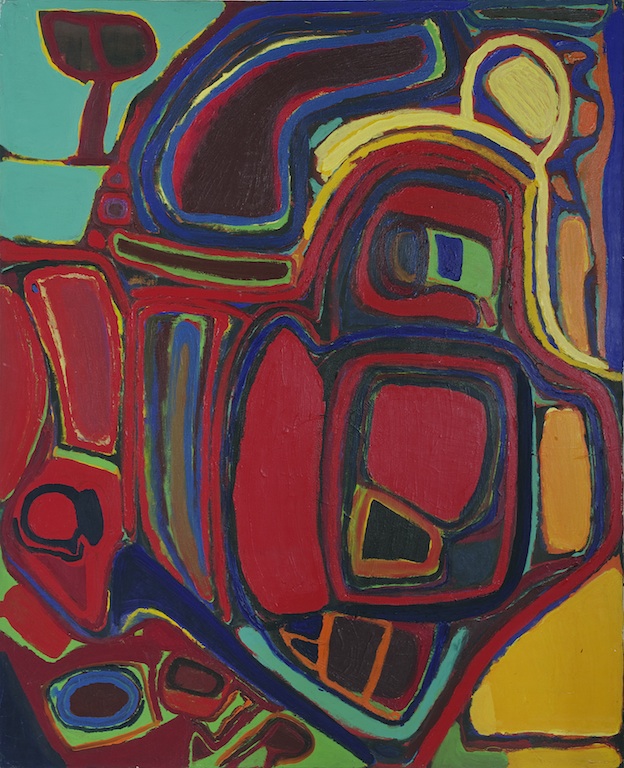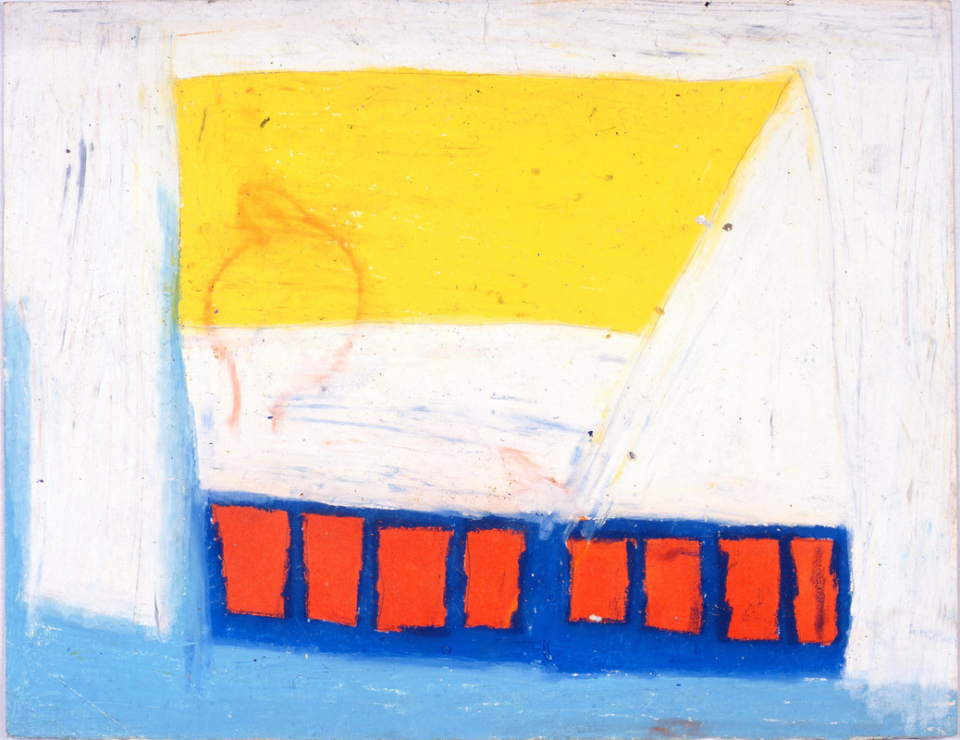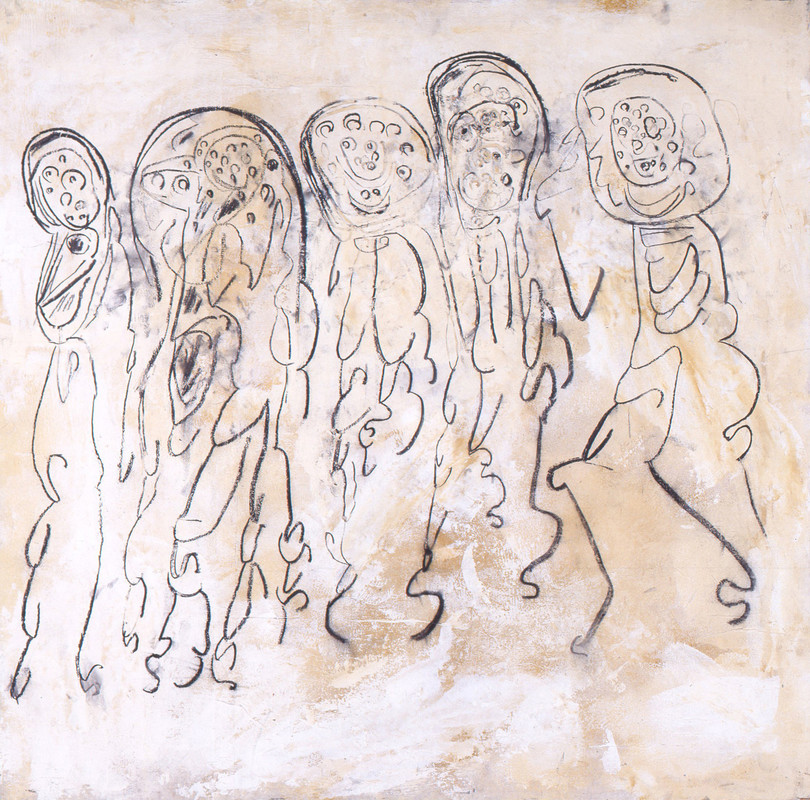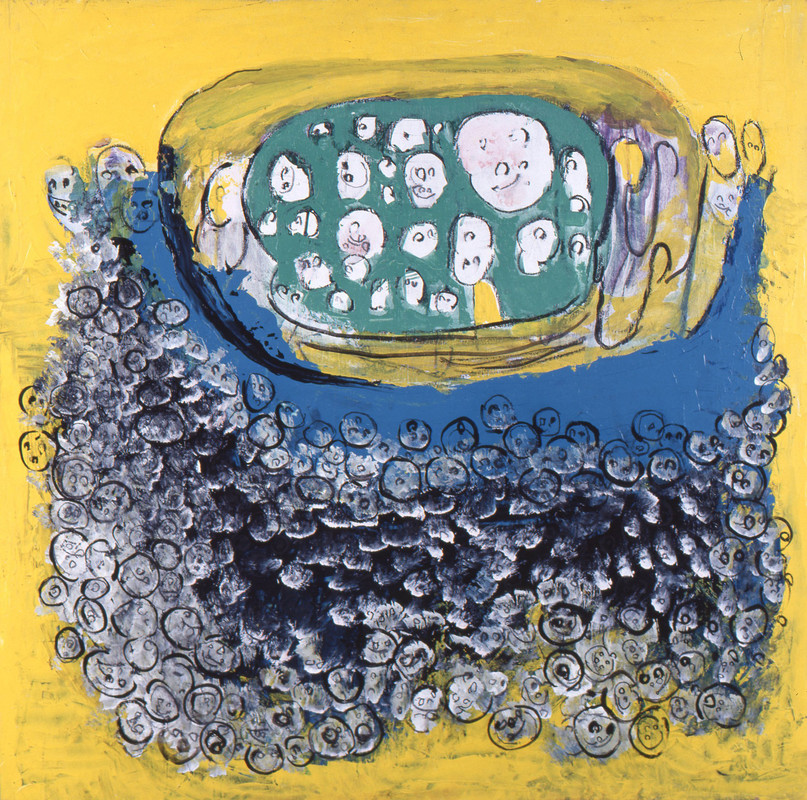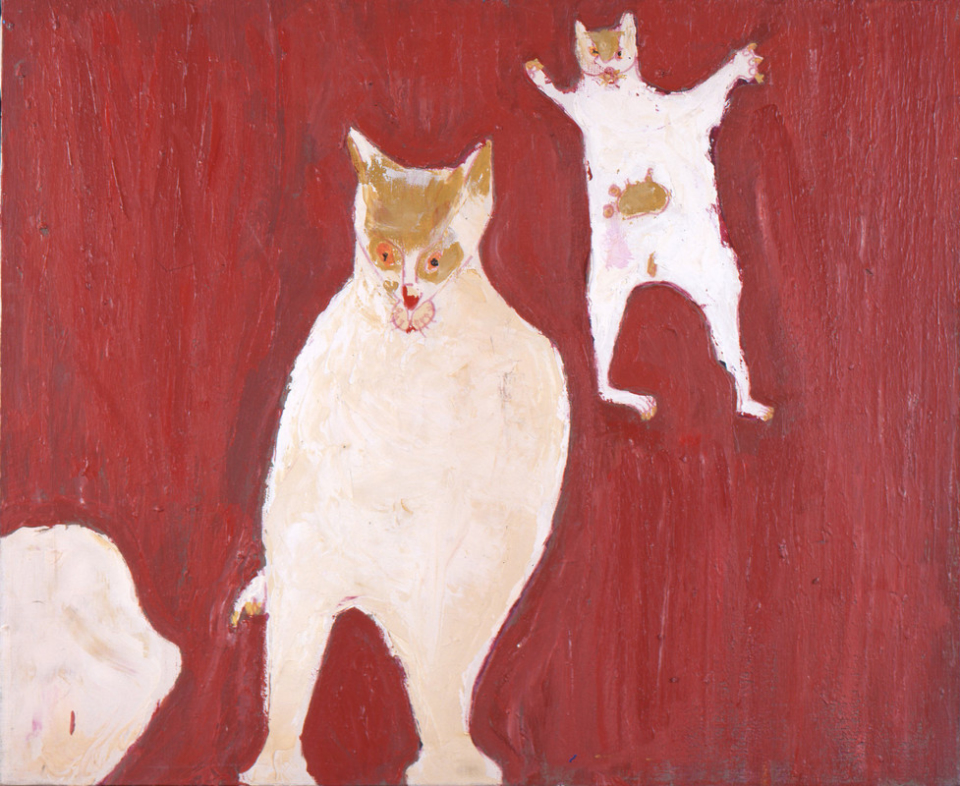 ---
Encounter Between Art Brut and Mizunoki
During the 50 years since Nishigaki first started the art activities, approximately 18,000 paintings have been created at Mizunoki. Attempts to set up a new storage facility to preserve and manage artworks, and make a digital archive of artworks as well as other activities for future research have been undertaken with support from the Nippon Foundation.

"I think the artistic period that Mizunoki enjoyed thanks to Mr. Chuichi Nishigaki is the most precious asset we have. We can learn about this past by carefully archiving the artworks as well as the history that accumulated here, and use it as seeds for the future," says OKUYAMA Riko, curator of Mizunoki Museum of Art, Kameoka.
Mizunoki Museum of Art, Kameoka is located in a shopping street around 10 minutes' walk from JR Kameoka Station. The architect, INUI Kumiko, renovated a 90-year-old building formerly used as a barbershop, and art director KIKUCHI Atsuki designed the museum's logo. The familiar red, white and blue barber's pole was left at the museum's entrance. Mizunoki Museum of Art, Kameoka opened its doors in 2012 with the mission of preserving and researching the collection of artworks created at Mizunoki, and providing opportunities to think about Art Brut.01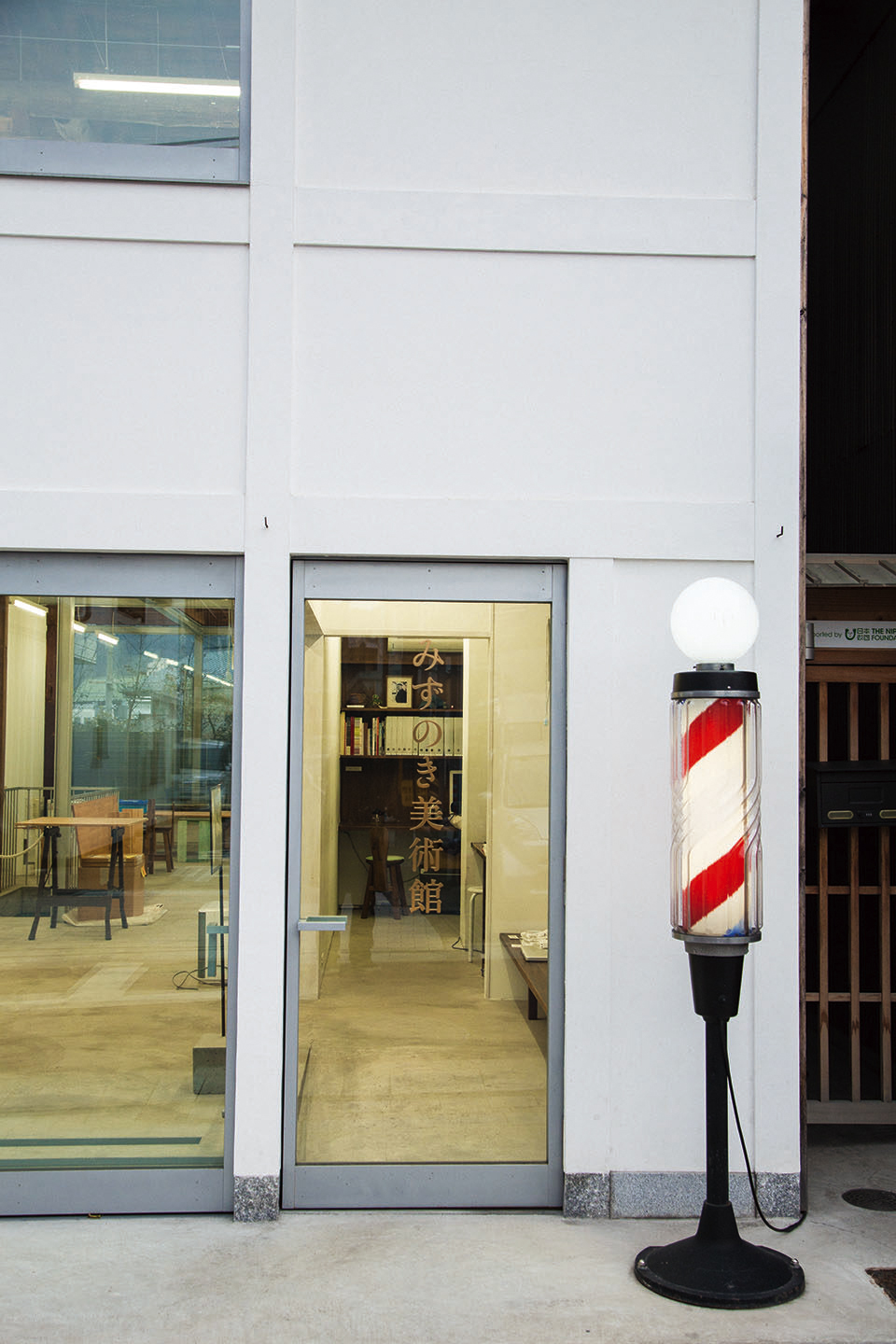 "The French painter Jean Dubuffet coined and defined the term 'art brut.' I think it is critical to think about the historical background behind why Dubuffet came up with this word. At that time, Dubuffet felt strong doubts and animosity toward the art world. That is why the shock he had when encountering examples of art brut was expressed through the very term he invented to label them."
Art brut and Mizunoki crossed paths in 1994 when 32 artworks from Mizunoki were acquired by Collection de l'art brut02 in Lausanne, Switzerland, the first of such case for an Asian institution. Since then, Mizunoki has been recognized both domestically and internationally as a pioneering art brut institution.
"Mizunoki's paintings were spotted by Collection de l'art brut. In this way, Mizunoki encountered art brut. However, I think we should look at the history of Mizunoki's painting class and the history of art brut separately. Mizunoki is not dependent on art brut for validation, but the reason for the point of contact arising between the two is more interesting. That is precisely why Mizunoki aims to think about issues related to art brut besides archiving its own collection."
---
The Vision Nishigaki Wanted to Convey
There are two large windows, one facing the street and the other facing the backyard. As I walked through the museum's gracious and well-ventilated space, Okuyama showed me many papers with diagram-like drawings on them. She explained that these were drills made by members of Nishigaki's class.

"The residents made these drills to practice composing shape and color. The tests were conducted as part of research into the potential for painting education for people with mental disabilities, with the financial support from the Toyota Foundation. There were 10 tasks. The first one, for example, asked residents to copy a circle and rectangle. When tackling this challenge, the students responded very differently, such as by copying the shapes precisely, drawing a circle inside a circle, or filling a circle in red with unsteady strokes. Their responses revealed their unique personalities. This test was useful, in a sense, to observe the individuality of each resident in a simple manner, providing us with clues to comprehend how each resident paints."
These drawing assignments included the work of FUKUMURA Soudayu, who was an original member of the painting class and whose work has been highly praised. He has a charming smile but cannot speak. When I handed him my business card, he gave me his card that he had drawn himself.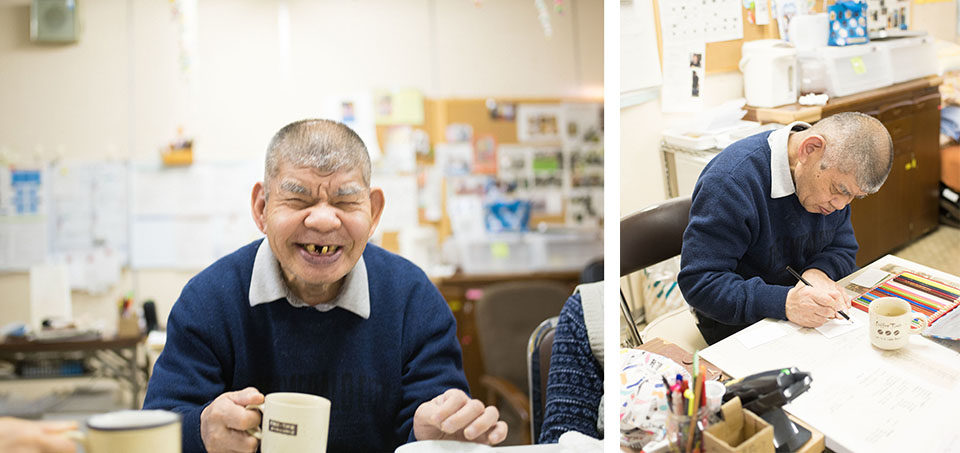 "I think what Mr. Nishigaki wanted to tell us is the importance of realizing and accepting differences evident in each and every one of us, and celebrating as well as nurturing these individual qualities. Every day I imagine what he was thinking, and I believe that Mizunoki and the museum exist to realize his vision. While always exploring this, I intend to engage carefully with each of our activities. I hope that Mizunoki's efforts will be something both residents and staff can be all proud of in the future."
In reality, many unimaginable difficulties exist in regard to supporting people with serious mental disabilities. And that is also what Nishigaki faced 50 years ago. But the possibilities of art are always rooted in our daily lives and never leave us.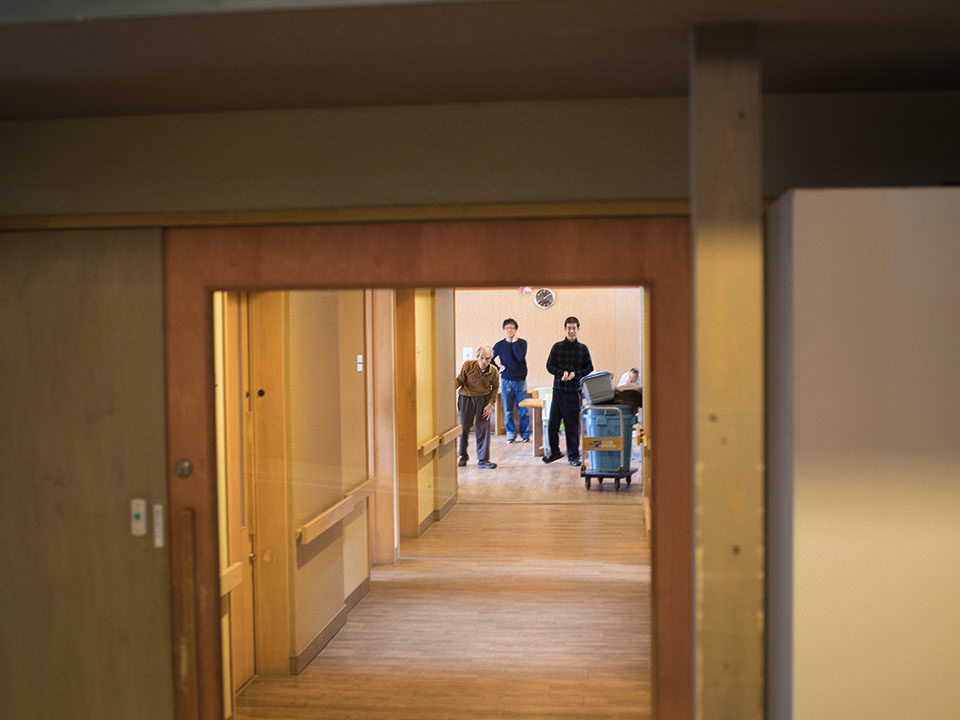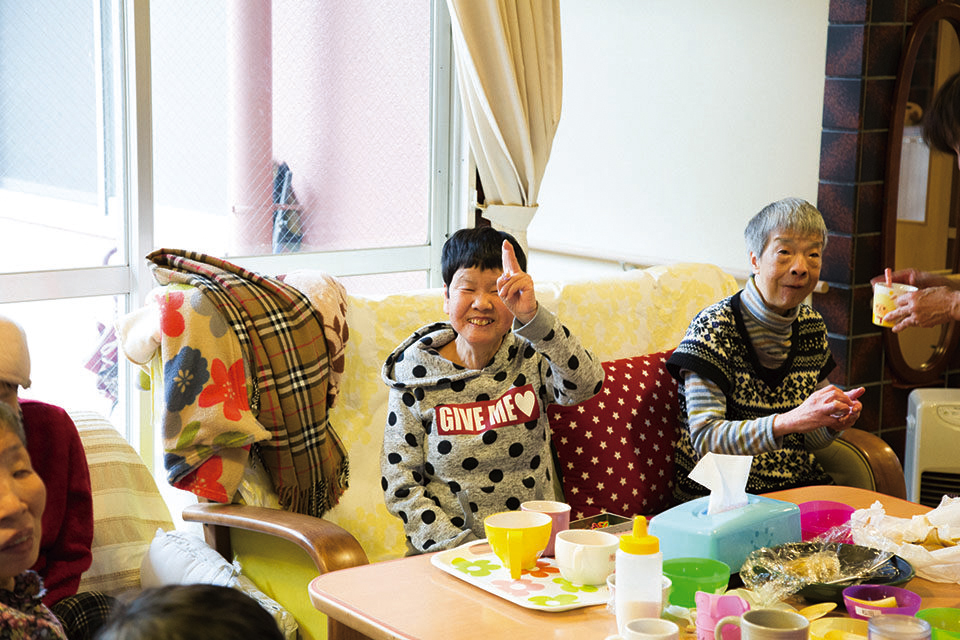 ---
Information
MIZUNOKI MUSEUM of ART, KAMEOKA
Address :18 Kitamachi, Kameoka-shi, Kyoto 621-0861, Japan
Tel : 0771-20-1888
Hours : 10:00 – 18:00
Closed : Every Monday, Tuesday
www.mizunoki-museum.org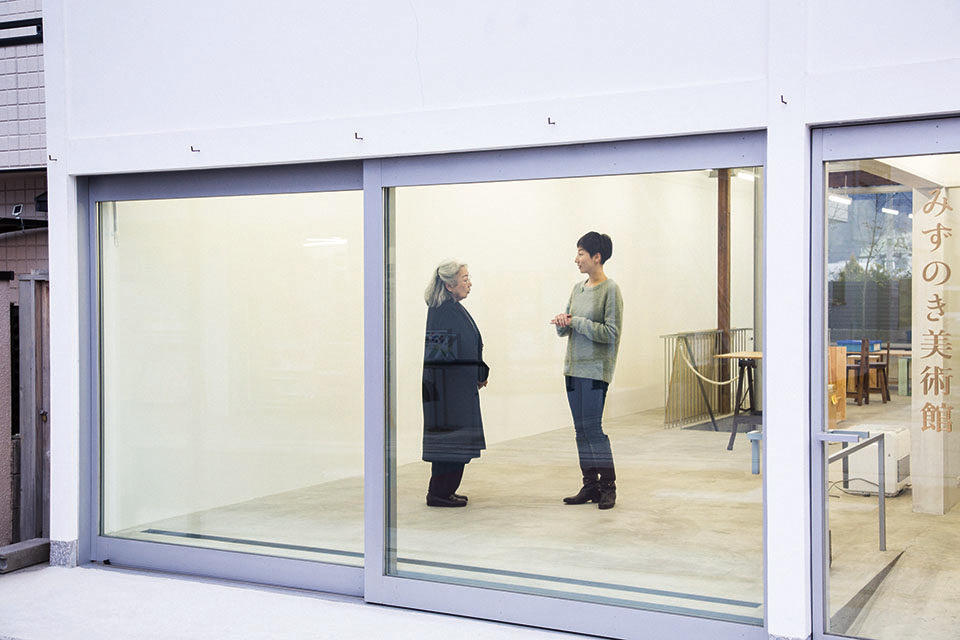 ---