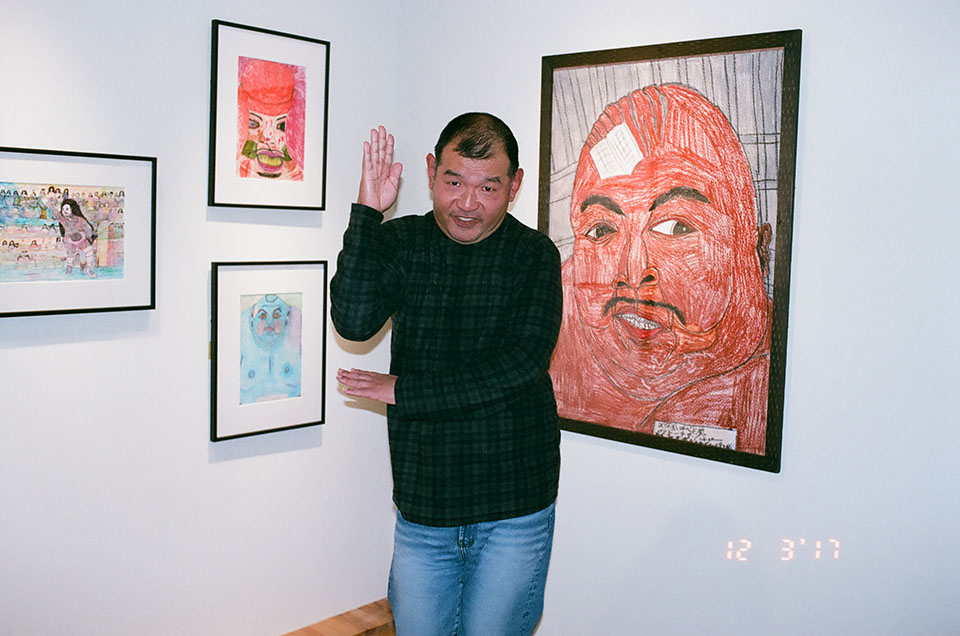 Faces and scenes from childhood TV vividly revived.
After a short conversation, it was clear that Aoki was a humorous and charming person. Aoki had a letter he wrote to the singer Aki Yashiro who he is a fan of. I asked what he likes about her and he answered with a slight blush: "I like her face." When we point the camera, he does a cool pose for us. When he is happy he rubs his hands together with a grin. I was told that he does when he is happy.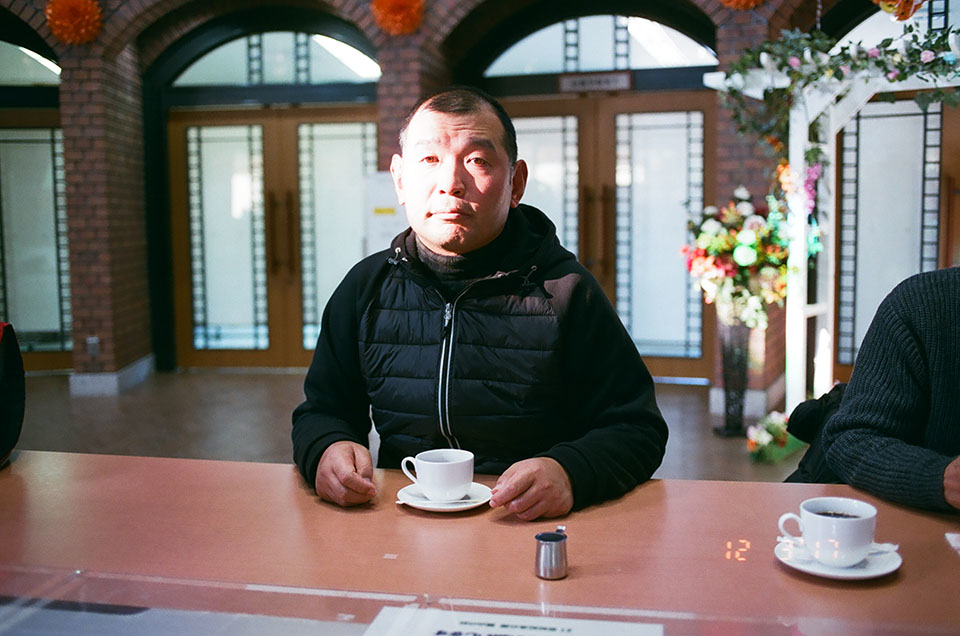 At the age of three, he was observed as possibly autistic. Aoki says he was drawing from the age of one, but his father Takeo says that it's because his teacher in the Special Class (now called the Class for Children with Special Needs) was an arts teacher. He started to produce many artworks as a result of art activities at the <Asaka-Asunaroso> facility in Koriyama Fukushima that he joined at 29. These days Aoki makes work on a table placed on his bed or on the Kotatsu table, and follows a daily schedule of watching recordings of TV programs, taking a walk after lunch around a former horse racing tracks for six laps (that adds up to 10 km), and having a drink of Shochu as his mid-day snack. His favorite foods are quite traditional – mochi, hiyashi-chuka (chilled ramen), takuan and miso pickles, black coffee, and shochu. But he also loves sweet things, which is kind of cute.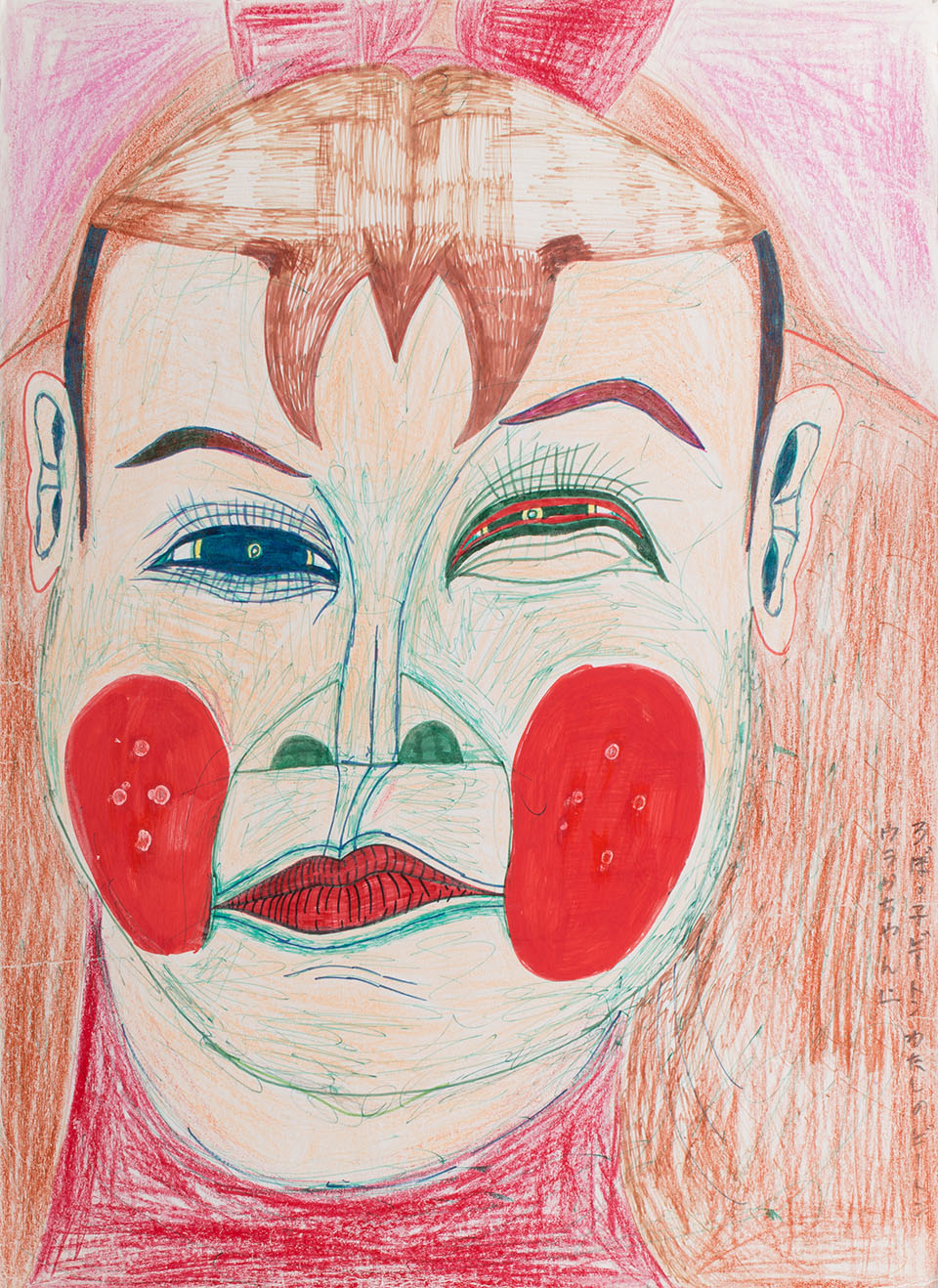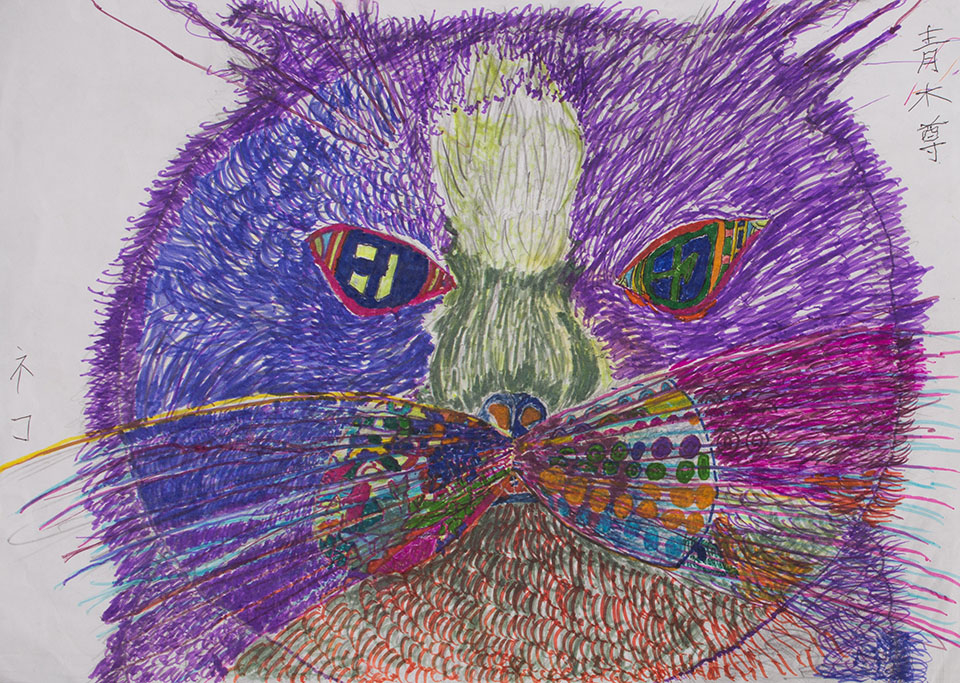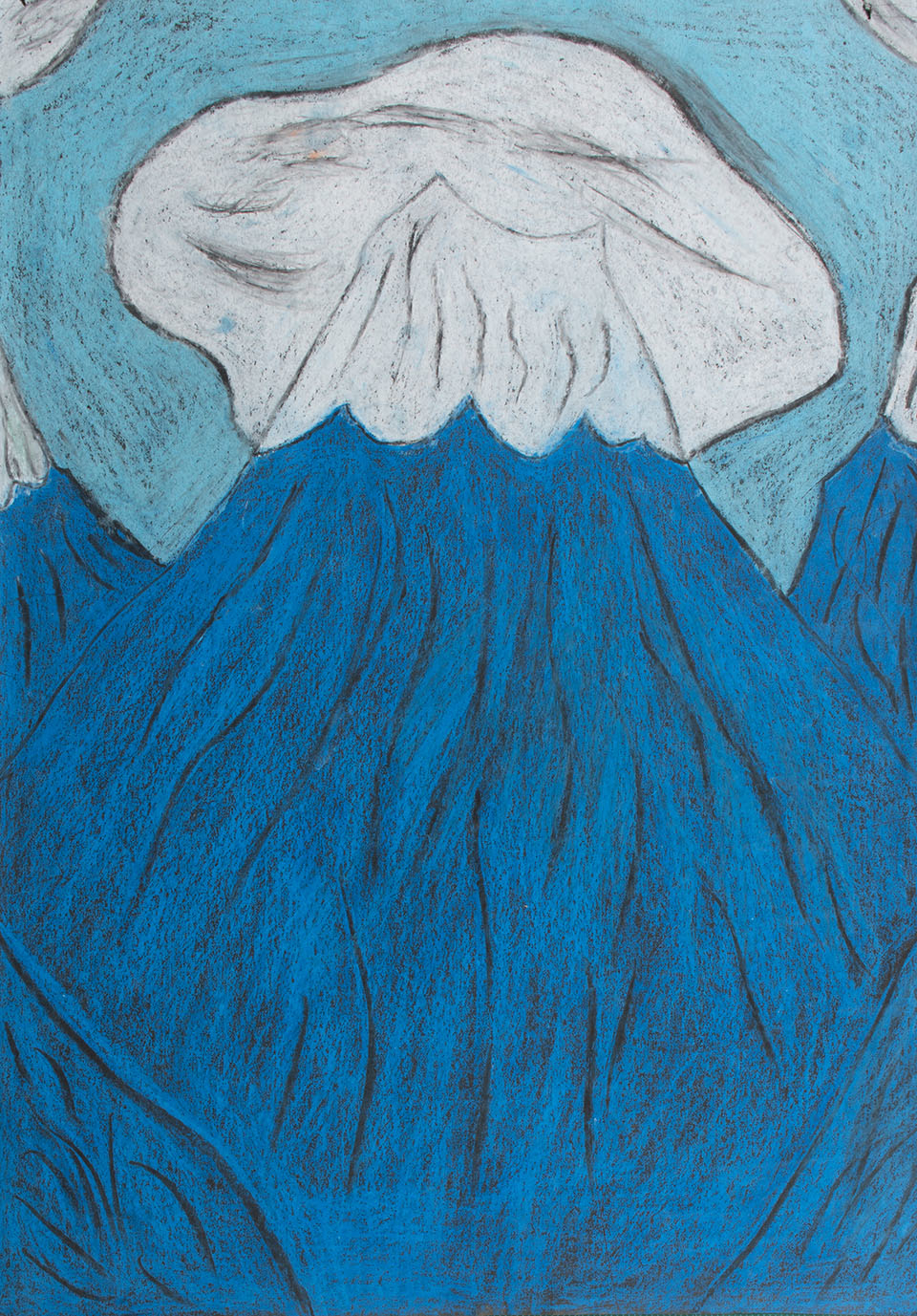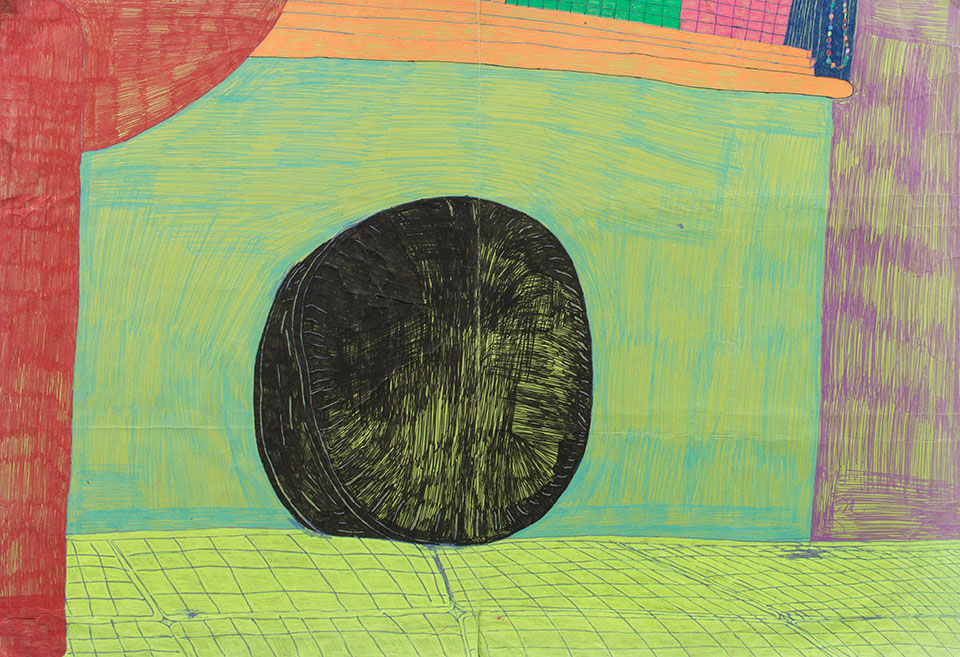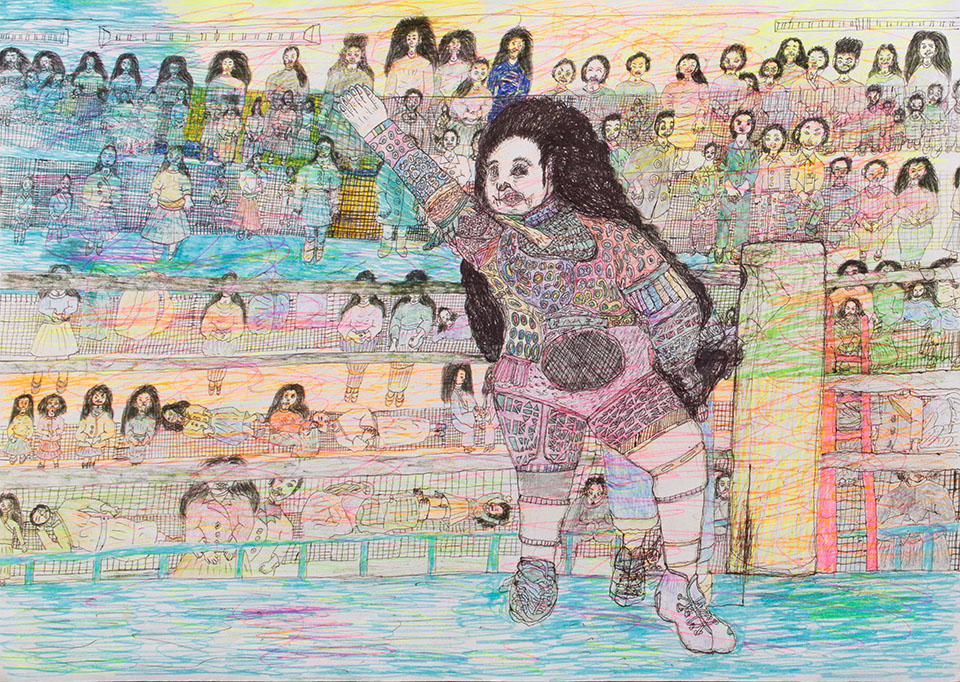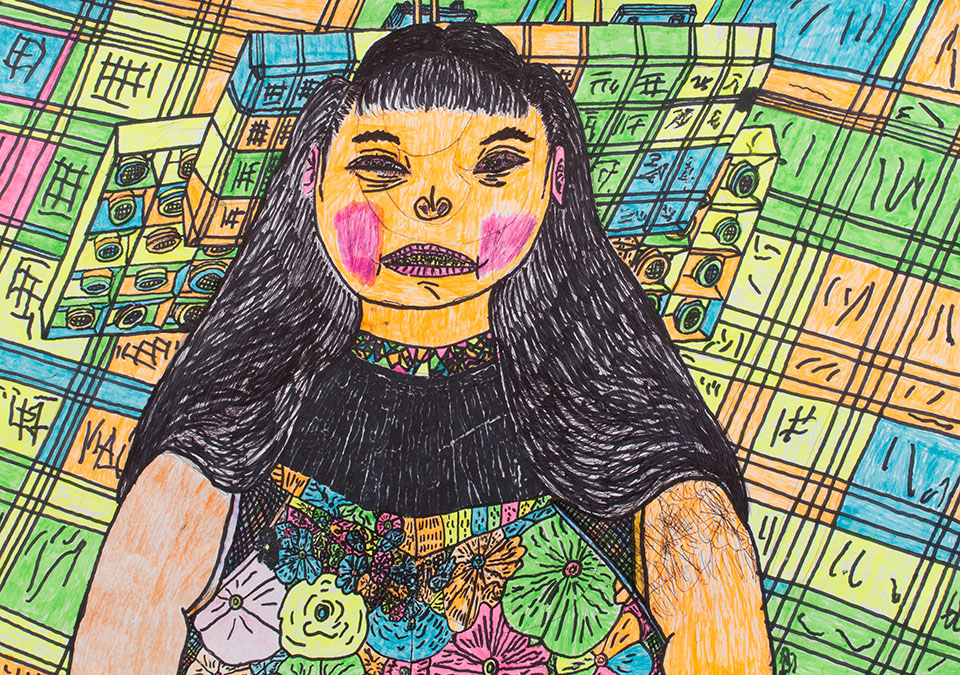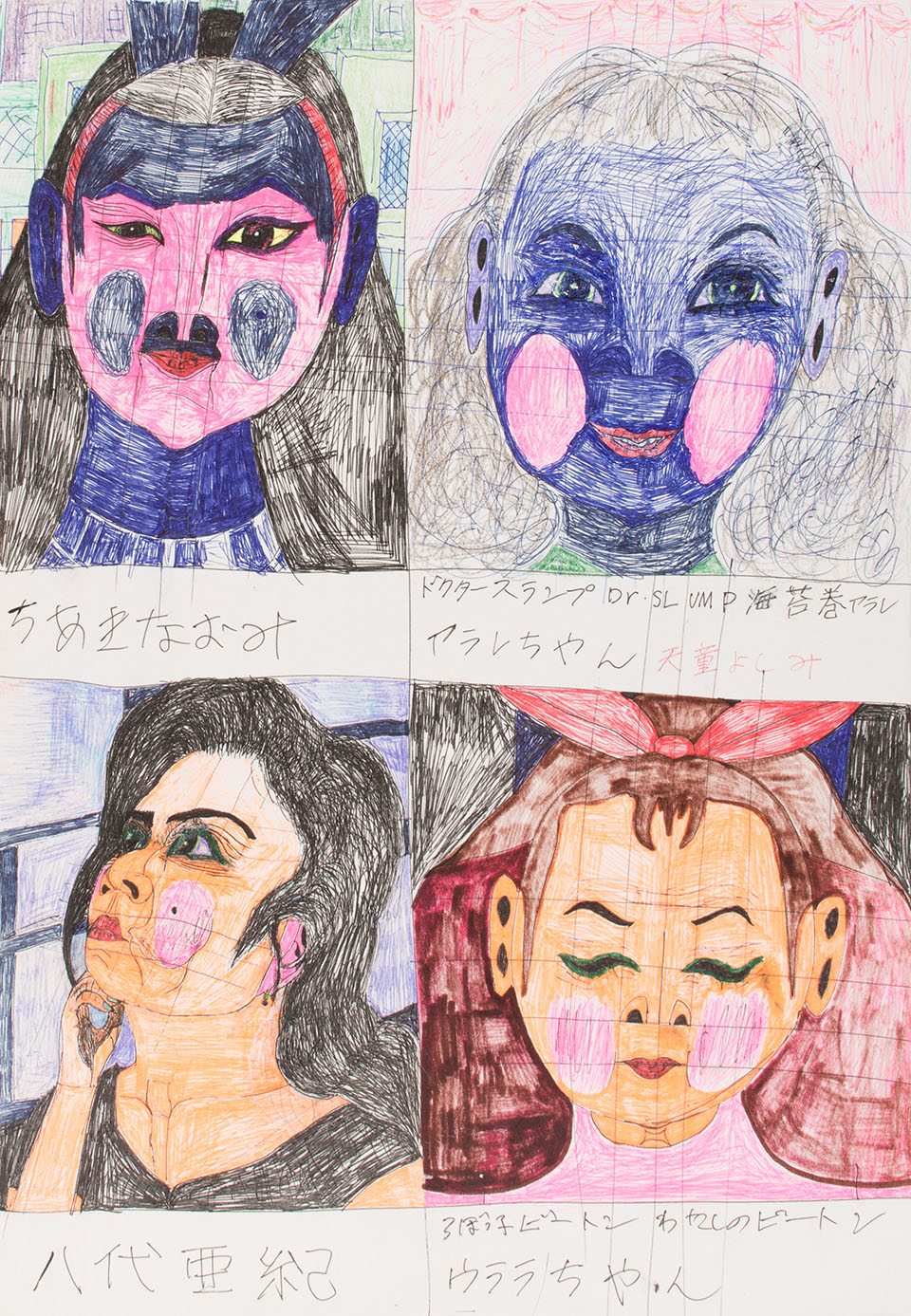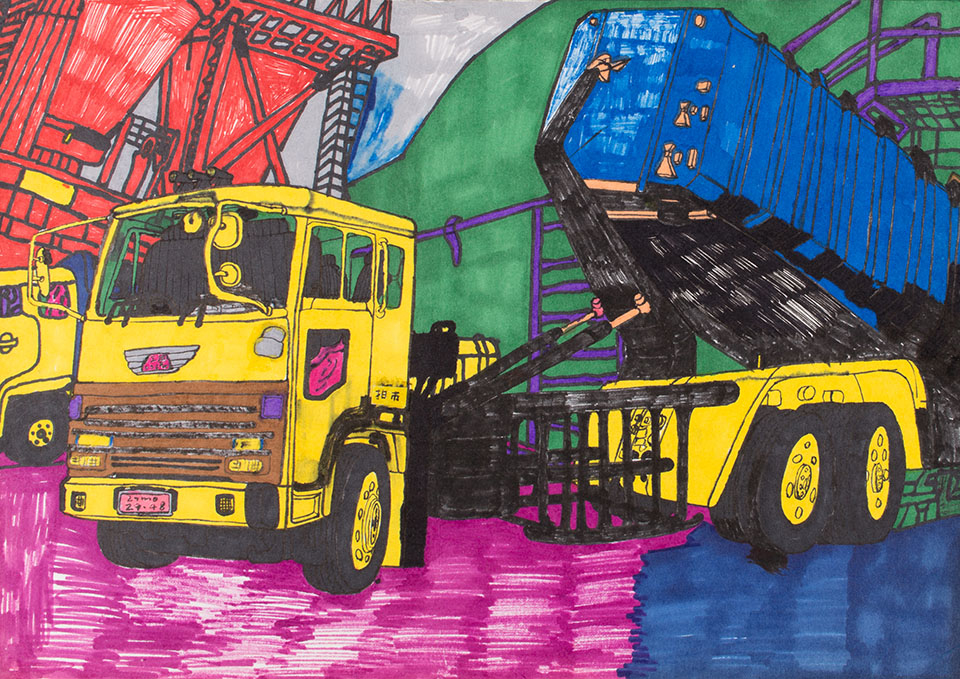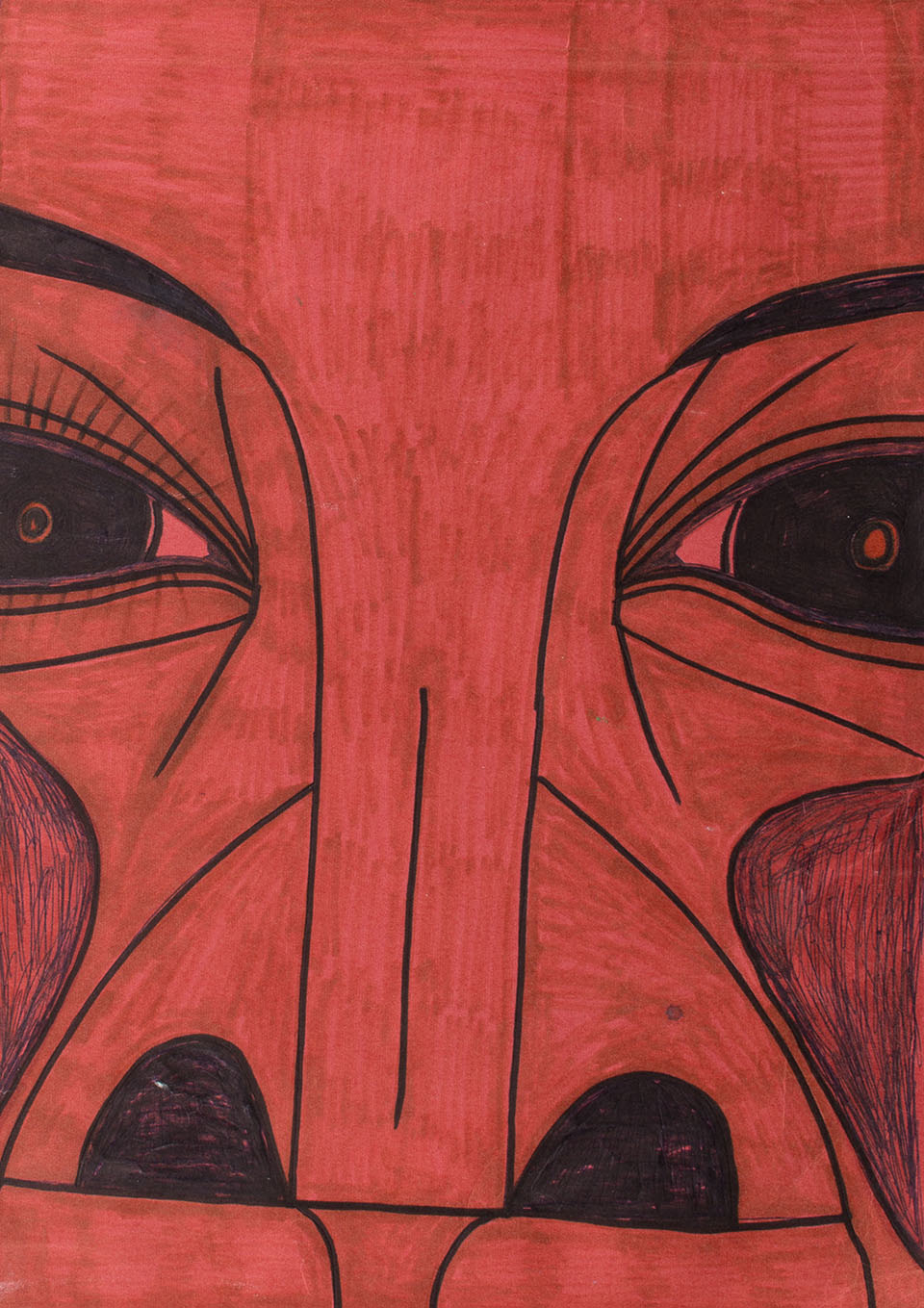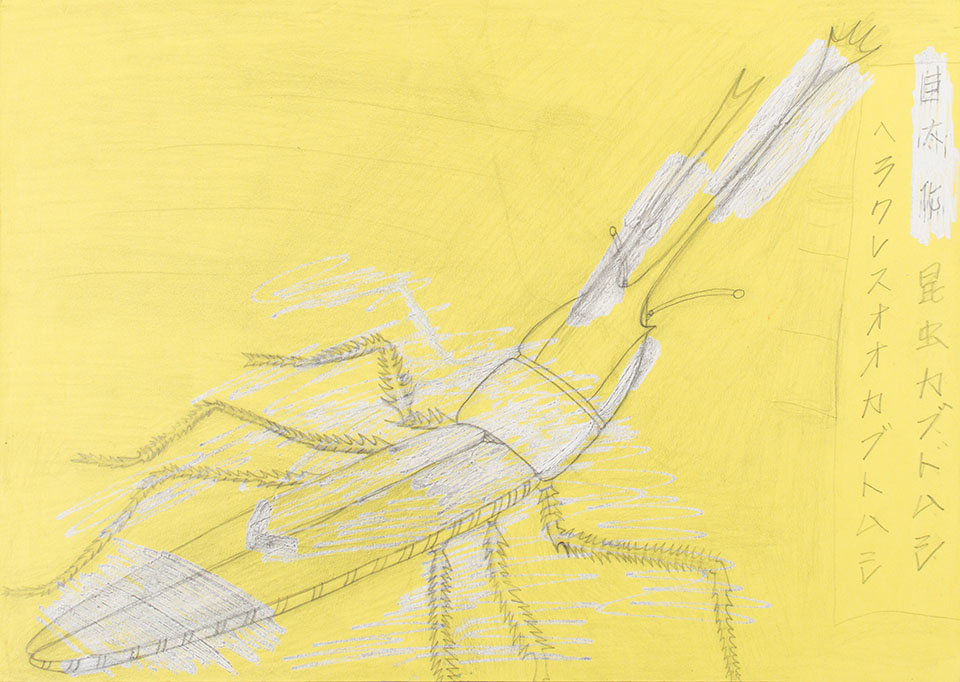 Vigorous lines drawn with a pen or pencil, impressionable eyes, cheeks that are painted with bright red – "Takeru has a unique style that you will recognize that it is his immediately" says his father Takeo. Some call his distinct way of drawing faces the "Aoki face-drawing technique." First five lines are drawn vertically and horizontally to create a grid, then eyes, nose, and mouth are placed in relationship to these lines. Finally, the outline of the face and hair is added for completion. He sometimes carefully makes a draft before working on larger pieces.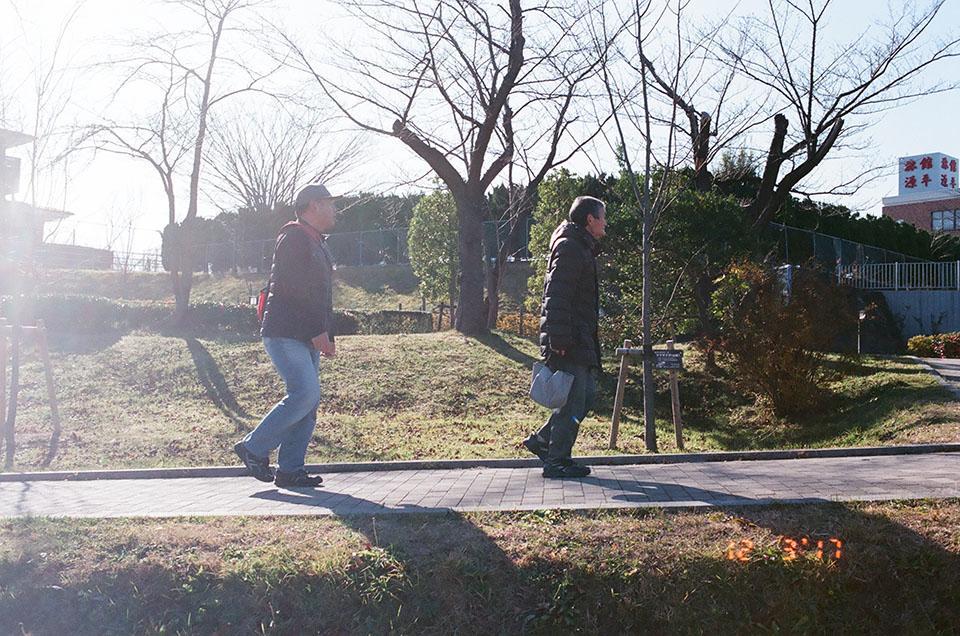 The themes are things that Aoki likes – trucks, pro wrestlers, singers such as Naomi Chiaki or Aki Yashiro, Urara-chan from animation "Robokko Beaton", a scene from history drama "Yabure-Bugyo", flowers, insects, Mt. Fuji, and so on. His recent subjects have been flowers, balloons, a snowman, and dango mochi balls. When Aoki was child his father ran a Ramen shop. Perhaps he still vividly remembers what he saw on TV or experienced in nature from this time.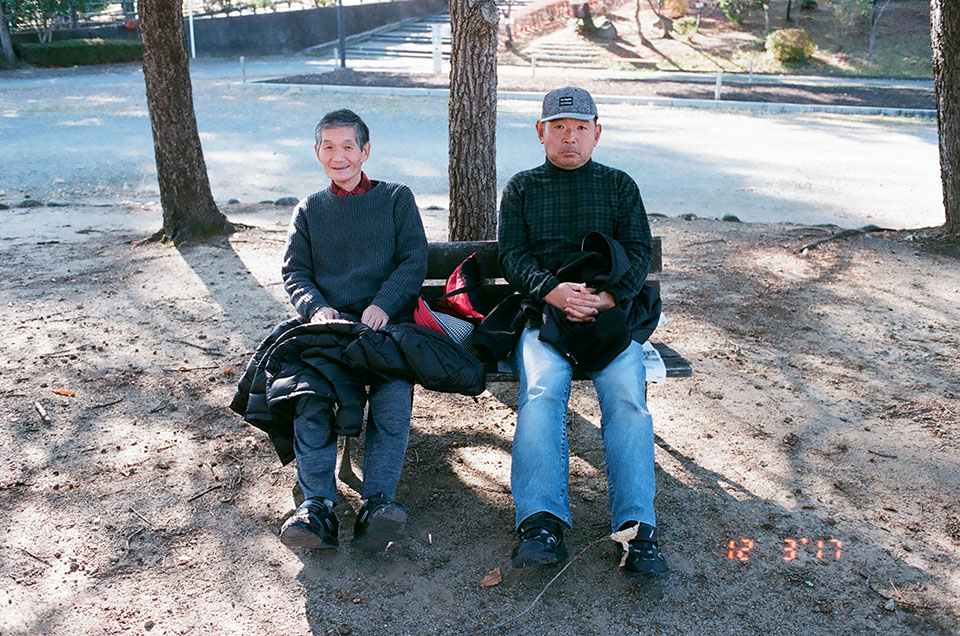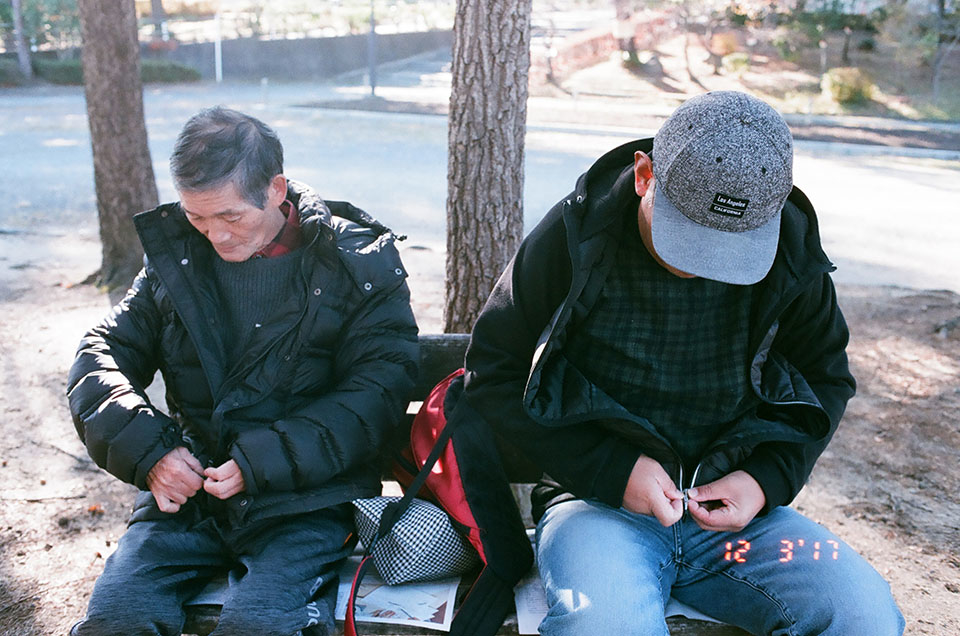 ---
Understanding Takeru Aoki while having fun at the exhibition
Understanding Takeru Aoki while having fun at the exhibition
Currently at the <Hajimari Art Center> in Yamagun-Inawashiromachi, Fukushima the exhibition「'Unico File Vol.2 Takeru Aoki Great Product Fair: Me and Mr. Aoki's Relationship' 」
is taking place. Aoki asks us:
"Do you want to come with me to see the <Hajimari no Museum>?"
We reply: "Yes!"
"Let's go!"
Aoki shouts like he is pro wrestler Antonio Inoki. He is a true entertainer.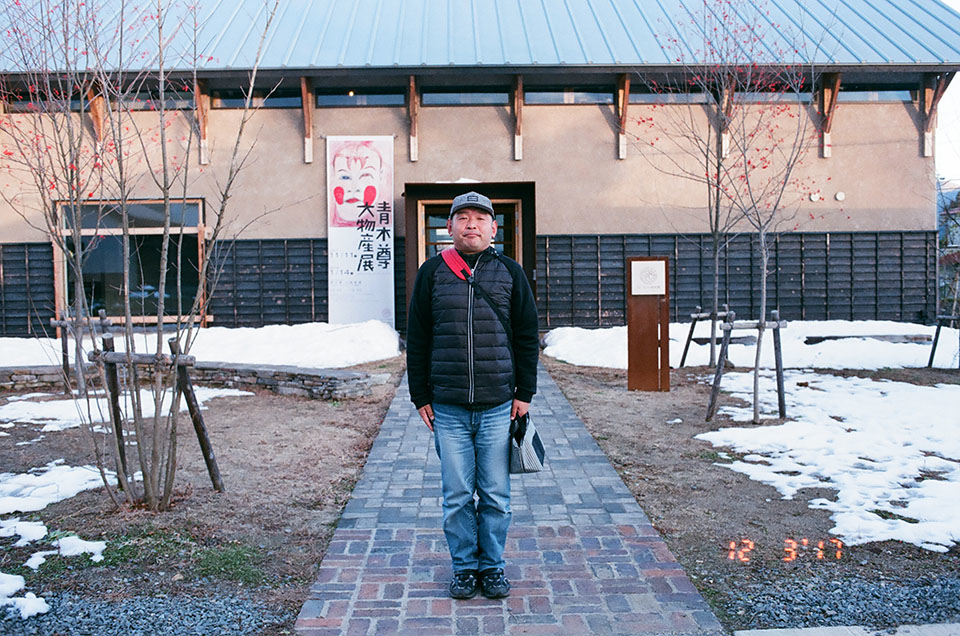 The exhibition consists of Aoki's drawings and sculptures from 1997 to 2004, and "words" from staff members who spent time with him at the facility. Each room is divided into categories such as "Takeru Aoki and Trucks", "Takeru Aoki and Pro Wrestlers", "Takeru Aoki and Curious Things", "Takeru Aoki and Flowers and Girls", "Takeru Aoki and Mountains", "Takeru Aoki and Insects." Within these rooms artworks are displayed in a unique way together with conversations the staff members about each theme.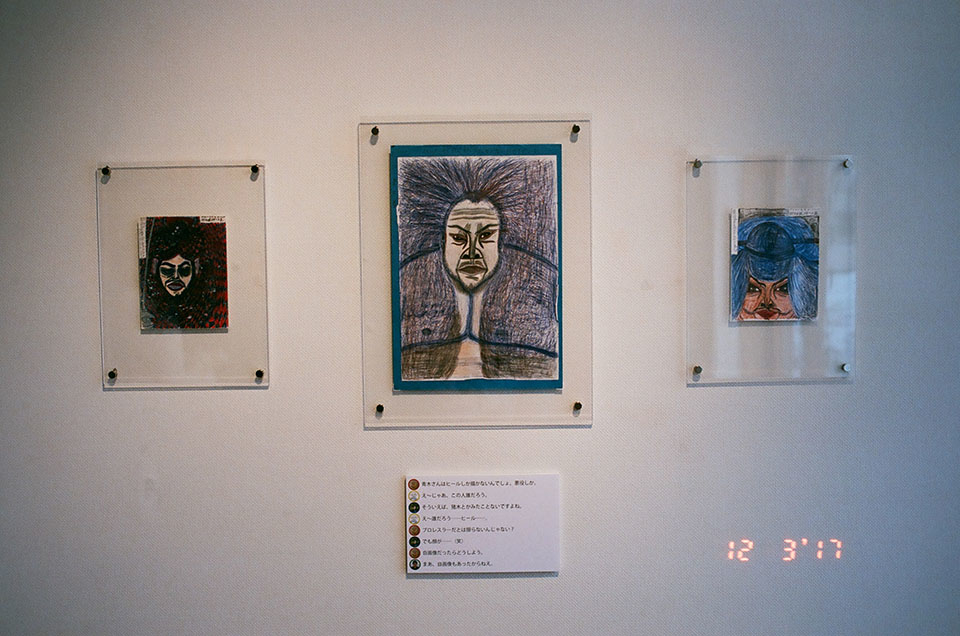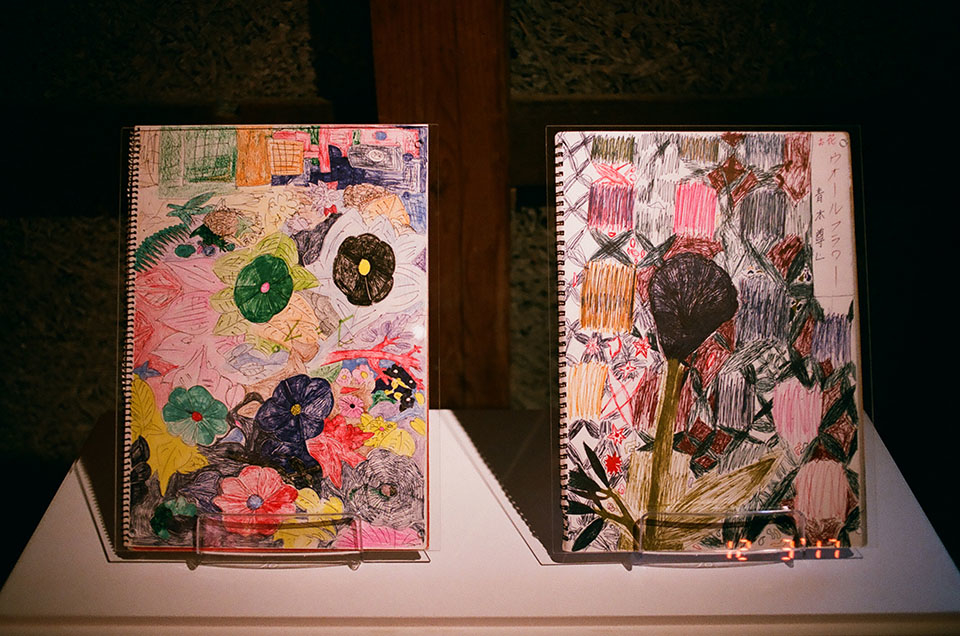 "Who is this?" Mr. Takayoshi Okabe who is the current <Hajimari Art Center> director and former <Asaka-Asunaroso> support member who was assigned to Aoki one year before he left, asks pointing to a drawing. Aoki ponders for a bit and answers: It's "Hamuko Hoshi". "Didn't you say it was Mana Ashida last time?" comments Okabe. Aoki's answers can change from time to time. If you ask him for his impersonation of Abdullah the Butcher he will happily give you a show. It's not hard to understand why everyone likes to converse with him so much, because his responses are always so humorous and funny.
In the last area "Takeru Aoki and Me" there are pieces that are intimately related to the supporting staff. A documentary that shows Aoki revisiting <Asaka-Asunaroso> and jumping in joy like a little girl when he reunites with the staff members and video archives of his solo exhibition at the age of 37 titled 'Takeru Aoki Product Fair: The xx things that painter Aoki has created' (Big-i Citizens Plaza, Fukushima, 2005) are also screened in this area. After we finished the delightful tour, it happened to be time for the customary "Aoki Recital." Depending on the time of visit, you can experience a version of "Aoki and me" where he sings a medley of popular songs while standing on top of beer crates in front of a self-drawn banner.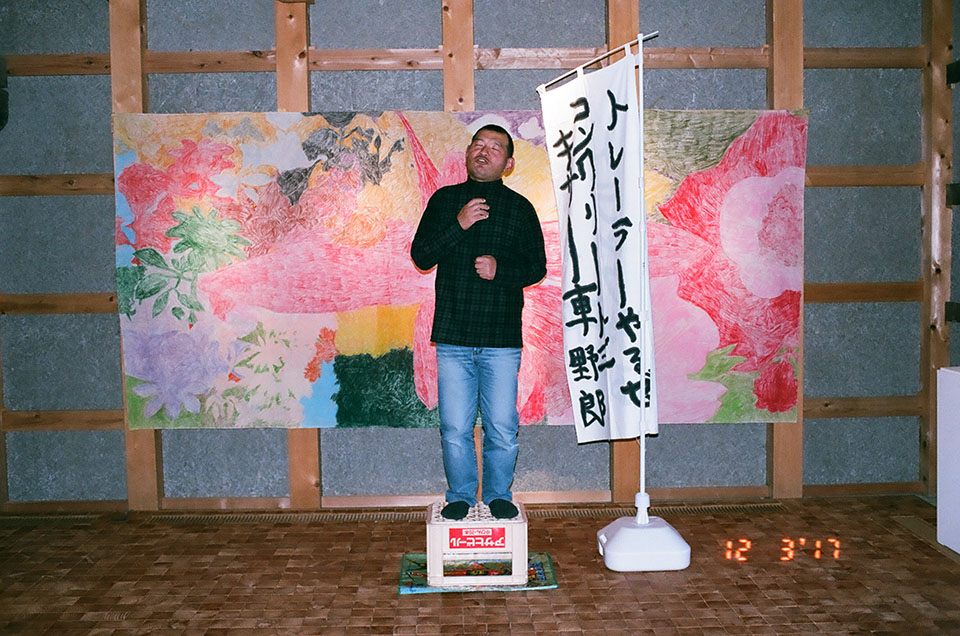 Okabe says: "I wanted people to know the everyday Mr. Aoki in his true essence." As we imagine how each work was made through the words of people who know him well, we build our own relationship with Aoki and are drawn into his charm. Perhaps this is not different from how many great artworks form the past were delivered to us through the hands of people who directly touched by author.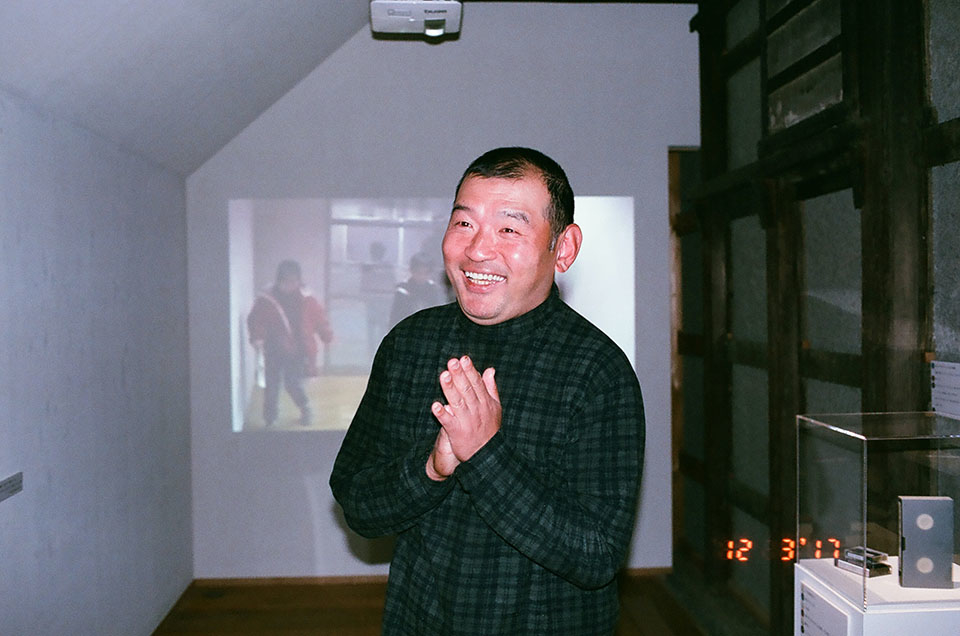 ---