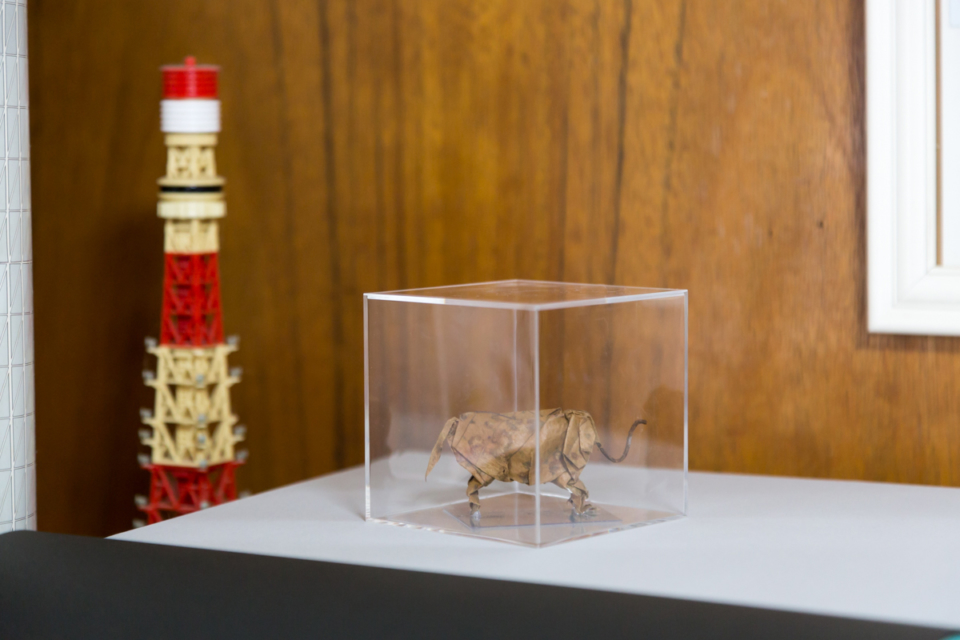 Looking for that something to be absorbed in
He is not shy at all. Always carrying a camera, and points the lens to us and says: "Hi! Look over here!" He likes to talk and is addicted to the computer and anime on TV. Yoshihiro Watanabe is an artist who makes animal paper cutouts and sculptures, living in Kumamoto City. After being diagnosed autistic at two years old, he started making paper cutouts at 10. Since then for 26 years he continues and even does live performances around the country.
His mother Motoko tells us: "I was always carefully observing Yoshihiro because I thought he should find something that he can be absorbed in or something that he had a gift in by 10 years old. I wanted to help nurture this. He didn't speak till he was around 10 years old, so I had to just let him try things to see if he was interested. So I took him to many different kinds of lessons."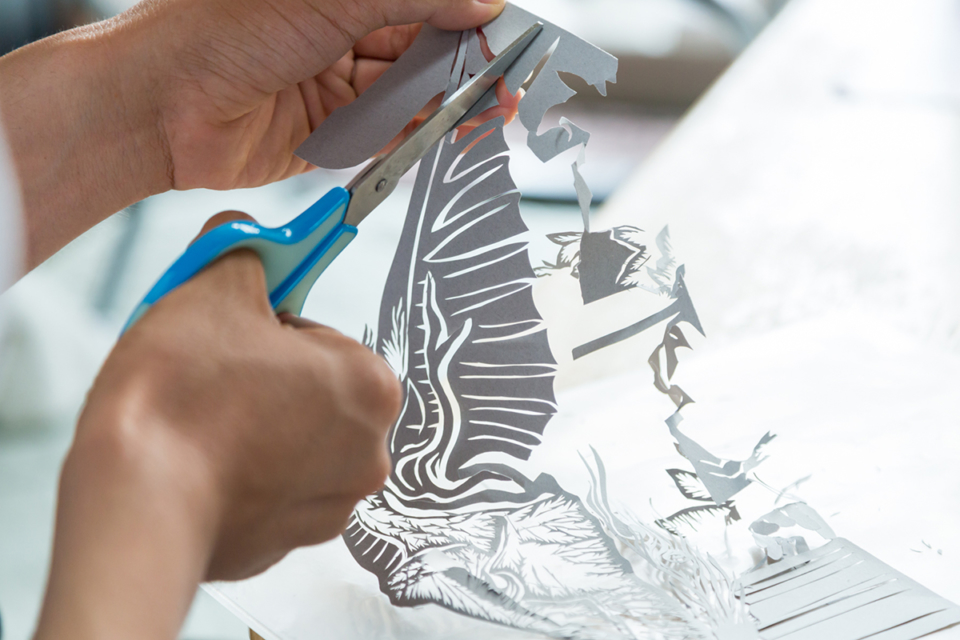 Yoshihiro was first interested insects and animals as a child. His mother thinks that wining a parent-child clay contest that they happened to participate left an impression on him to want make things. Since then Yoshihiro's art practice began.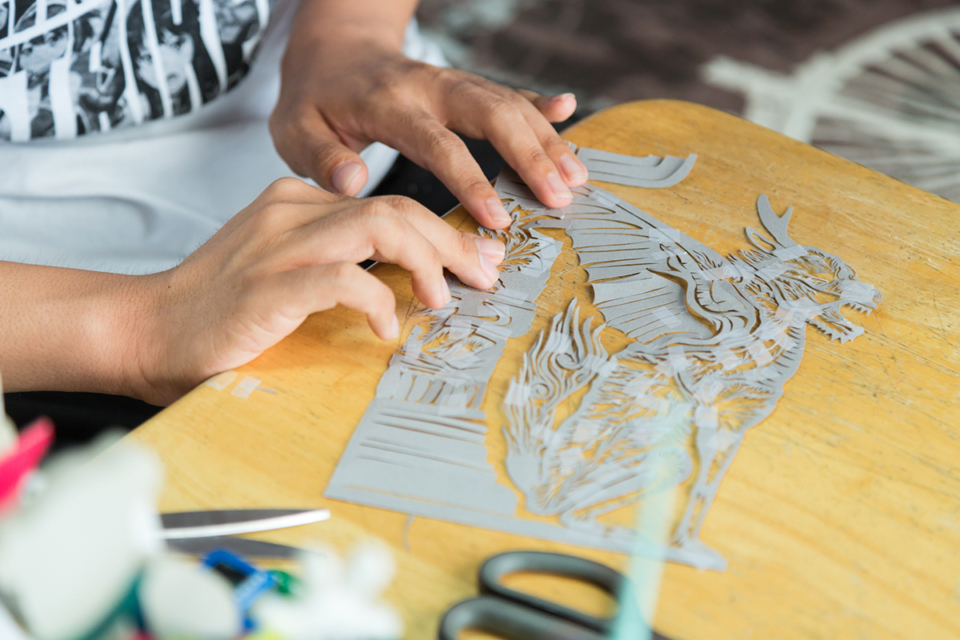 "I think that being lucky is also a strength to have. My child is very lucky. He is able to continue making artwork today because he was able to connected with so many people."
The artwork that steadily increased in numbers was one day displayed in the principle's office at his elementary school. The principle thought: "Such a fantastic artwork should be shown in a place where many people can see it" so he had Yoshihiro's work shown at the exhibition space at the post office. A curator that passed by saw the work, and in 2002 during his first year in middle school he participated in 'ATTITUDE 2002' exhibition at the opening exhibition of the <Kumamoto Contemporary Art Museum>.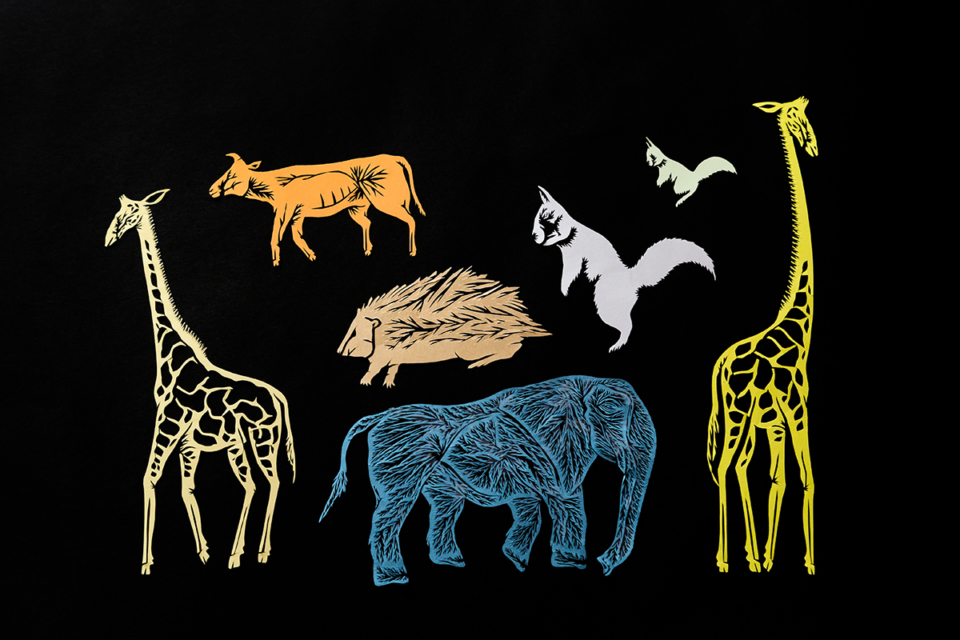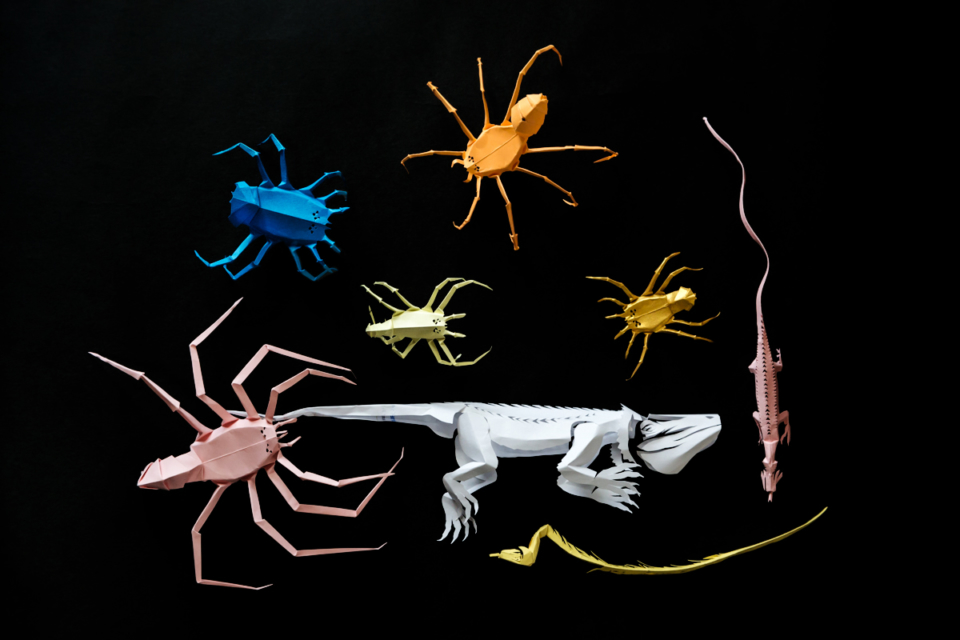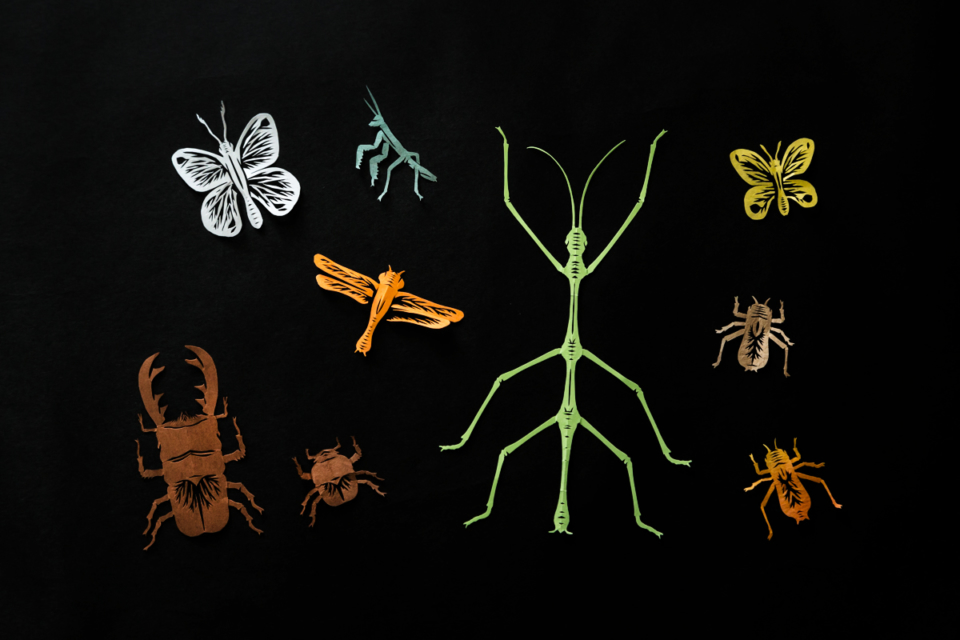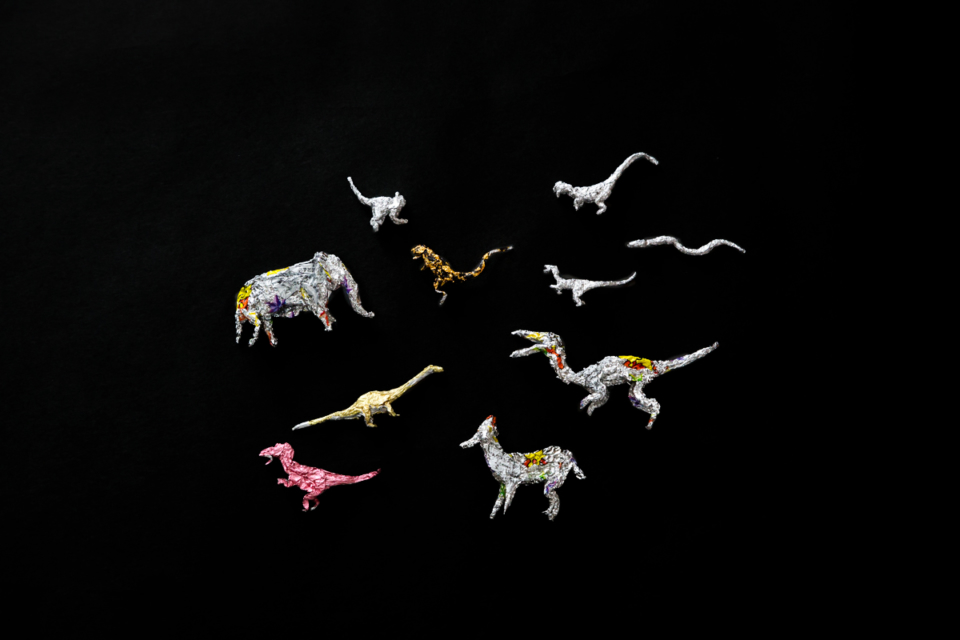 ---
His ability to remember that gives life to flat surfaces.
What Yoshihiro gives birth with his scissors are land and sea animals (excluding humans), dinosaurs, and insects. Without using a knife and just with scissors he is able to cut out delicately the inside of the paper. Bone structures and muscles are beautifully cut out like laces. Yoshihiro quietly moves his fingers as if he is executing a 3D blueprint that is stored in his brain. He sits straight on a cushion on the floor and cuts into the paper like he is using a brush to write calligraphy. He works at his table everyday for about two to three hours. While he is working he takes breaks to watch his favorite anime channel on TV.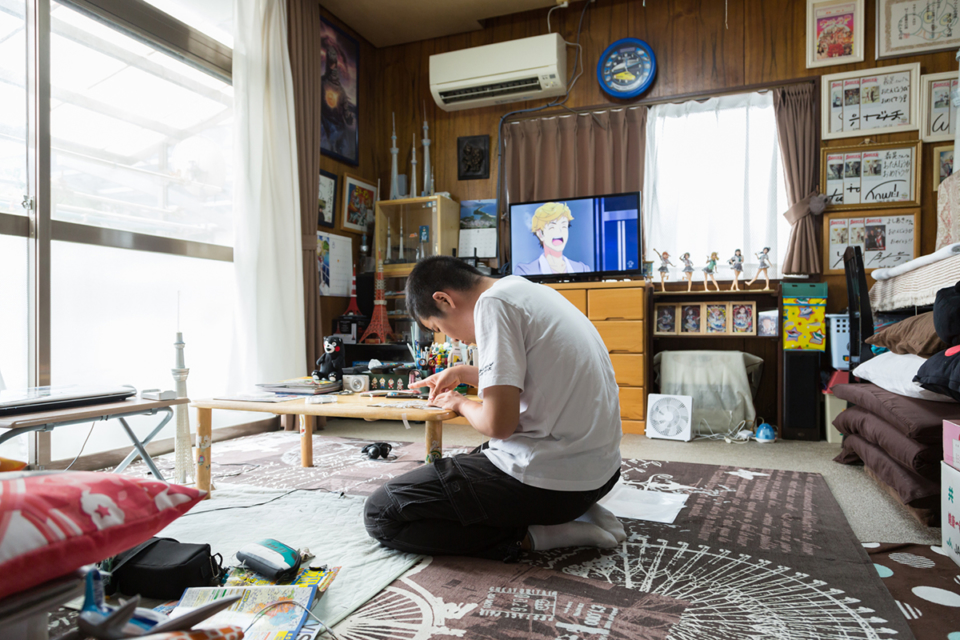 "People with Savant Syndrome have an incredible ability to memorize. They can remember images that they have seen once like photographs in their head. Yoshihiro's memory is not as good like that, but perhaps for things that he likes something similar happens. When he first started to use scissors, he was only cutting out the outer shape of things, so I asked him 'can you make them a bit more detailed and realistic?' and that triggered him to pursue his current style." [Laugh]
Always trying to please others, Yoshihiro made a spider shaped paper sculpture for us when we came for the interview. He started cutting without hesitation and used his fingertips carefully and shaped a spider as though he was giving life to the paper. Within five minutes a he made a paper spider that looked like it was about the move.

Yoshihiro does not only work with flat surfaces. Every year at the beginning of autumn, he makes lively animal sculptures out of oak leaves that start to fall. Sculptures of each year's zodiac animal are sold at <UMU>, a craft shop in Kumamoto, and in gift shops at contemporary art museums. His mother Motoko says: "It's like an extension of playing by making shapes with leftover wrappings of wooden chopstick or snacks." In the lobby and at the reception desk of the <Kumamoto Contemporary Art Museum> a cutout of the Zodiac animal is decorated every year.
"When I handed Yoshhiro a tissue to blow his nose in the backseat of the car, he would make an animal out of it. The leaf sculptures started when he was playing with oak leaves in middle school. Oak leaves break when they are too dry and cannot be folded when they are too wet, so he searches for leaves that are just right."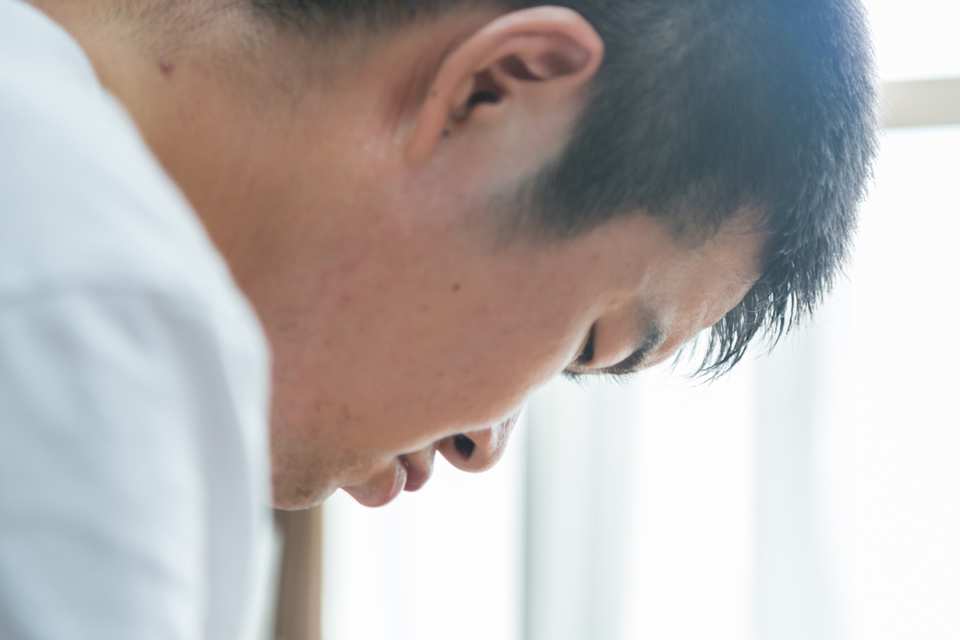 On weekdays, Yoshihiro spends time at the facility, but he is not the type to work at the desk every day. There has been several times when he stopped making cutouts because he was more interested in making other things with clay or with balloons. But even then somehow he never loses his touch with scissors.
"Even if he doesn't pick up the scissors for a year, he doesn't forget how to use it like us. On the contrary he is better than before. His teacher said that maybe he continues to cut inside his head."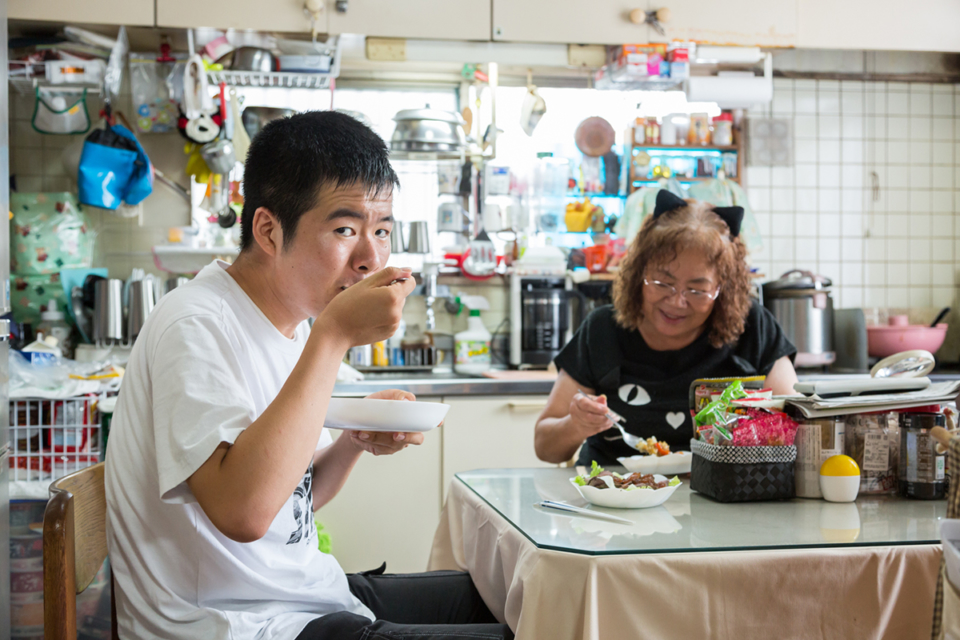 His mother, Motoko, is his capable manager and trusted advisor, but also the first person to look at and enjoy Yoshihiro's work. Yoshihiro is happy to see his mother and other people enjoy his work, but sometimes strict comments from his mother will also bring out the competitive side within him. That's why he says loudly "Please look at this!"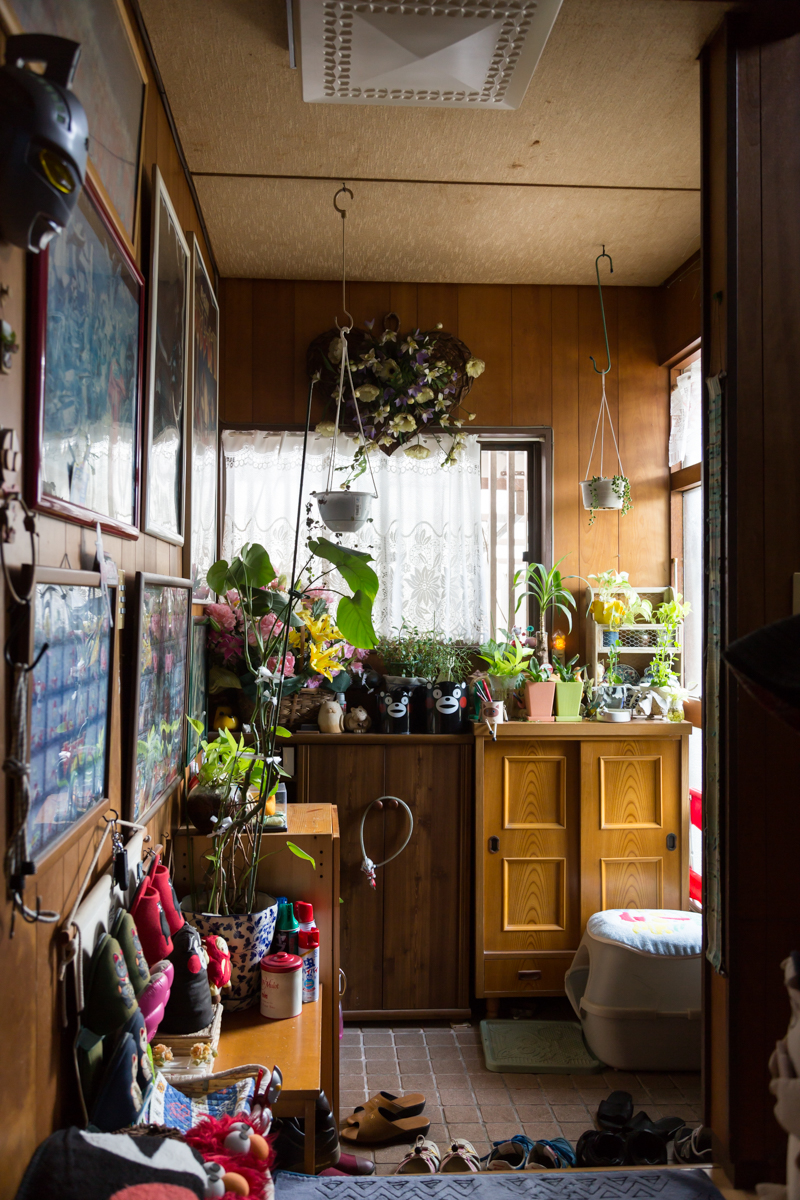 ---