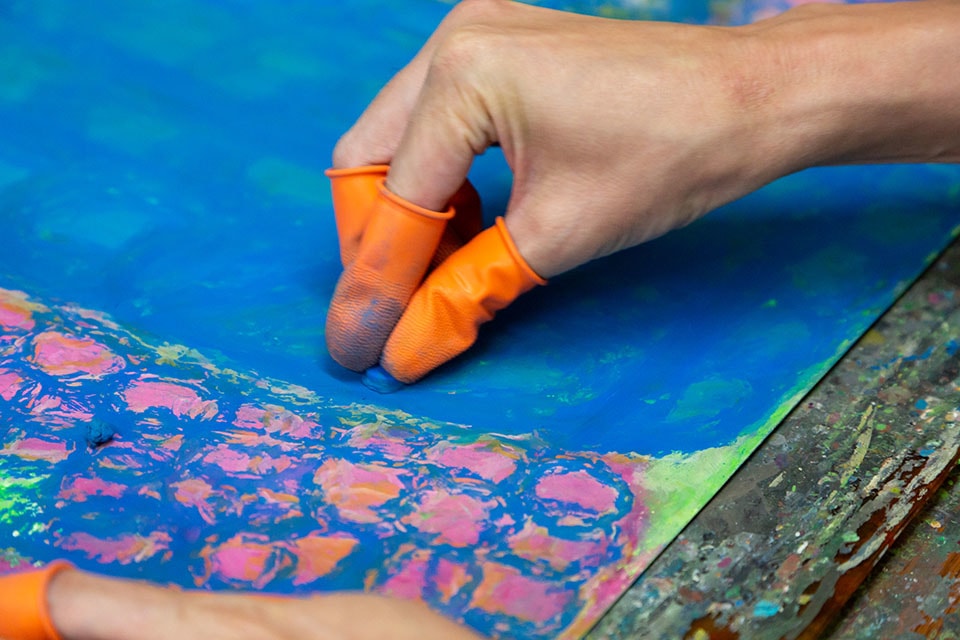 Layers and Layers of Crayon
The alcove is three or four feet square platform slightly higher than the rest of the floor, like a tiny, partly open private chamber. Sitting cross-legged inside it is a tall man drawing in crayon. We are at 〈ATELIER YOOHOO!!〉in Fushimi, Kyoto, visiting the artist KOKUBO Yukihiro.Along with KIMURA Masahiko, Kokubo is one of the atelier's most prominent members, and his works have appeared in many exhibitions.
On the day we visited, Kokubo was drawing hydrangeas. He always chooses his subjects from a selection of photographs prepared by the atelier staff, he says. His technique in depicting his photographic models is more like layering than drawing. He presses with enough strength to go right through the paper, as vivid scars on the mat beneath him show. This energy is maintained throughout the entire process of creation. After the application of layer on layer of crayon, the original sheet of paper becomes startlingly thick, giving the completed work a distinctly three-dimensional aura. The drawing of an omelet he completed yesterday cannot be judged by commonplace criteria like whether it looks tasty or not. It looks like a black hole—well, a yellow hole. Kokubo's world has depth in every sense of the word.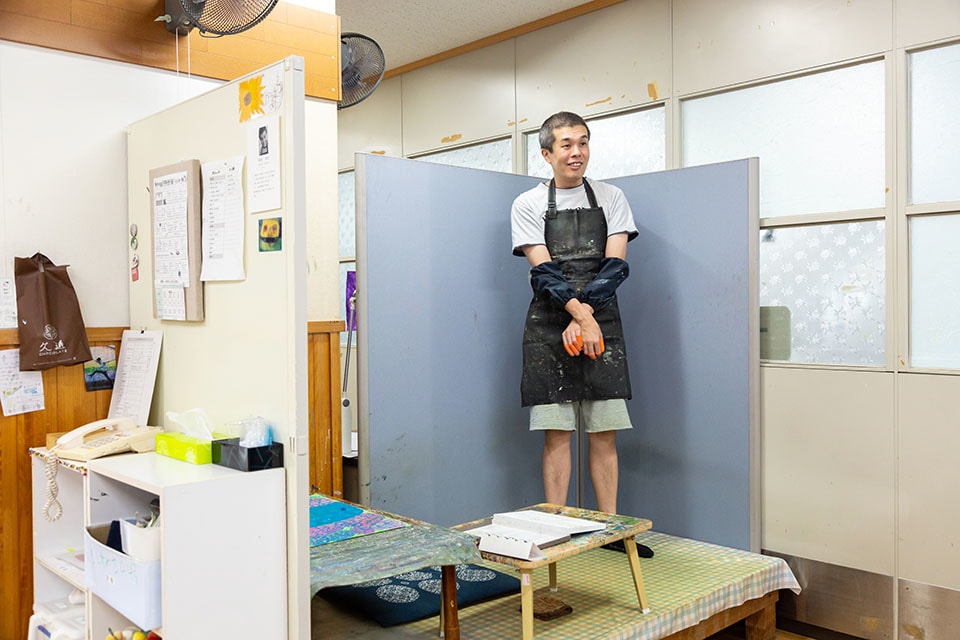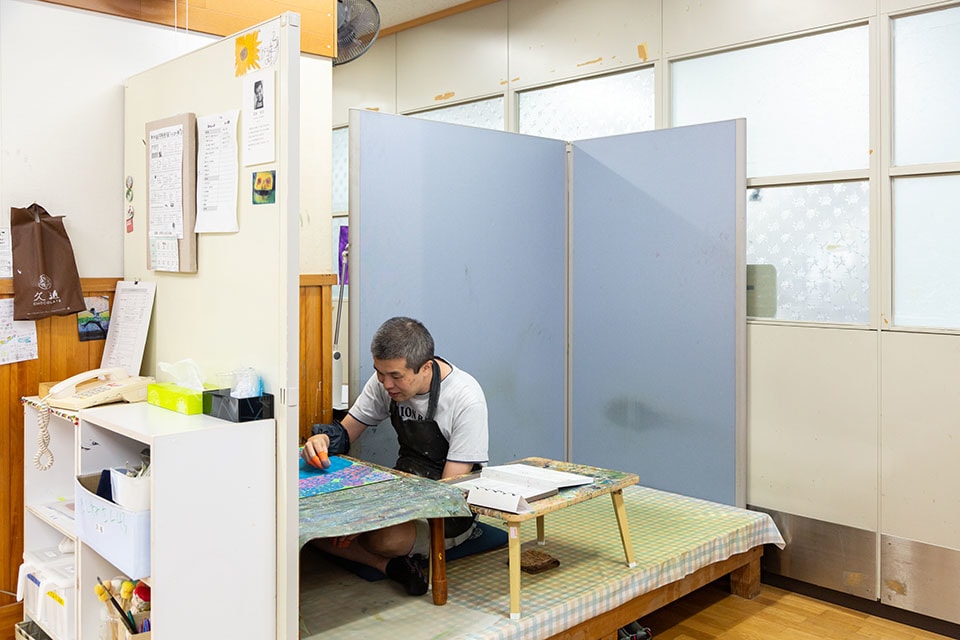 'He used to spend weeks on a single picture,' says staff member MATSUOKA Meiko, 'but now he only needs three days to a week for each.' Naturally, Kokubo uses up crayons at a remarkable pace. He likes black, and sometimes ends up coloring the entire page that color, but if he avoids getting too focused on black he adds layers of crayon according to the colors of his subject. We watch his colorful hydrangea nearing completion.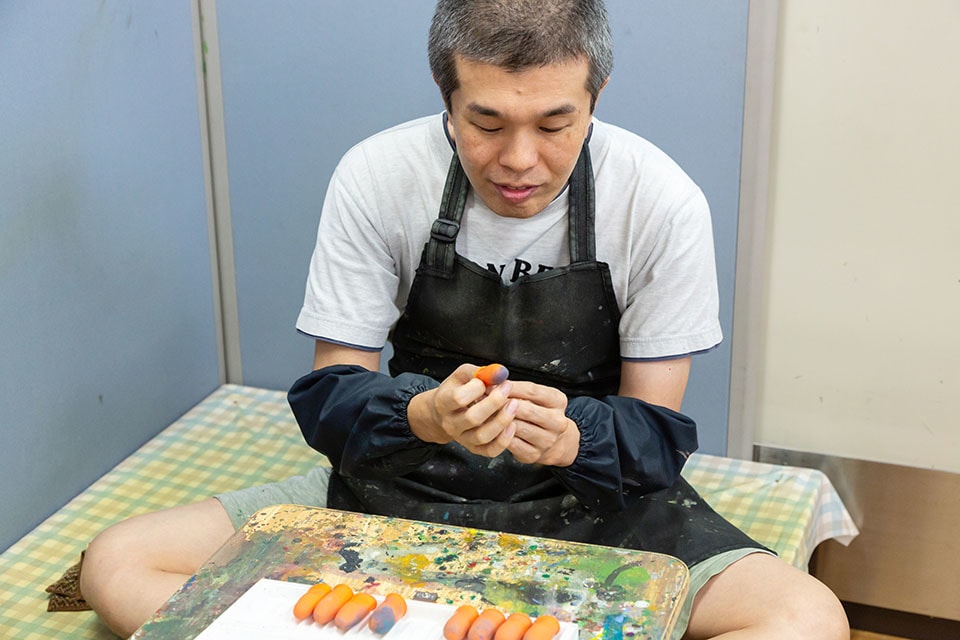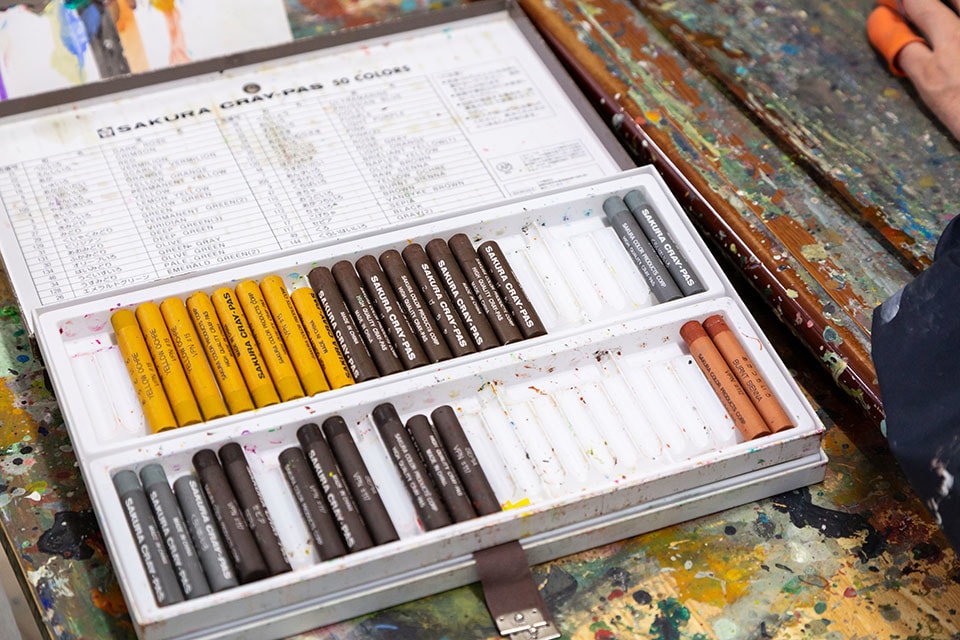 ---
Crayon and Finger Seem to Merge
When his subject has subtle gradations of hue, Kokubo hesitates at the places where the colors are unclear. During our visit, he turns to Matsuoka and asks, 'I'm drawing a hydrangea. What color is it? What color?' Matsuoka frowns and says, 'Good question.' Later, she explains why she avoided giving an immediate answer: 'When he asks what color something is, we think about it together. If he's truly stumped and remains stuck for a long time, I might give him a hint, but I do my best not to mention any specific colors. We emphasize personal creativity here.'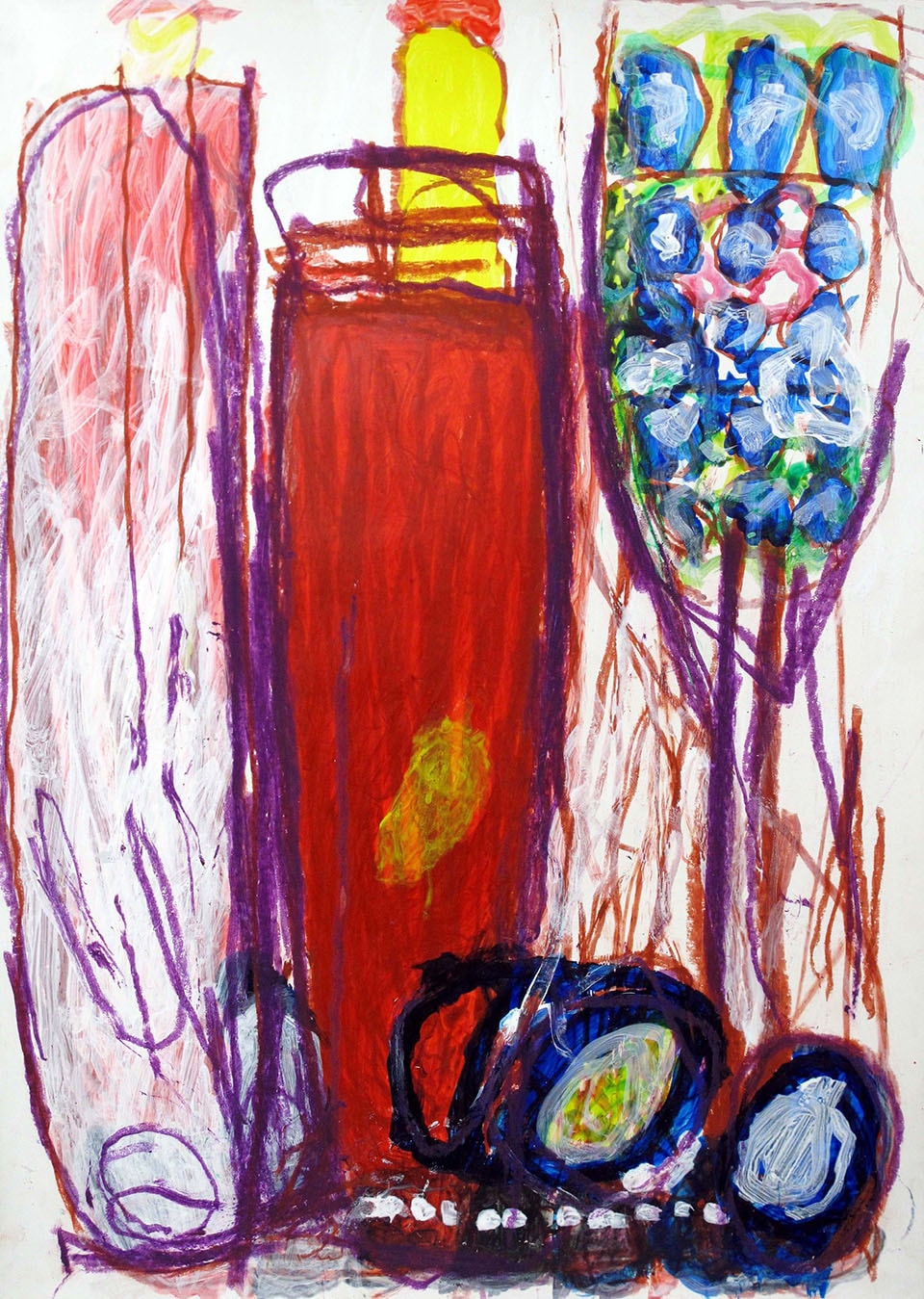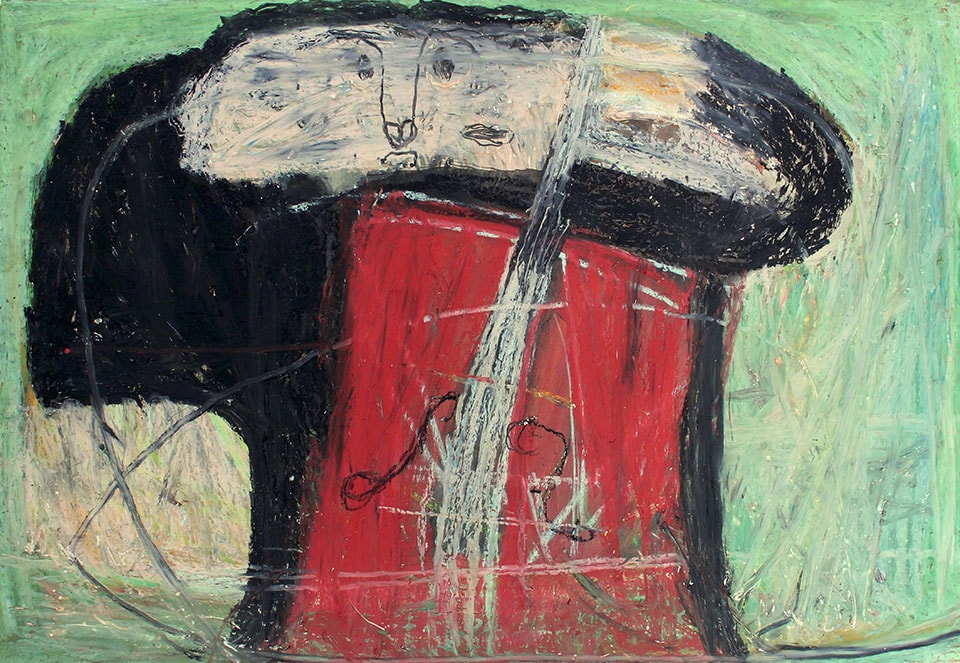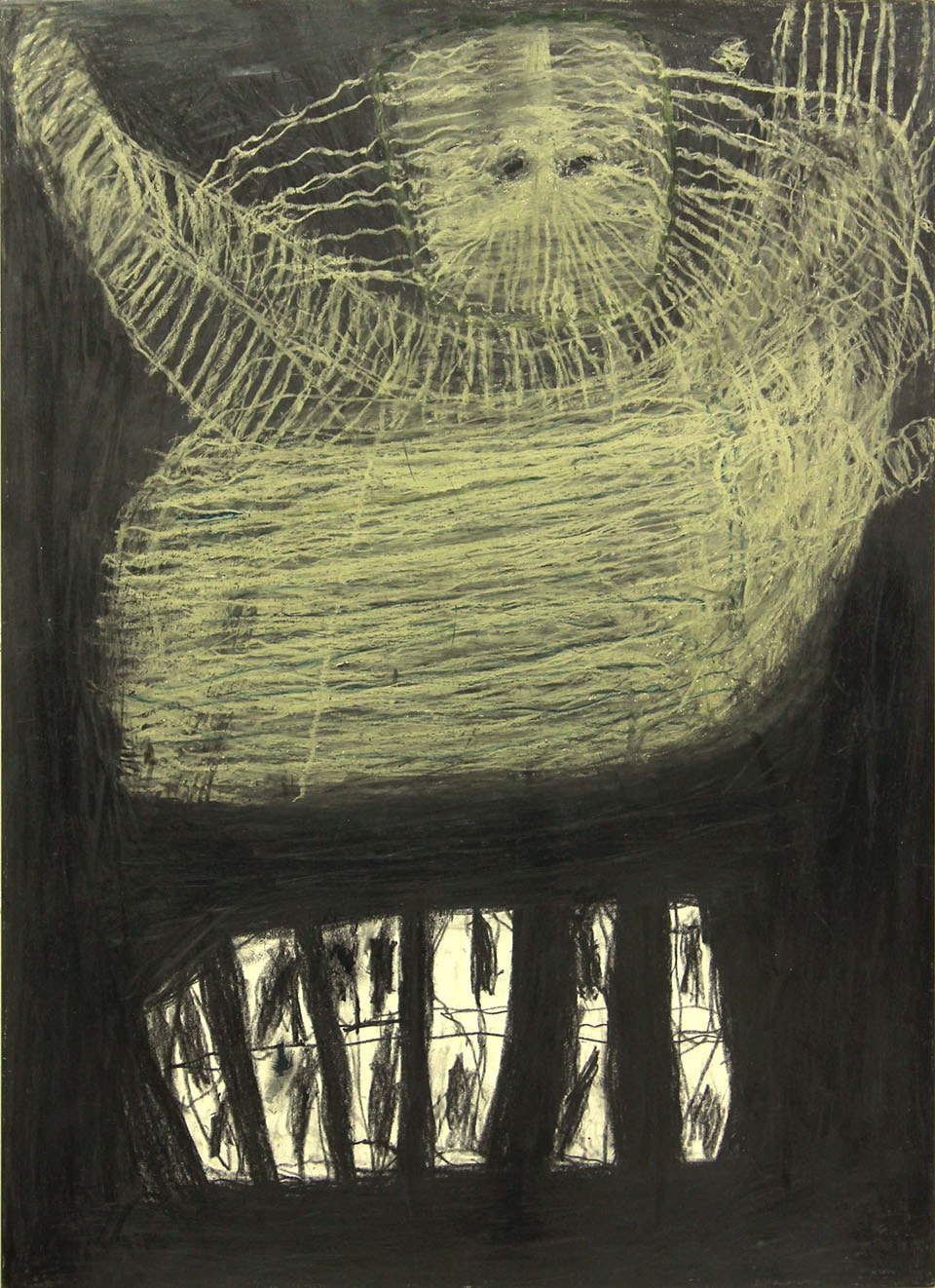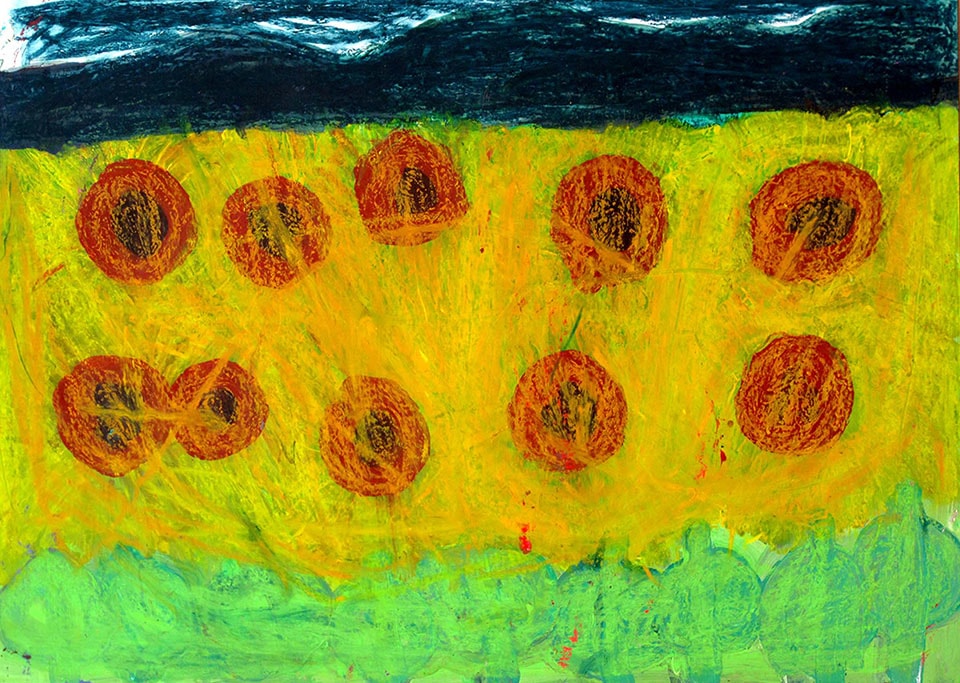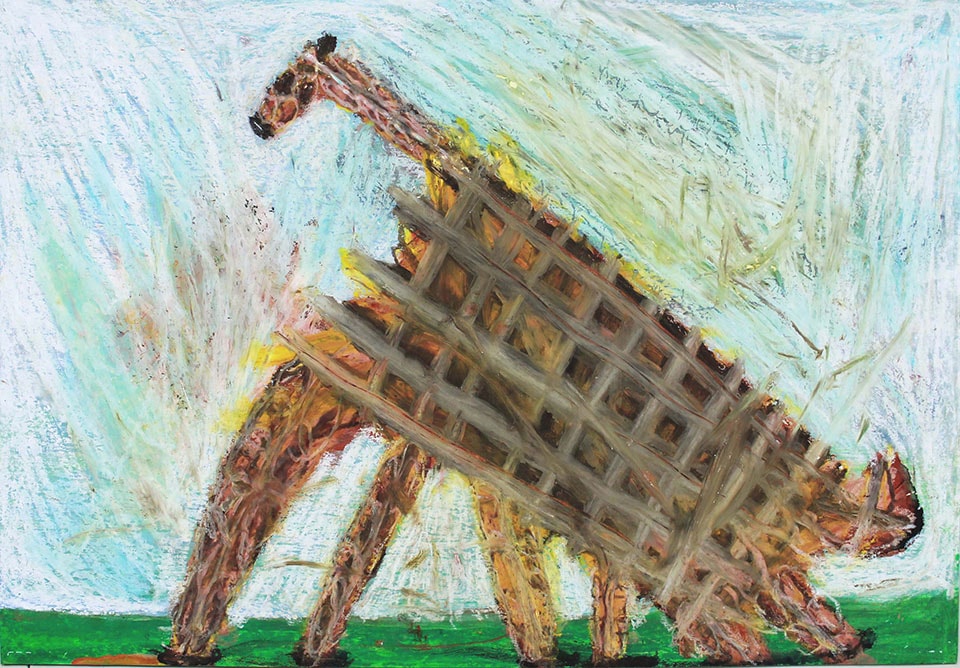 At 〈ATELIER YOOHOO!!〉, great emphasis is placed on preparing a space where each individual can easily create.Kokubo's space is perhaps the most unique. Not only does it ease his creative process, it also allows him to suddenly stand up, or lie down. He is a tall man, so the limited space might seem restrictive, but for him it is a castle and he is clearly happy with it.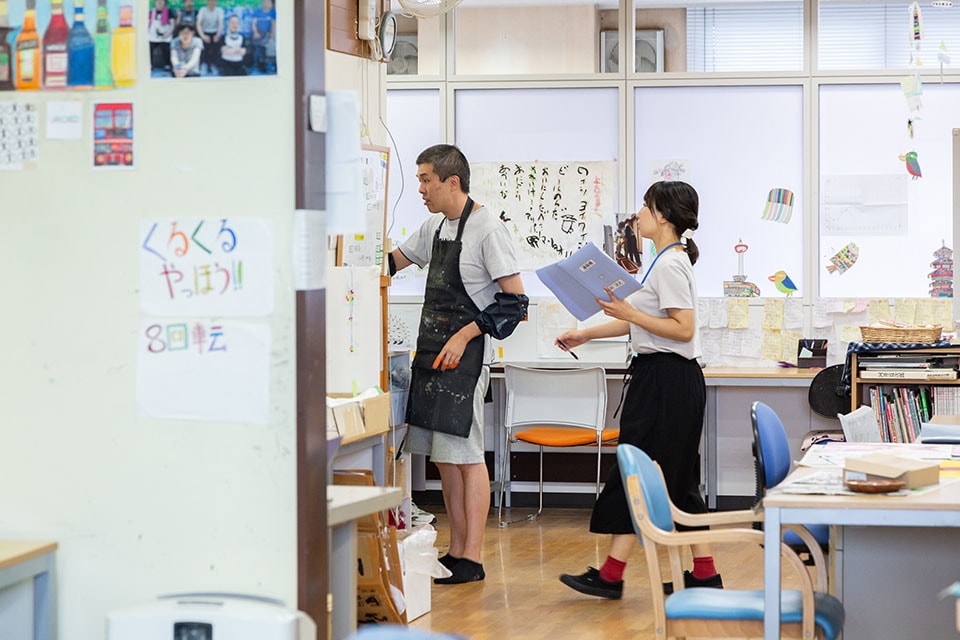 The sight of something partly broken tends to excite Kokubo, giving him the impulse to smash whatever it is completely. Would it be jumping to conclusions to see this reflected in the energy he directs at the paper? As we watch him work, crayon and finger seem to merge, as if he were rubbing the colors on directly (notwithstanding his finger cots). It leads me to wonder whether, for Kokubo, the act of drawing is ruled by the same primal pleasure as the act of destruction.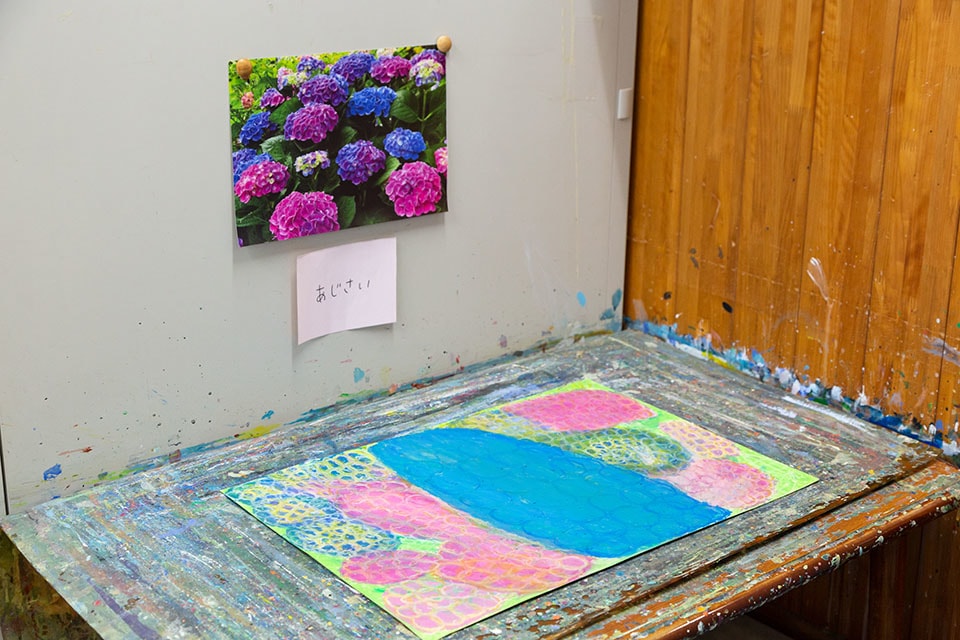 Toward the end of our visit, I learn that Kokubo often picks up things he finds in the road on his way to the atelier and brings them with him. This is an image that has stayed with me. If he created three-dimensional artworks here in his keep, what would they be like? What would Kokubo, with all his destructive urges, sculpt if given the chance? I cannot help but look forward to his future evolution as an artist.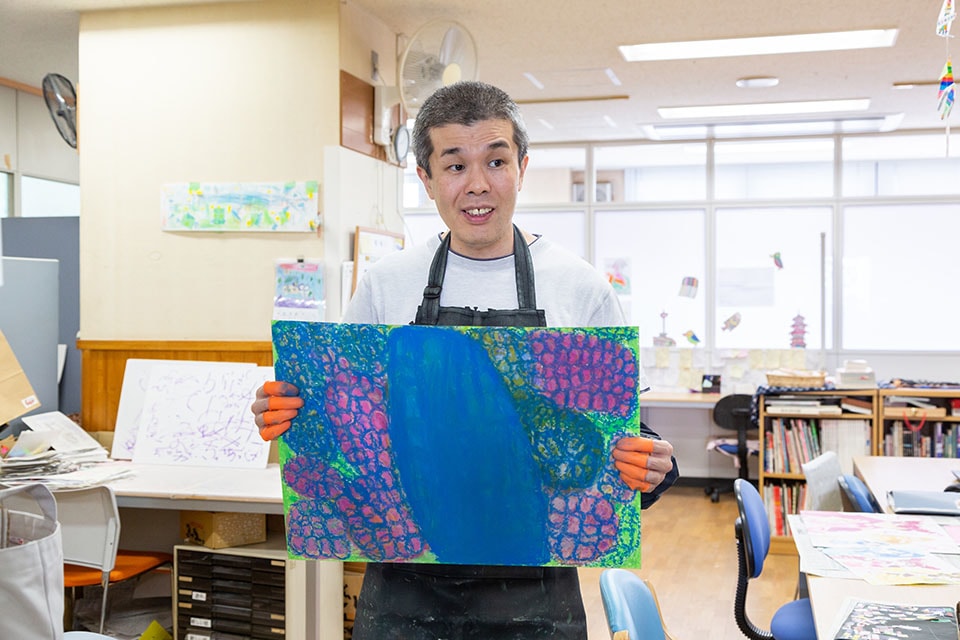 ---