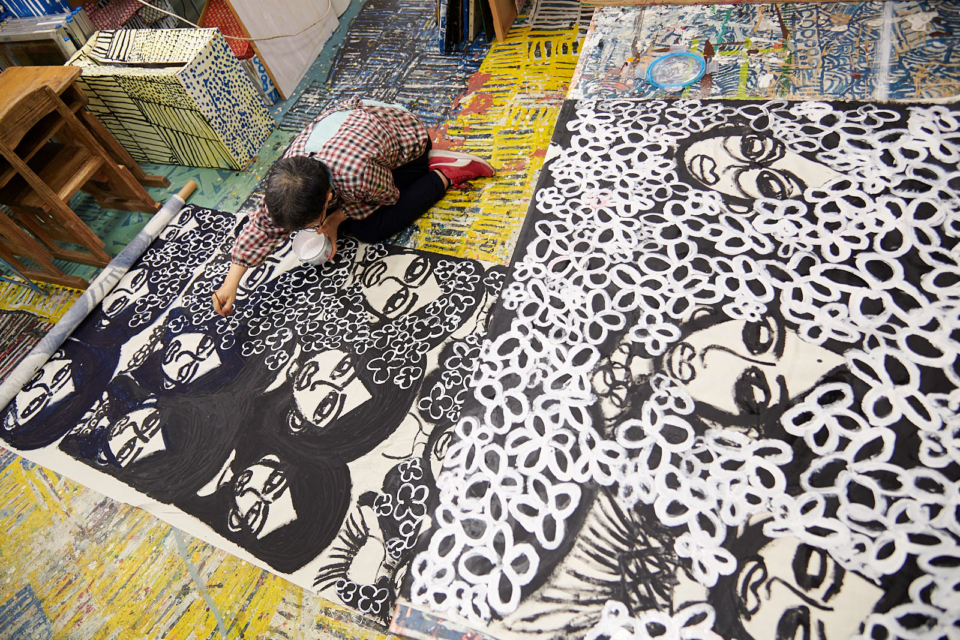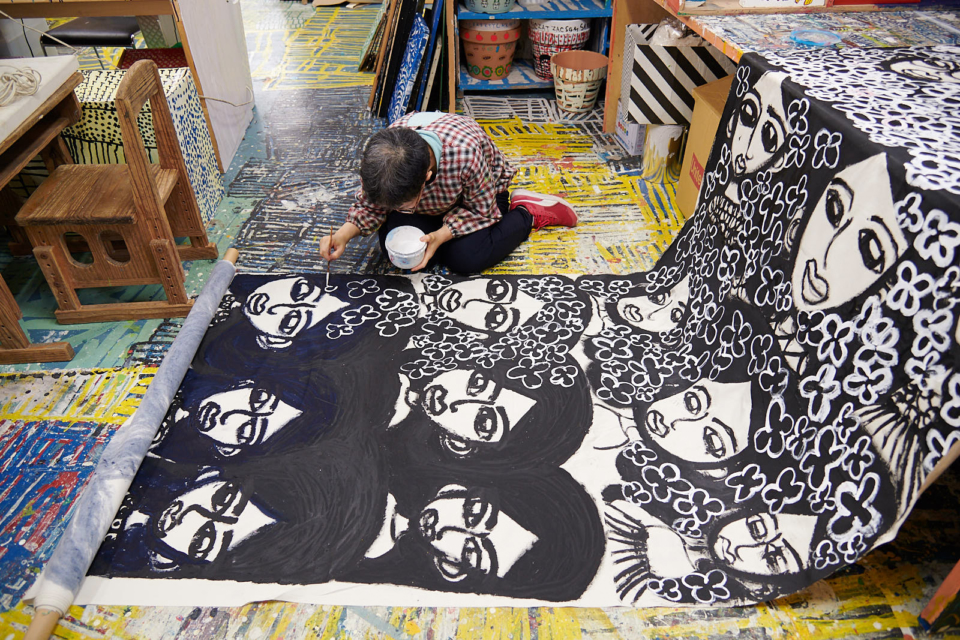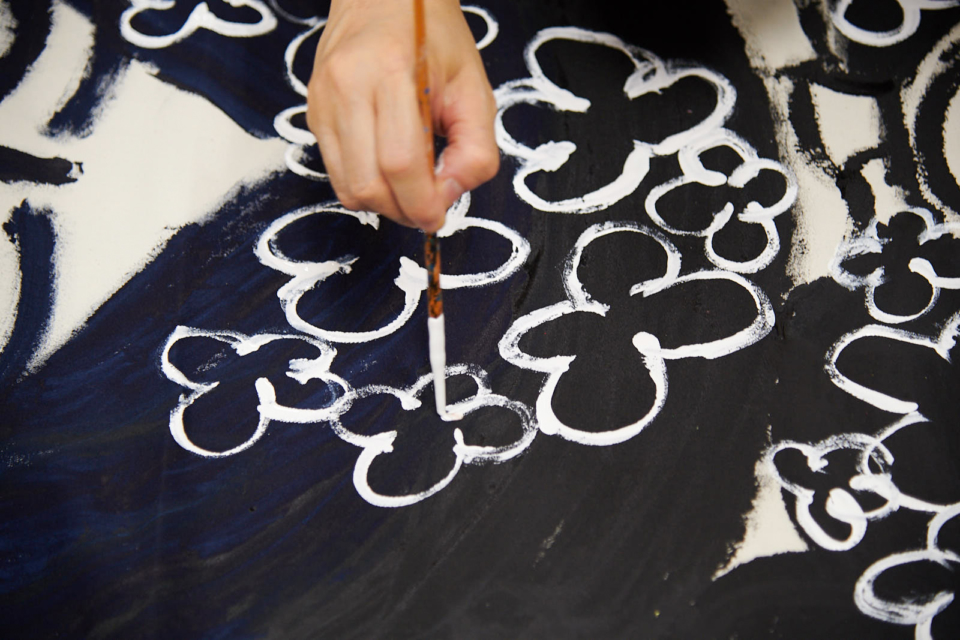 Being stared by many big eyes
Staring eyes, eyes, eyes, and sometimes a beard. Characters with big eyes like in Shojo (Girls') mangas are painted closely together and looking this way. Most are female, but sometimes they are male. I was startled, to be honest, when I first looked at the paintings that feature many big eyes with a seductive gaze from UNOKI Fumiko, who is part of the Shobu Gakuen in Kagoshima. It seemed like they were looking right through me or was expecting something from me, and that made me anxious. However, to make something that confronts like this is must be talent. Intrigued about what was going to be painted next drew me further into her work. The gaze from the many eyes made me want to indulge in the "Fumiko World" that mixes a Shojo manga-like cuteness with a surreal but adorable style.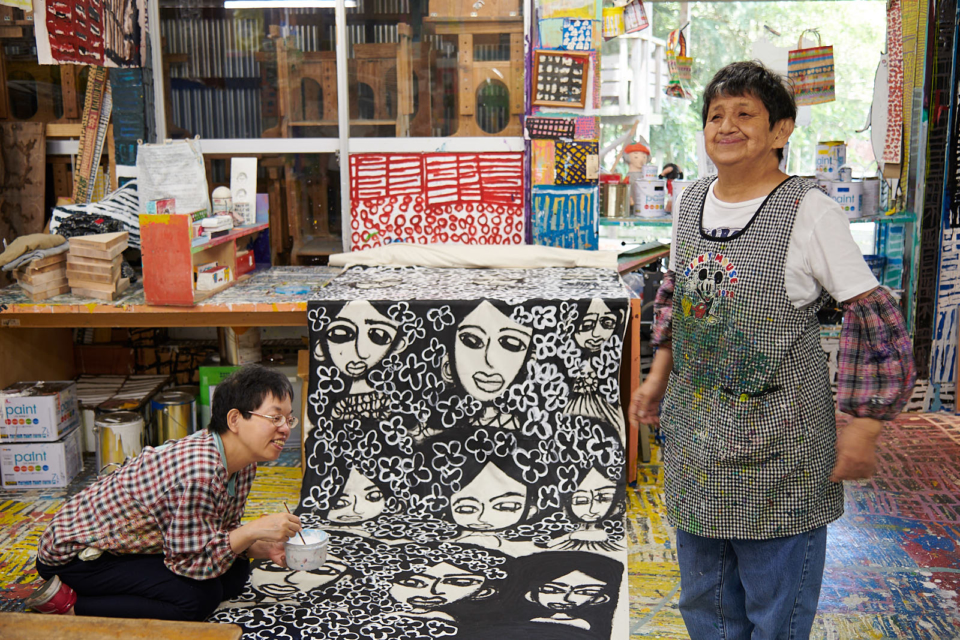 Shobu Gakuen has several workshops such as Woodworking Workshop, Textile Workshop, and Ceramics Workshop, where creative activities take place. I first encountered Unoki's work at the Washi (Japanese traditional handmade paper)/ Painting Workshop. Members of this workshop not only use paper but also work with various materials and places to make artworks in their own styles. When I visited the workshop, Unoki was drawing on a cloth that was 1.1 meters wide and 7 meters high. Staff members were preparing the painted cloth to be sold as a product at her solo exhibition in fall at the Shobu Gakuen S Gallery. This collaborative work between the members of the workshop and staff is also a unique feature of Shobu Gakuen. While working on her masterpiece, Unoki would ask us with a friendly smile: "Sisters, where did you come from?" or "Sister, you have blue nails." Her casualness triggered questions from us: "Do you like blue?" Unoki smiled and answered: "Yes." She then returned to her fabric and started to draw a woman and flower. The paint that she used to draw on the fabric first looked black, but when I looked closer it was a deep dark blue.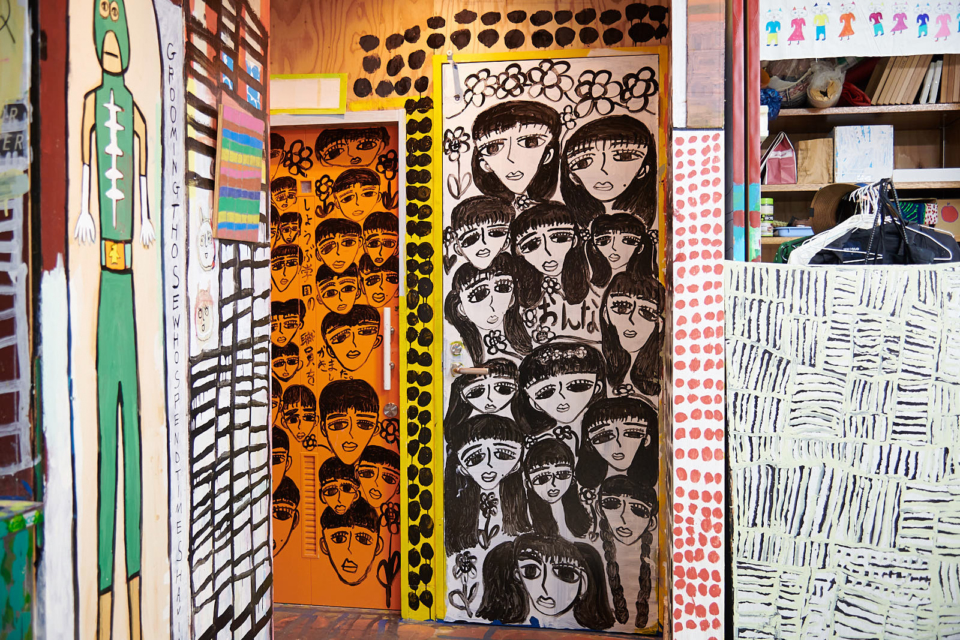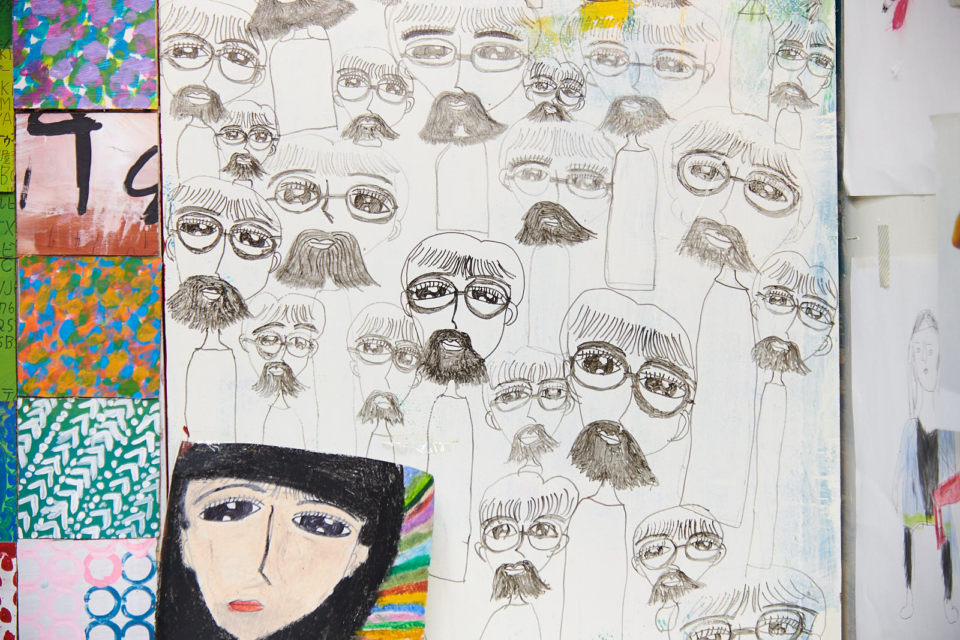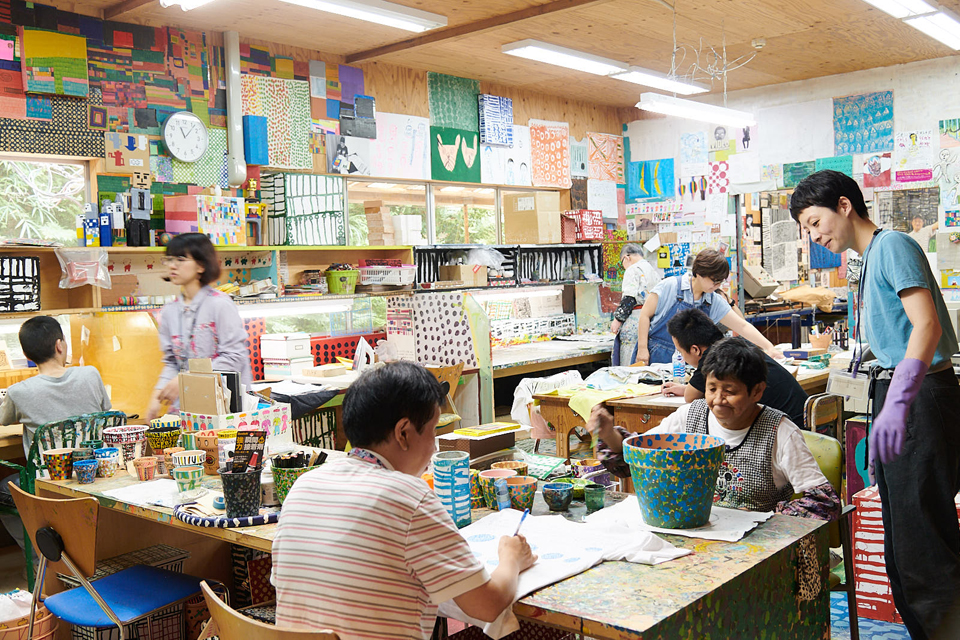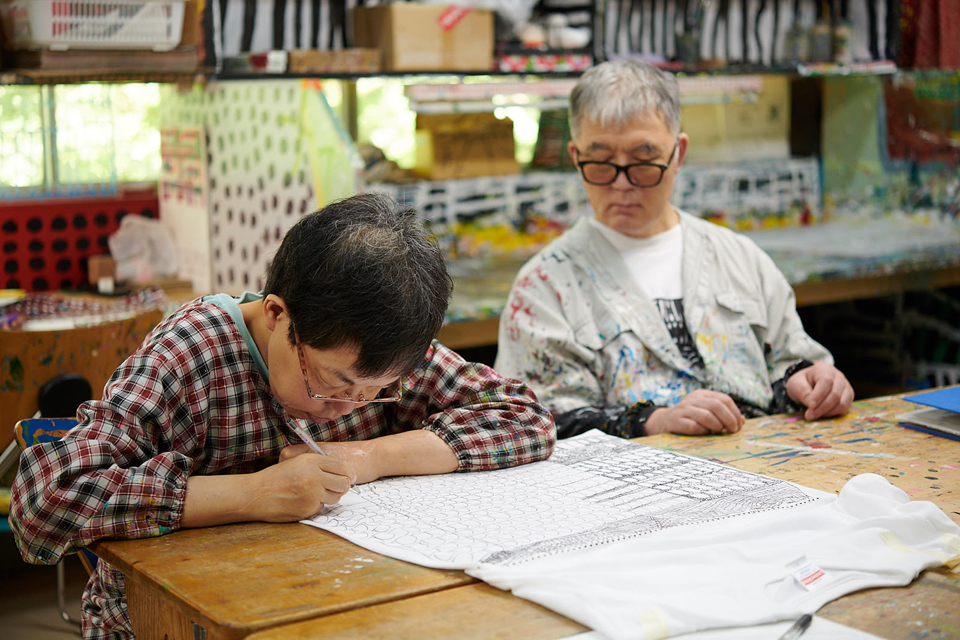 After finishing the morning's work and having lunch, Unoki started to work on the T-shirt. At the "Kobo Shobu's Hand-painted T-shirt Exhibition" held in the summer at Shobu Gakuen S Gallery, one-and-only T-shirts made by the members of the workshop will be festively displayed and sold.
With a fine-tipped pen, Unoki started to draw at an incredible speed without any hesitation. No talking either. A different kind of energy and focus from the morning could be felt from Unoki working on the T-shirt.
For members who finish their artwork quickly, anything and anywhere in the workshop becomes a canvas. The floors, walls, and even doors of the Washi / Painting Workshop are filled with lively and colorful artworks.
Unoki has her work on the door to the toilet in workshop. For the women's room there are female faces, and male faces are painted on the men's room. The experience to open the door while being stared at all these faces is more interesting than embarrassing.
On the wall next to these faces is an even more interesting face. Gentle eyes look through a pair of glasses and the face has a long beard. ONO Yoshimi who is the assistant director of the design room tells us that this was one of their staff members. Many of the faces that Unoki paints are modeled after the staff members who work there. What does this mean?
---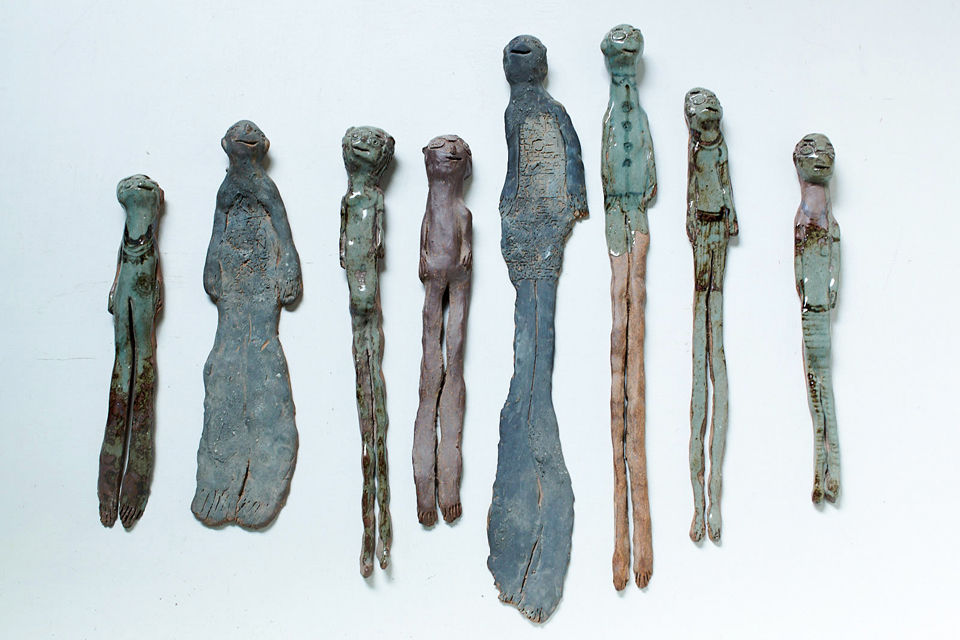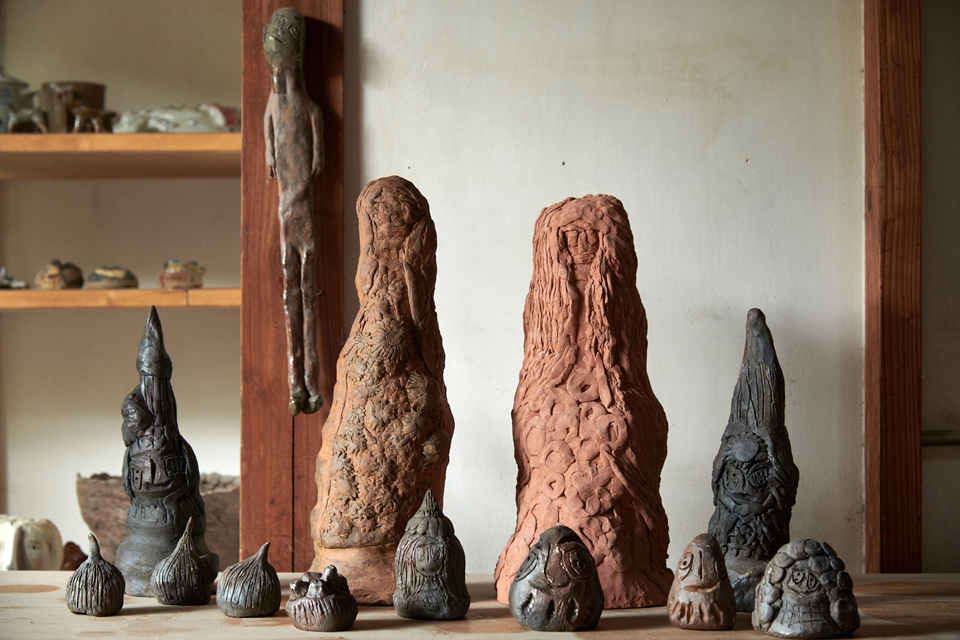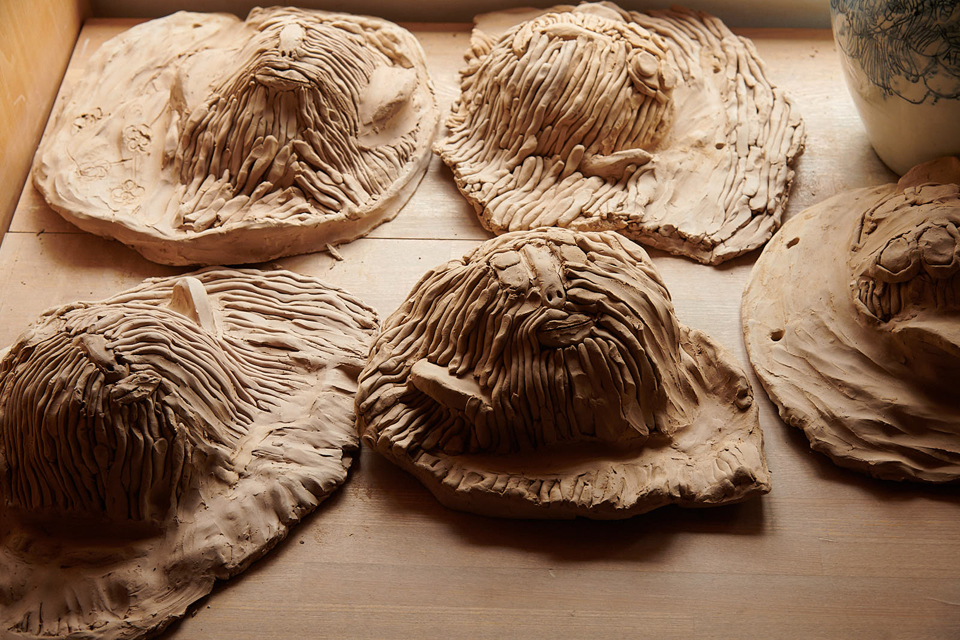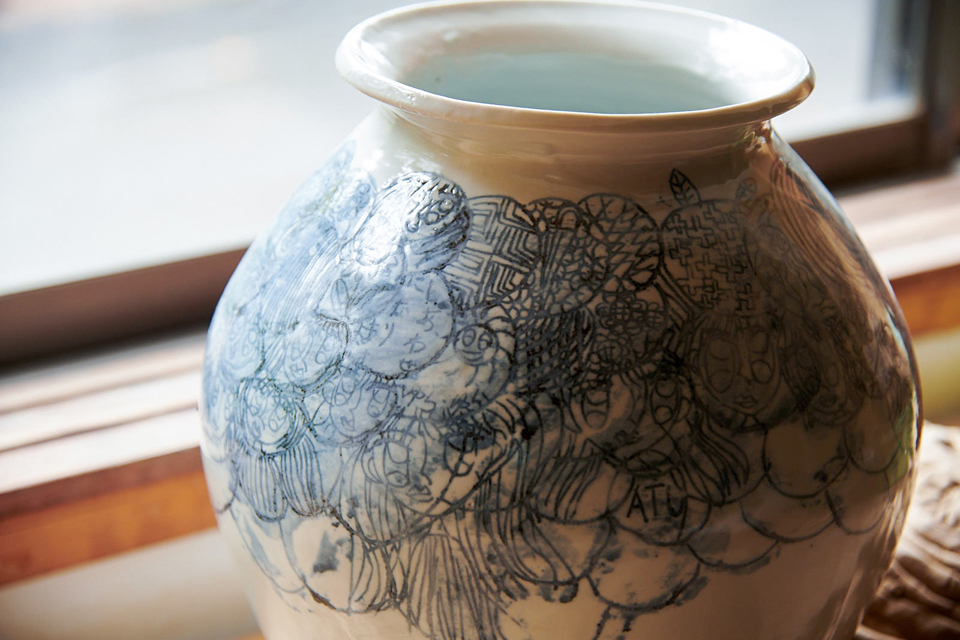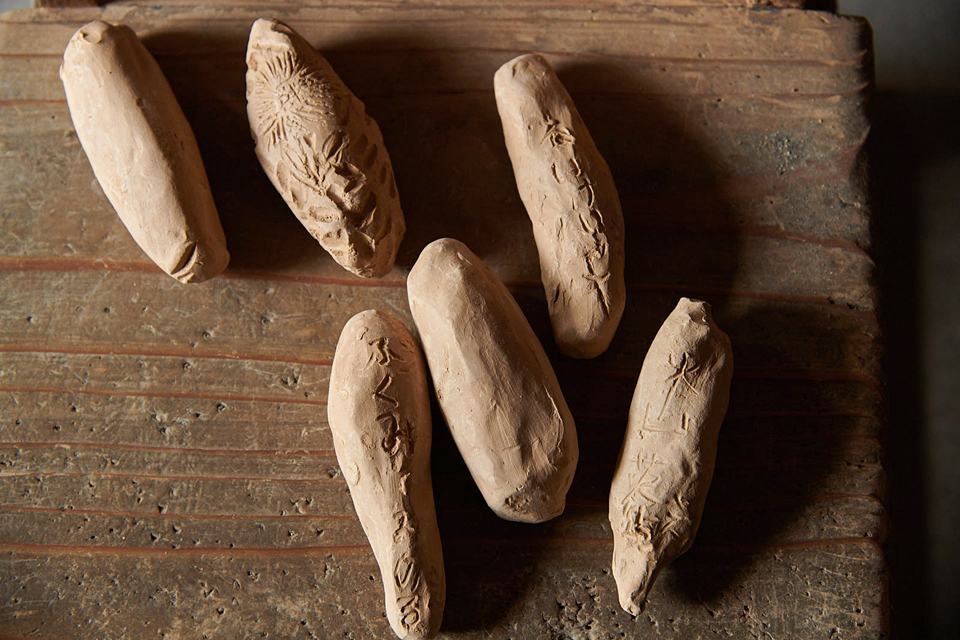 Motivated by cherishing people who are like "family"
Ono remembers: "Fumiko-san's sculpture titled《Ceramic sculpture 'People' 2017》, which was shown at the 'Action! Exhibition' at the Oita Art Musuem in 2018 was hung from the ceiling, and it had divine feeling like it was climbing to heaven." True enough the small faces attached to the thin bodies and long legs each are looking upwards and have a blissful smile. Each of the figures have names carved into them.
In comparison, her other piece《Clay Sculpture 'People' 2019》has a primitive feeling as if an altar has suddenly immerged. Ono says: "It's like a god from another country or region." The divine ceramic sculpture was a departure from her paintings, but this clay sculpture also had a very strong presence. Such range she has in her artwork! However, if you look closely even these clay sculptures have large eyes and their heads and bodies take shape of a flower. These were all firmly part of the "Fumiko World." Additionally, the unfinished half dome-shaped work Clay Masks lined up on the table are supposedly inspired from the bearded face. Ono told us with a smile: "It was like witnessing evolution. After drawing our staff member with a beard, a sculpture of a beard was made, then more beards were added, then a face immerged from the beard."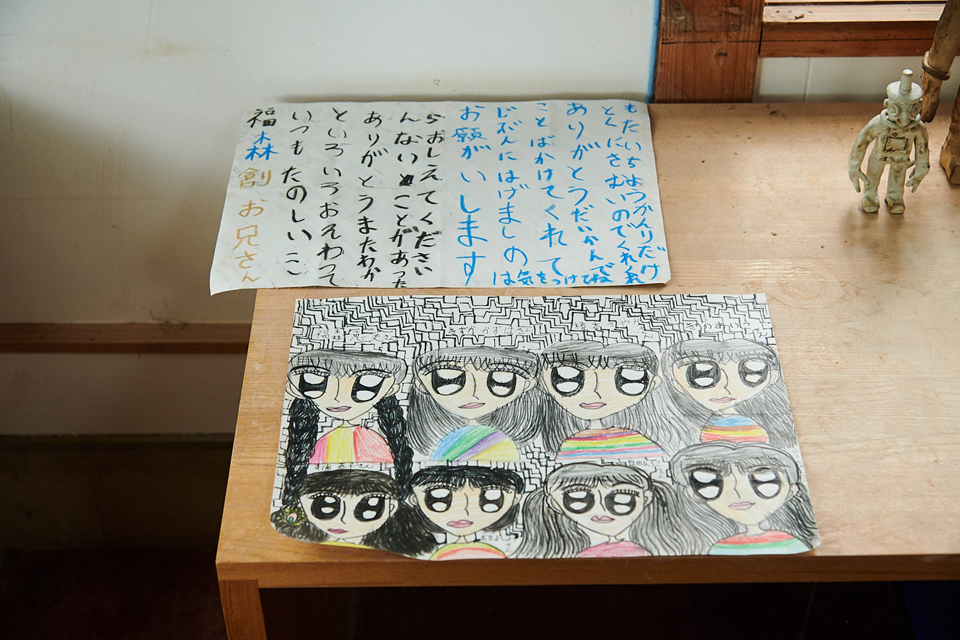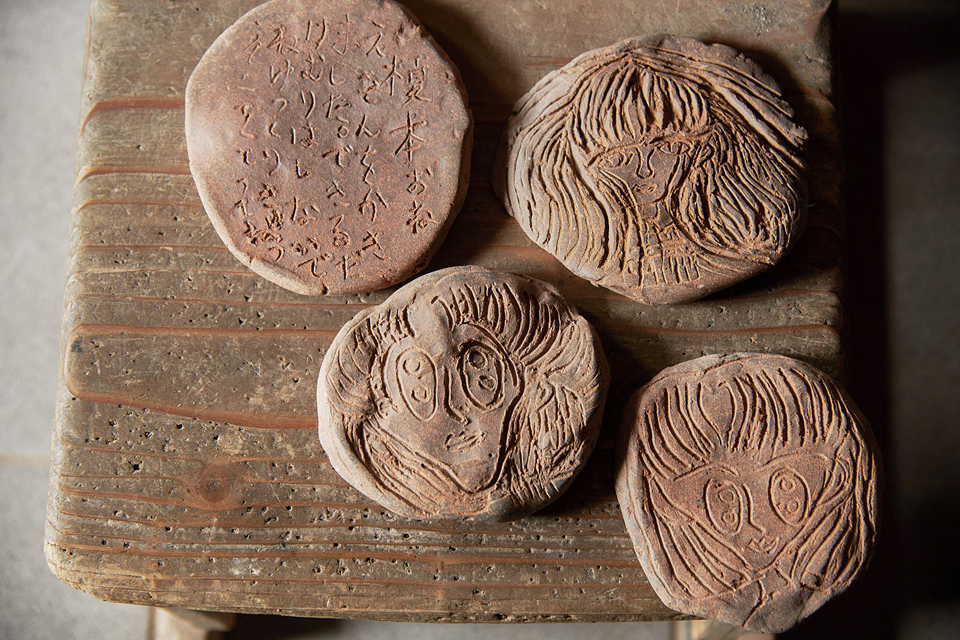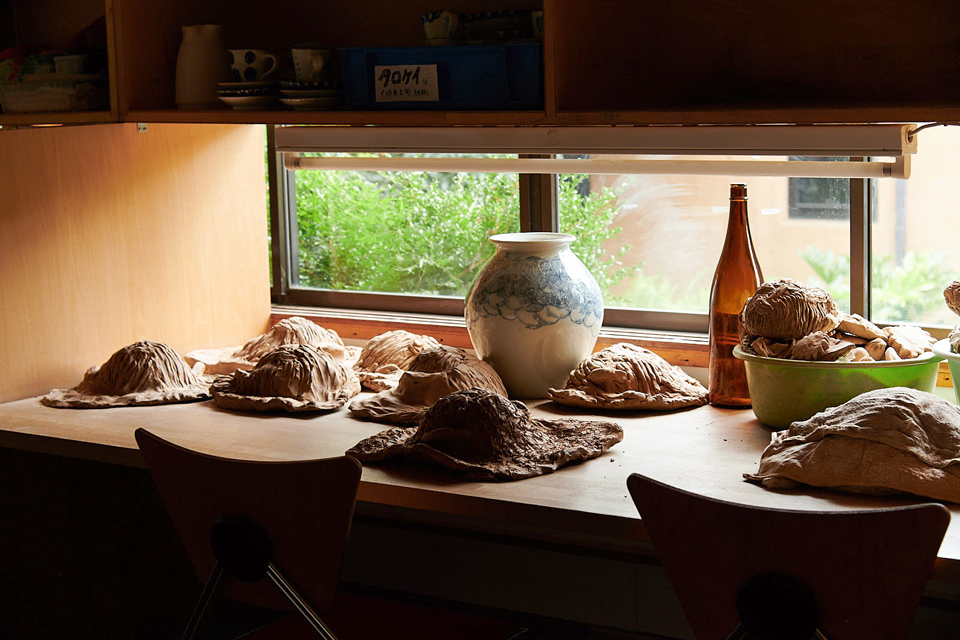 When Unoki joined Shobu Gakuen in 2015, she first joined the Ceramics Workshop. There she made sculptures of people but also a wide range of works such as bread she had for breakfast or Kogane Sengan − a unique sweet potato from Kyushu.
Aside from her activities at the workshop, Unoki often writes letters to the staff members. In these letters she writes her gratitude with a portrait of their faces. This made the staff think that Unoki should paint as well.
FUKUMORI Shin, the executive director of Shobu Gakuen, has the idea for Unoki to start to working in the Washi / Painting Workshop and her talent in painting started to blossom. She continues to make artwork between both the Ceramics Workshop and the Washi Painting Workshop.
HATADA Yuko who is a staff at the Ceramics Workshop tells us: "Sometime she is inspired by artworks by other members and makes various kinds of work, but gradually these become part of her own style. However drawing faces of both women and men hasn't changed."
Unoki is fond of Shojo-manga and likes to color too. Although she is influenced by these "girly" things, rarely do girl appear in her works and instead emotions such passion or obsession are openly expressed. However, at the foundation of her expression are pop aesthetics of Shojo-manga and coloring books, so even when the work emotionally effects you, there is a lightness that captures your gaze and eventually you are hooked.
For Unoki who continues to write letters to the staff with portraits of their faces while making artwork in the workshop, the motivation must be her feelings towards people. One time when they asked what the title was for her artwork of staff member's faces made of clay, Unoki answered with a smile: "family!" Perhaps the big eyes that Unoki draws are an expression of endearment towards people that she loves like family. When I asked Unoki "which do you like better painting or working with clay?" she immediately answered; "painting!" Her eyes were as shiny as the ones she paints.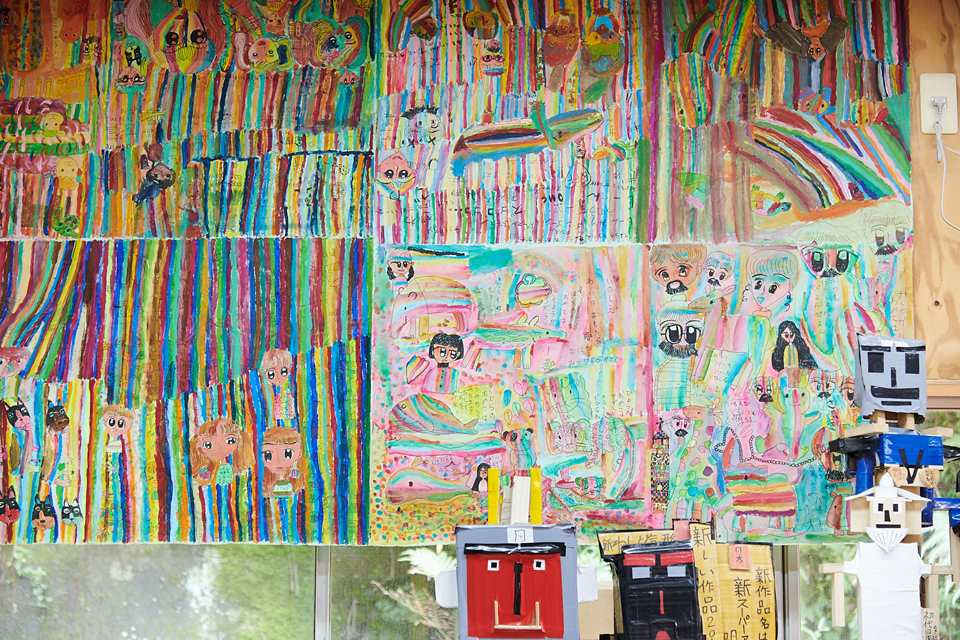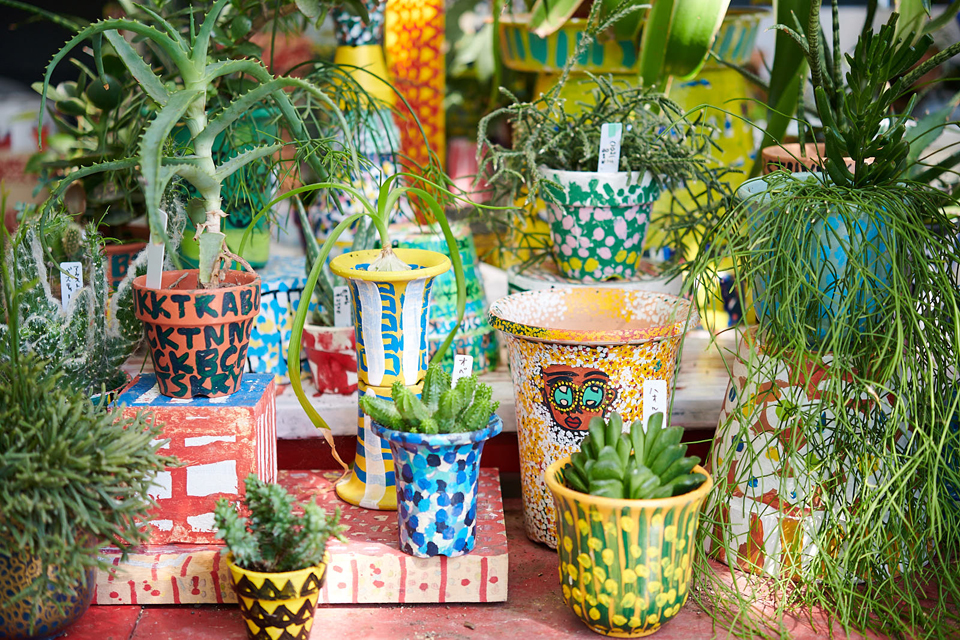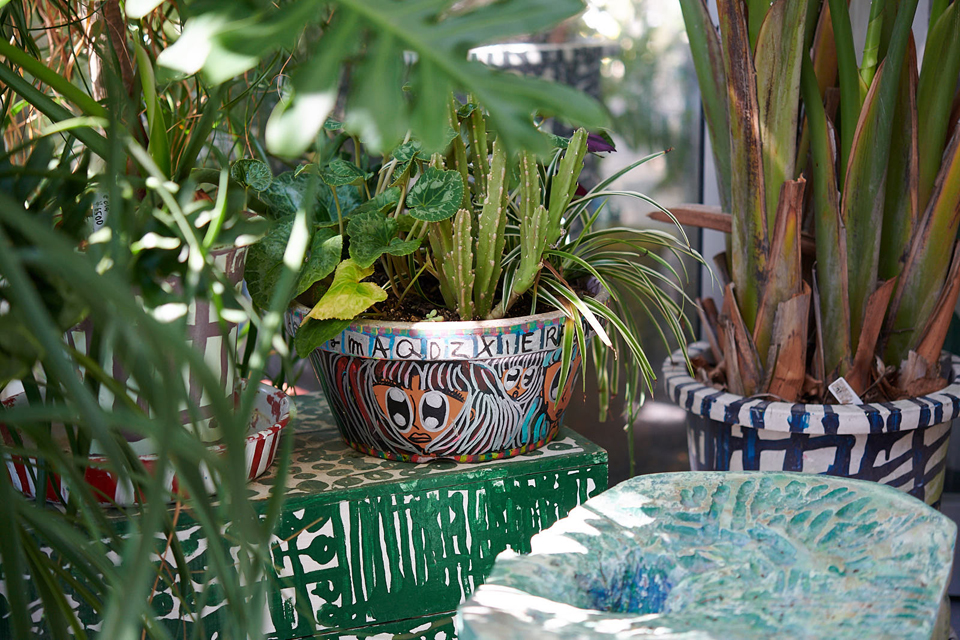 ---