Creating a place for people who are isolated from expression to communicate their feelings with ease
---
UEDA Kanayo
Poet/Activist. Born in 1969 in Nara Prefecture. Ueda began writing poetry at age three and began reciting it at age 17. In 1992 she started holding poetry workshops. In 2001 she declared herself a poet and developed various workshop methods, working nationwide. In 2003 she opened the Cocoroom to explore the relationship between society and expression based on the theme of expression, self-reliance, work and society. Since 2008 she has worked in Nishinari Ward (commonly called Kamagasaki) putting up a front as a café. She participated in Yokohama Triennale 2014 as the Kamagasaki University of the Arts, a community-based initiative. In spring 2016, she relocated and opened the Cocoroom Guesthouse Café and Garden. She is a researcher at Osaka City University Urban Research Plaza. She received a 2014 New Artist Award from the Agency of Cultural Affairs, the Minister of Education, Culture, Sports, Science and Technology's Art Encouragement Prize. Her literature includes "Cocoroom : A Café Creating a Place for Expression in Kamagasaki" (Film Art Inc.).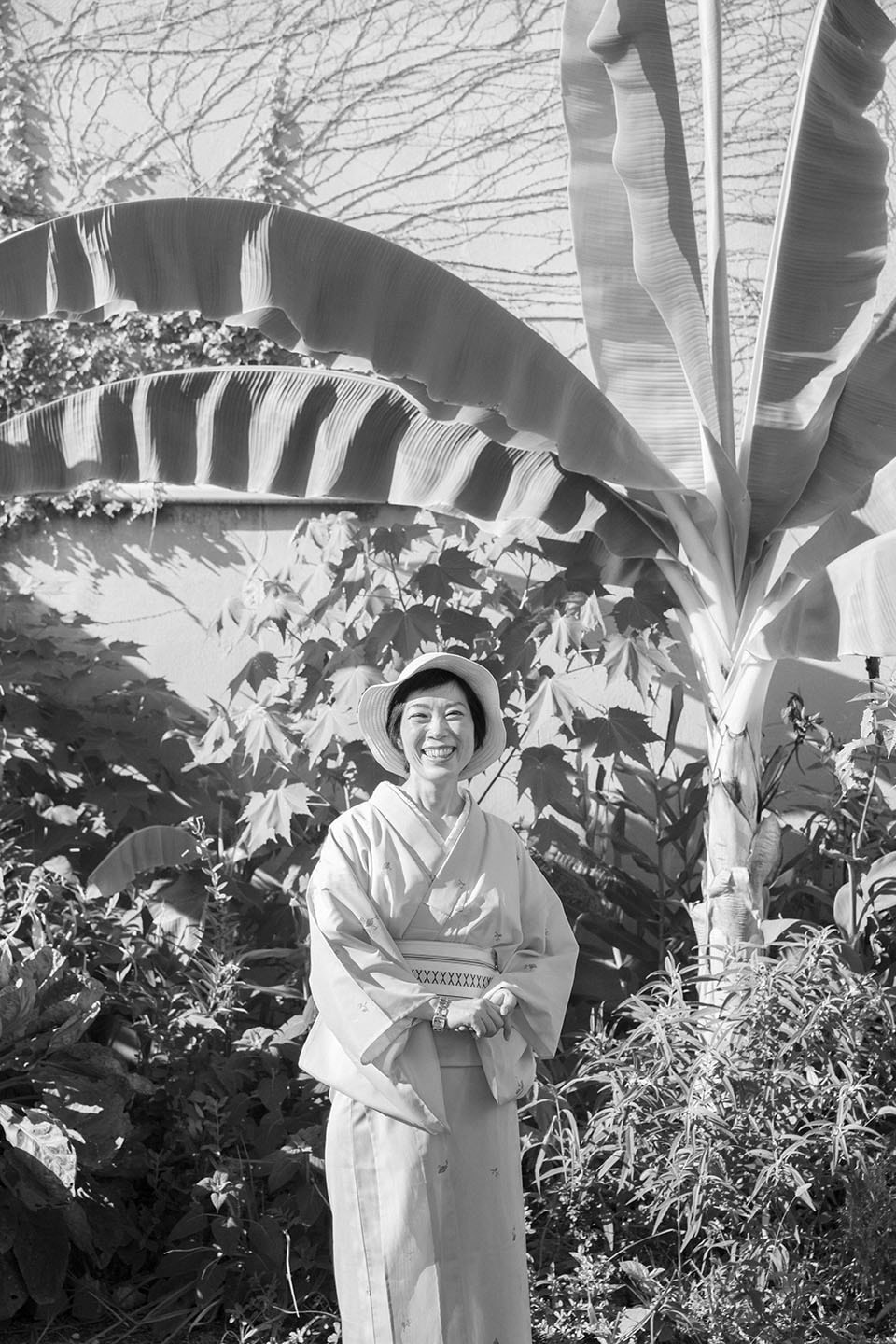 ---
Changing myself also changes others
Since my childhood I've been interested in words and loved poetry. While working as a copywriter in Kyoto, I tried to create spaces where people involved in diverse genres could interact by reciting poems, so I did things like opening up my residence for these activities. I operated with the idea that anyone can talk out loud about their feelings or express themselves with their body even without professional training, and people with problems such as difficulties in life and heartache started coming together. Even though our interaction was only about once a month, their facial expressions gradually softened after I had been with them for six months or so. Once we remove titles and positions, people talk about and respond to their own feelings. I realized that having such a space increases our feeling of being truly alive.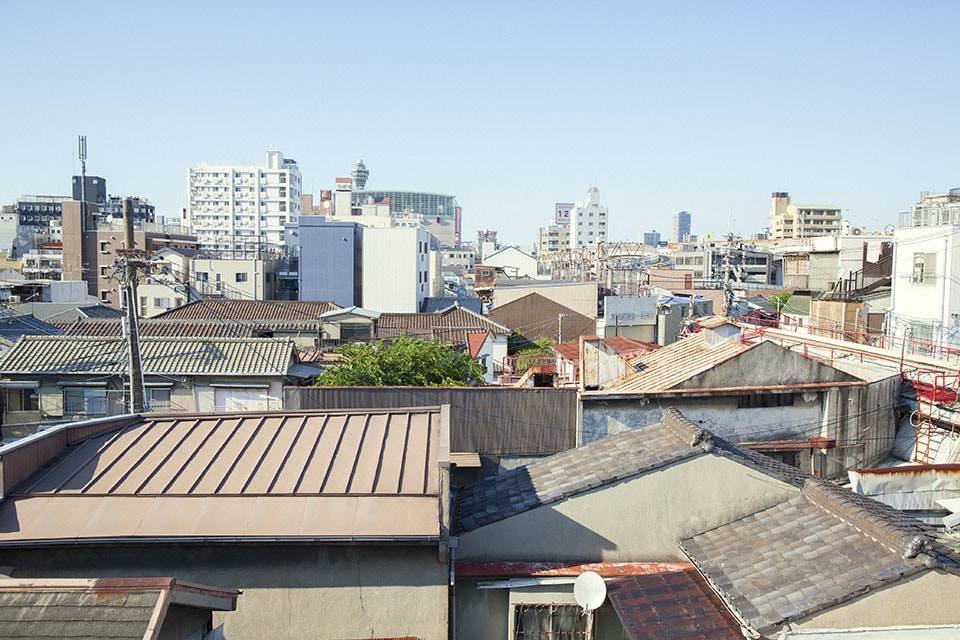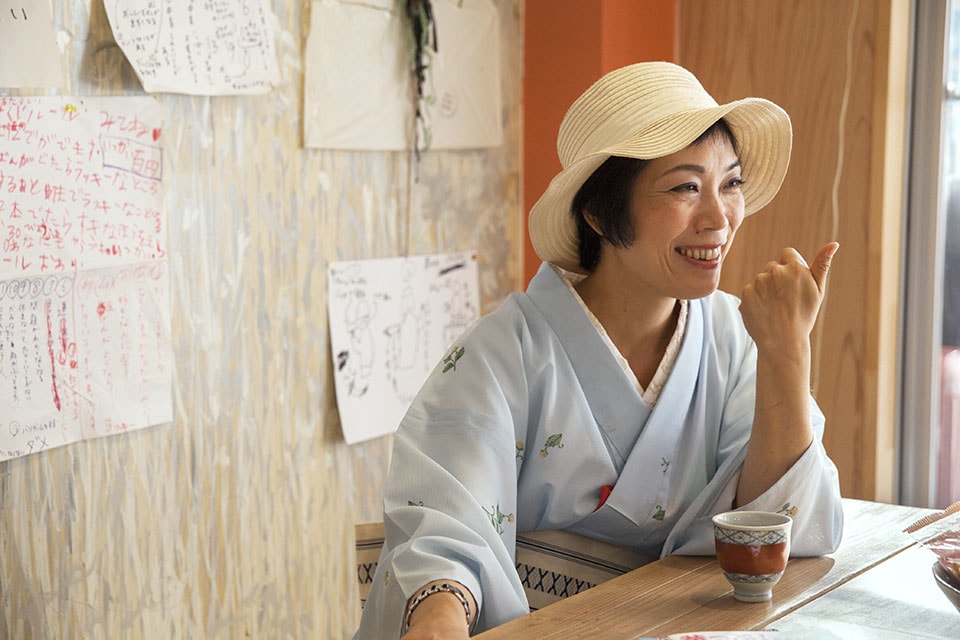 After that, for various reasons, I quit my job as a copywriter and qualified as a chef. When I worked at a rural hot spring inn, I was uncomfortable at first because I was aware of differences in values with my colleagues. So I tried actively asking them various questions about things in their hometown and childhood. When I did that, the looks on their faces changed, and they started talking to me with nostalgia. This was when I realized that changing myself also changes others. After a while, it developed into a method of poetry writing by asking questions as seeds of the soul.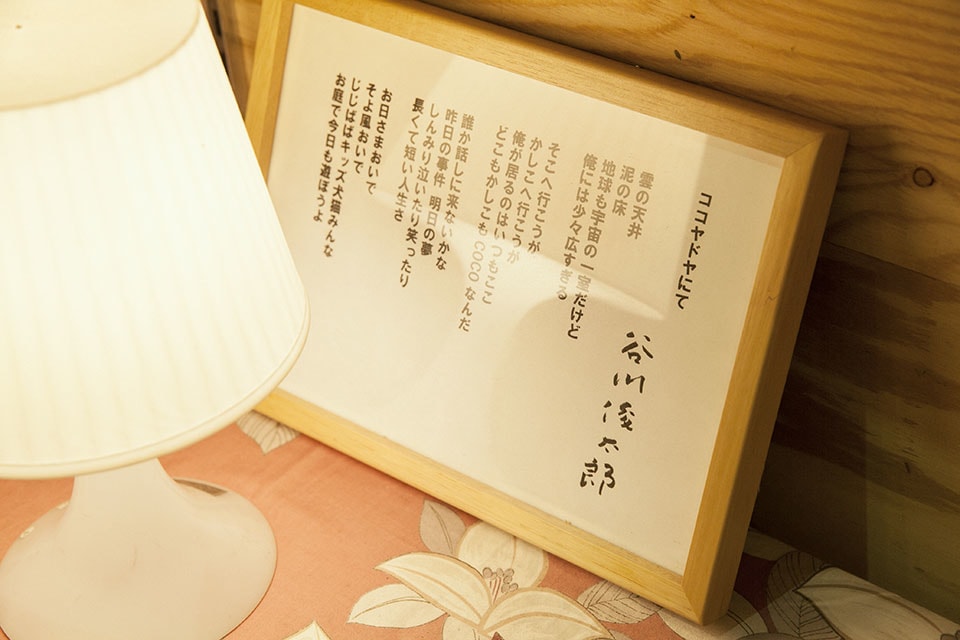 ---
I want to hear the voices of people who can't speak out loud
In the end, I wanted to go back to working with words rather than preparing food, so I left the inn and moved to Osaka. Just about that time, poetry reciting events, which I'd been involved in for a long time, become a bit more popular. When I became involved in the movement and decided to live as a poet and activist, Osaka City asked me to operate a space in a facility called the Shinsekai Festivalgate as one of the initiatives in its Contemporary Art Foundation Development Project. I wondered what kind of activity I should do, but I wanted to make sure that it was public in nature because the government would pay for rent and utilities. After thinking about whether I could create a place where diverse people, not only art or poetry lovers, could meet, I came up with the idea that a café could be open every day and anyone could wander in freely. So I opened a café which also had a stage. The staff consisted of young people involved in entertainment, music and arts, and we created a stage to hold events such as live performances and plays.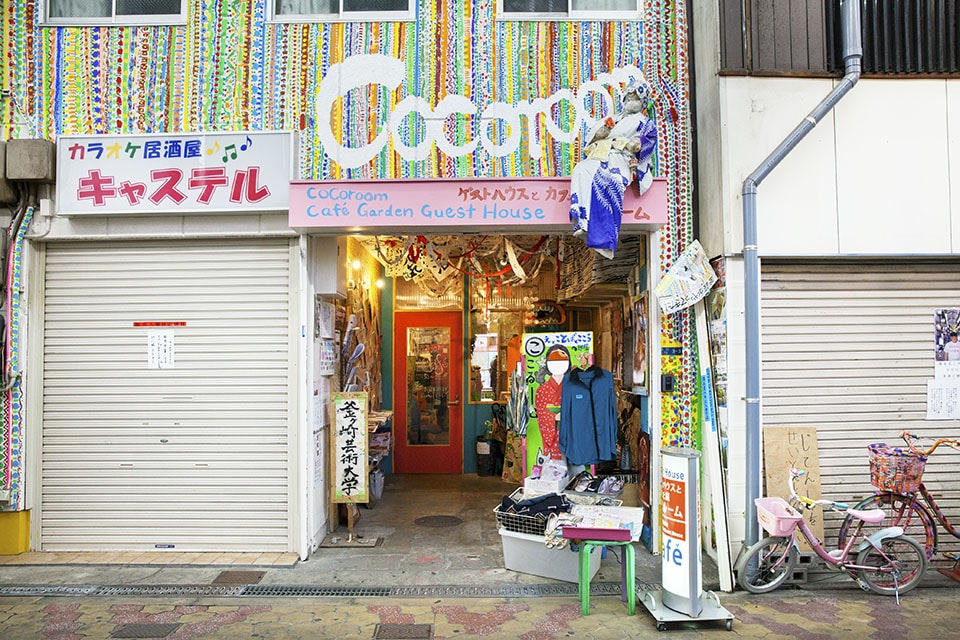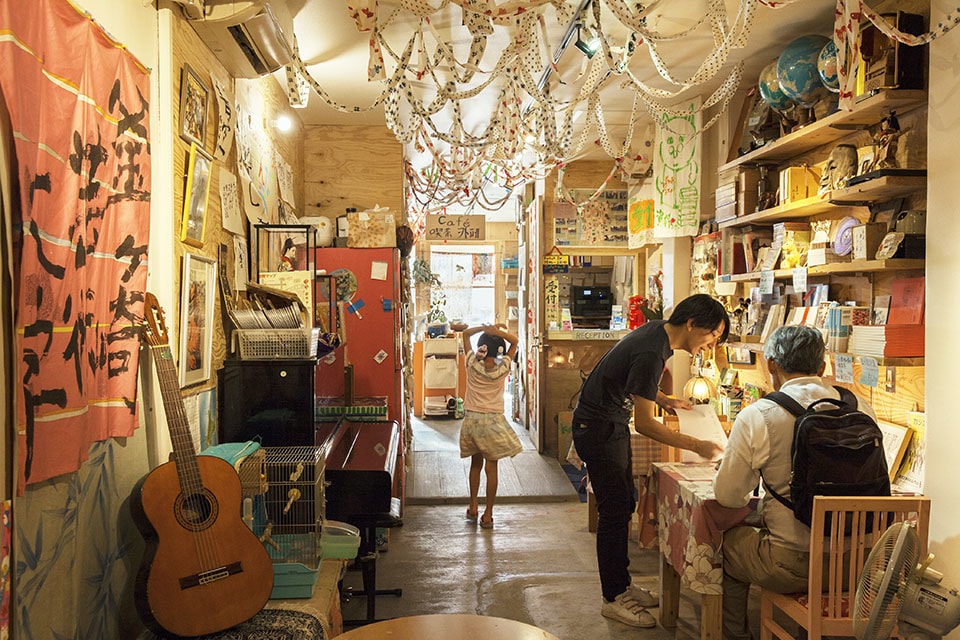 Around that time, we started a tactic for everyone including staff, volunteers and guests and visitors to eat staff meals together. When different people join in and eat meals together, they talk to each other about diverse things like work, life, social relationships and worries. During the discussions, I noticed that various universal challenges which are not acknowledged as social problems exist under the surface of society. For example, the term "developmental disorders" was not yet familiar at that point, but I realized there were many people suffering the problem. In these circumstances, I started the Work Support Café Cocoroom project in 2005. I ran a range of activities such as theater workshops for practice in interacting with others.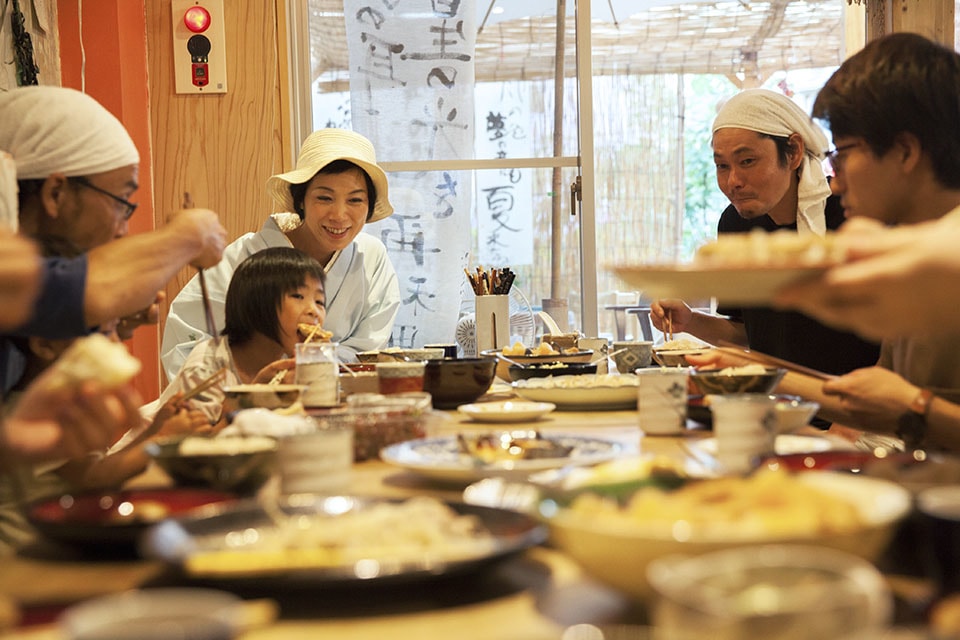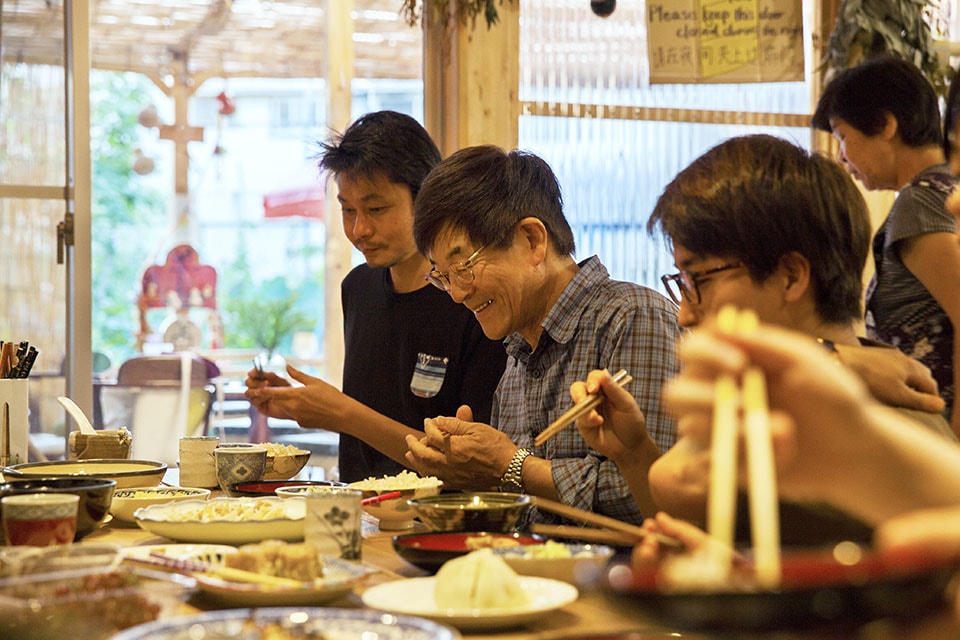 At the time, people working in Kamagasaki next to Shinsekai started visiting the café often and they taught me about the history, background and current situation of Kamagasaki. In those days, the area was a flophouse district (doya-gai) where many day laborers lived and there were also many homeless people with problems such as unemployment and ageing so the neighborhood was in a difficult situation. The generation which supported the base of high economic growth in Japan lost their jobs when the bubble burst, and were then pushed out onto the streets, becoming homeless. Despite being unfairly treated under the harsh labor environment, individual accountability was enforced. In fact, even though I met many homeless people a step away from the café, their existence was seldom mentioned in public. Like the nuclear plants in Fukushima and the US bases in Okinawa, many people don't like talking about them so we tend to keep silent about it. The issue of today's young people working as temporary workers is the same. As a poet, I wanted to hear the unheard voices of people in Kamagasaki. However, I questioned myself what I would do after hearing them, and my curiosity was stronger. While I was thinking about it, the Shinsekai arts park project collapsed, and the government support disappeared. So I took the plunge and moved the Cocoroom to a shopping street in Kamagasaki.
---
A lesson from an elderly man in Kamagasaki
Almost all the customers who visited us in the past came less often to the café in Kamagasaki and locals started coming. One of them was an elderly man who came several times a day every day since the café opened. He didn't even order a drink, but he pinched people or treated them like thieves, so he often got in trouble. Every time I went out of the shop and listened to what he had to say. In those days, as the café offered workshops that included haiku, calligraphy and sketching, I invited him to join many times, but he always refused. After this had gone on for about a year and a half, one day he said he would join our Letter Writing Workshop. As soon as he sat down and was about to write, his hand stopped. He asked me how to write. At that point, I realized that he didn't know how to write. He persistently rejected my offers before then because he didn't want other people to know about it. I think he had probably been testing us for a year and a half. Was this a place where people would not laugh at him or tease him if he revealed he couldn't write? Finally, he trusted the place.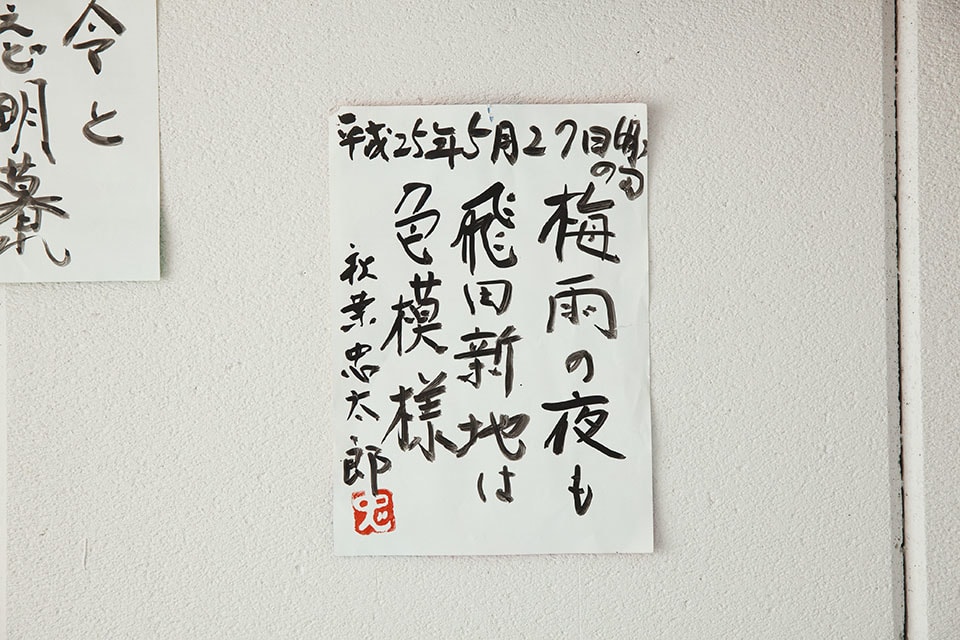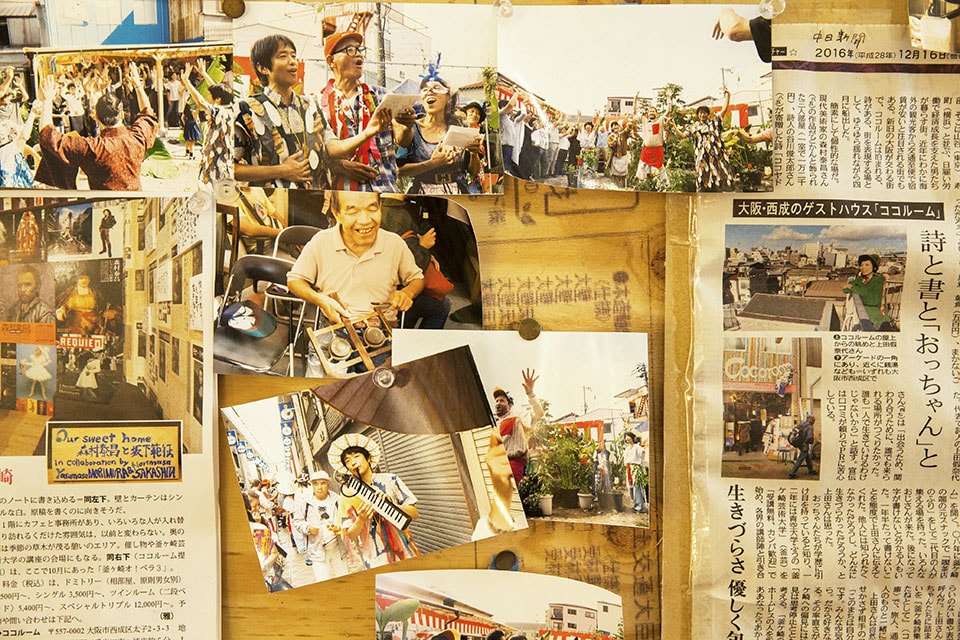 I also found out that the letter was addressed to the director of the children's home where he had grown up since infancy. After that, he began painting pictures like the floodgates had been opened. He started saying thank you and sorry which he was not able to say before. He also began paying properly. I sometimes have big fights with him still though (laugh). Before that, I used to say that "to express is to live." However, I believe the important thing I learned through my interaction with him is that "a place where one's own existence is recognized is needed to express oneself with ease."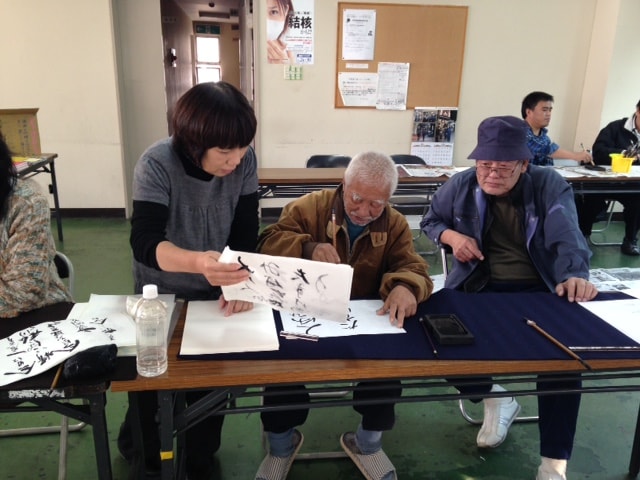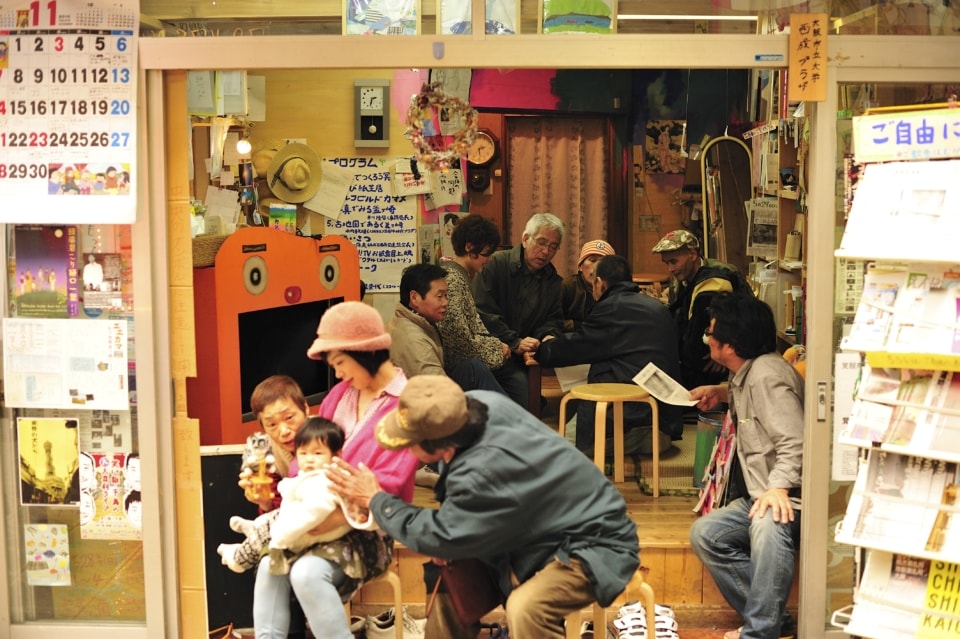 ---
Accepting that I cannot do everything
The idea for the KamagasakiUniversity of the Arts, a community-based seminar, where anyone can take part for free or a small contribution and learn from each other, came about when I was engaging various activities such as creating a media center to forge connections between Kamagasaki locals and outsiders and streaming our programs on YouTube. We invite people from various fields as lecturers and hold a wide range of sessions including philosophy, astronomy, arts and geography. In 2016, we moved nearby and started a guesthouse. As Kamagasaki has convenient transport, and the number of tourists has increased, I thought that there may be unexpected interactions between tourists and locals if there was some accommodation in the area that was a bit unique, and that it would be good if I could provide support in connecting these people. The rooms and corridors were decorated in a collaboration between the elderly men in Kamagasaki, volunteers and artists. On the ground floor, there are a café and a garden which serve as meeting places where everyone can sit around a table and eat meals together again. These days, there are also many overseas visitors. Just a few days ago, high school students from France joined our calligraphy class delivered by the Kamagasaki University of the Arts.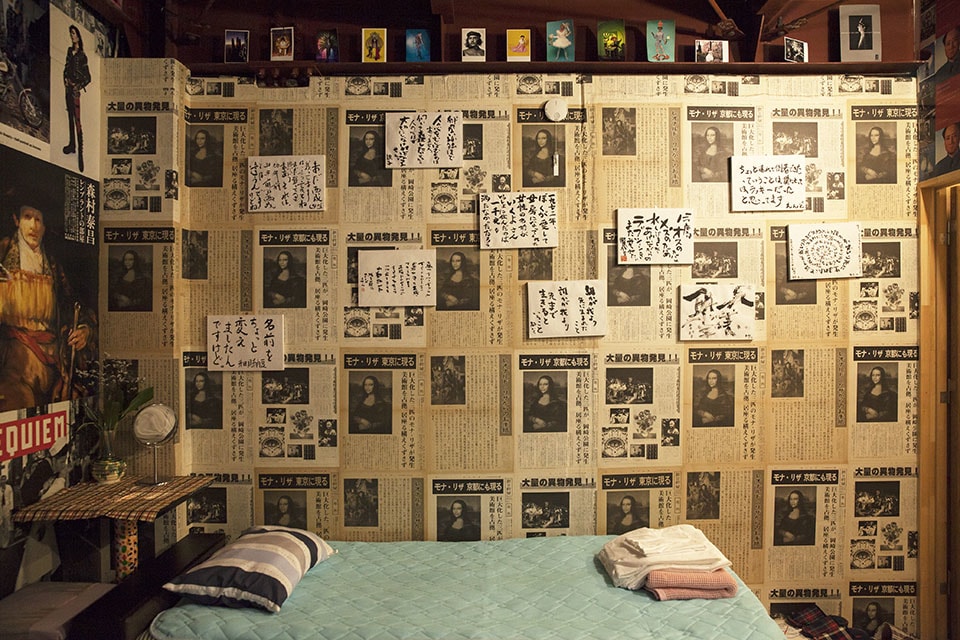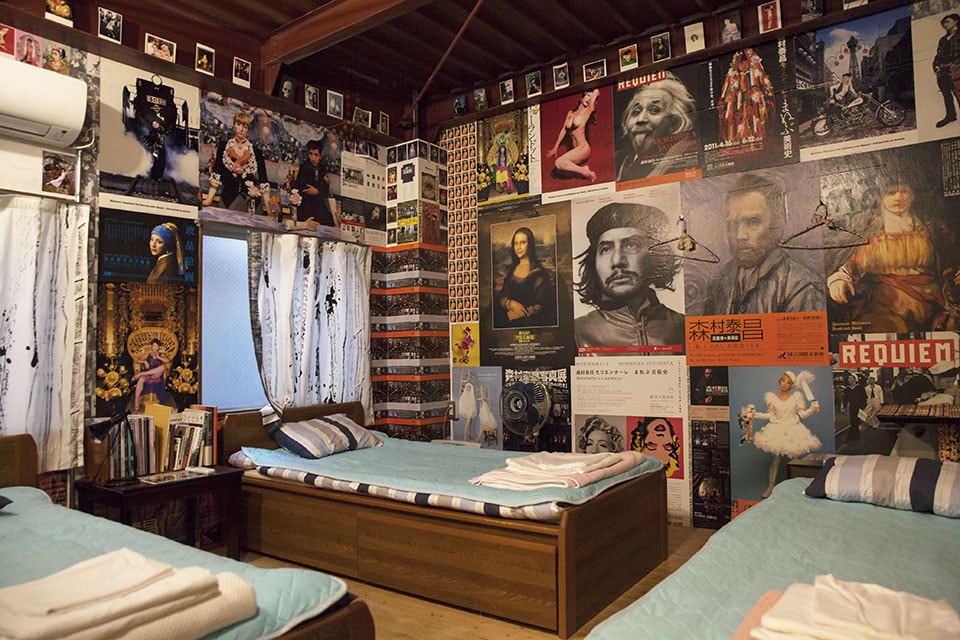 Of course, encounters between people with different backgrounds are not always comfortable. There may be trouble sometimes, but still something can come out of it if they are honest with each other. It would be good if a trusting relationship is built at the end of such encounters and people who have been isolated from expression can feel their inner hearts and express their feelings. Then things that are still invisible in the eyes of most people should emerge as awareness. Among the people who have drifted into Kamagasaki, there are many who are not officially recognized as having a disability, but still suffer from communication problems and find life difficult. They are not even protected by government systems. There should be as many places that such people can rely on as possible. All we can do is support each other little by little through many initiatives.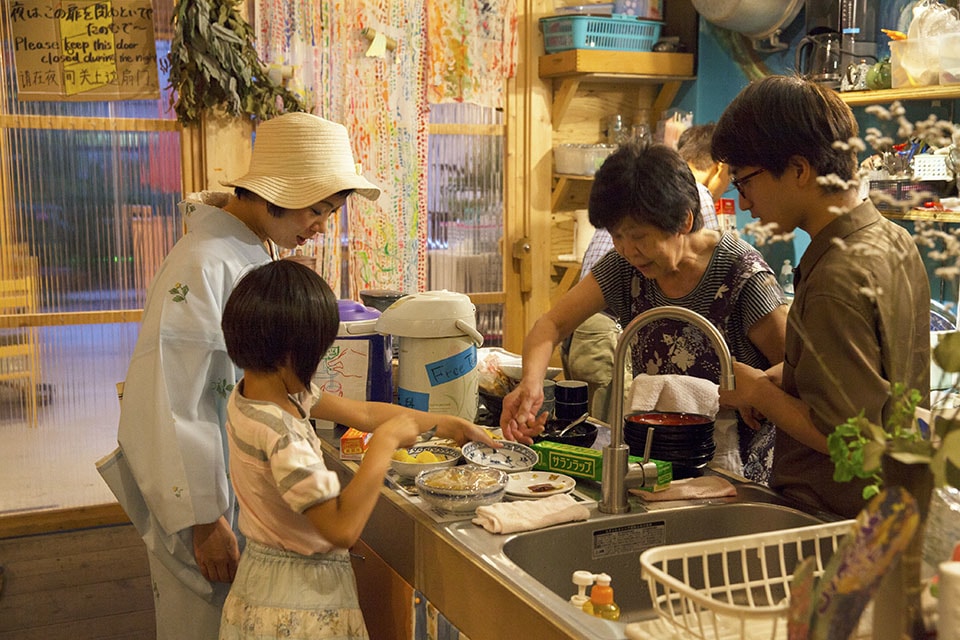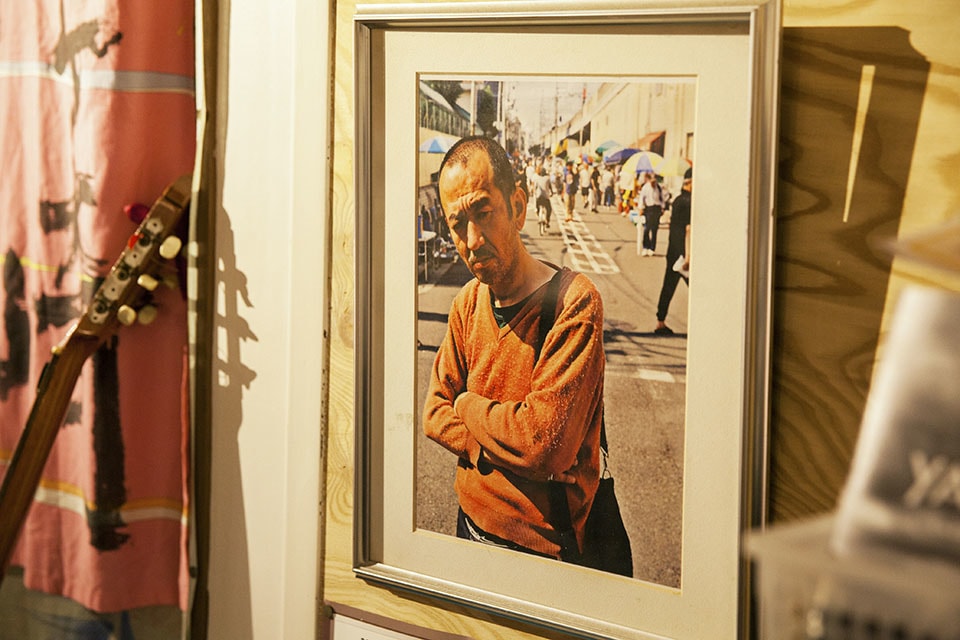 Despite our various activities, business is hard. For example, we are unable to pay high wages to the staff working here. However, if I seem tough in the eyes of others who see me continuing with these activities, I think it's because I accept that I cannot do everything. Because there is a place, and many people have participated, I have just about been able to continue for 15 years. Recently, the actual number of homeless people in Kamagasaki has declined due to ageing, and redevelopment of the area has progressed. In five years' time, this town will change dramatically. I hope that the voices from people living here are expressed and remain as seeds in the souls of people who encountered them in some way.
*Interviewed on July 2017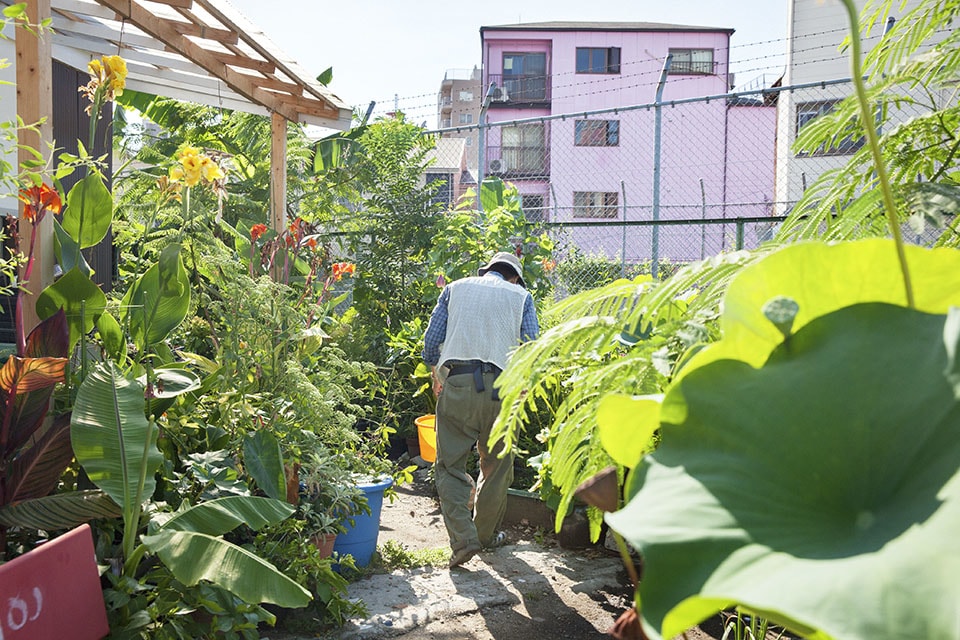 ---
○Information
The Cocoroom Guesthouse Café and Garden
Address: 2-3-3 Taishi Nishinari-ku, Osaka-shi, Osaka-fu 557-0002 Japan
http://cocoroom.org/cocoroom/jp/
info@cocoroom.org
Tel : 06-6636-1612
---