What if you tried drawing with something other than your hands?
MORI Haruka, an artist affiliated with 〈unico〉 in Fukushima Prefecture, sits in a wheelchair and paints with a brush clasped between her toes. As a child, she tells us, she used to paint by hand and didn't like it very much.
When she was in the third grade, a teacher at her school for special needs education suggested, "What if you tried drawing with something other than your hands?" This prompted her to start painting by holding a brush with her feet. The first character she painted was Doraemon. She was fond of cartoon characters at the time, and even painted Pikachu from the Pokémon series. "It didn't look anything like what I was trying to depict, but as I got the hang of it, I began to feel more comfortable painting the lines and colors I wanted with my feet than with my hands," says Mori.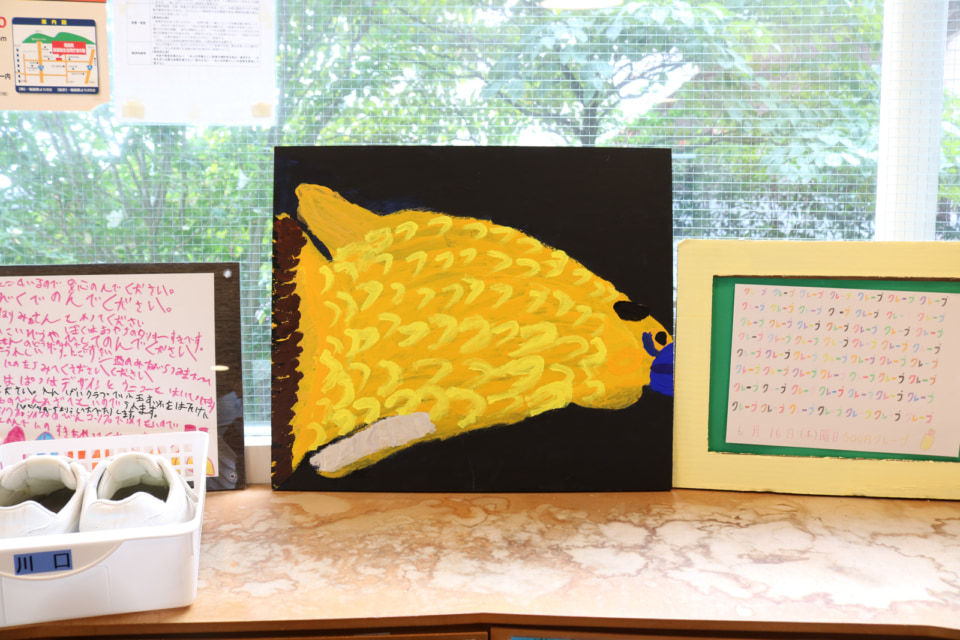 "This is the new piece that I just finished yesterday," she said, showing us a bright, adorable yellow creature stretching across the entire surface of the paper against a pitch-black background. Its blue mouth resembled a beak, so we asked, "Is it a bird?" She told us that it was a threespot angelfish, a tropical fish that lives in the deep sea.
"I like going to aquariums. I visit Aquamarine Fukushima and Sendai Umino-Mori Aquarium often, so I thought I'd try to paint tropical fish, which I had never painted before," she said, adding that it took her about a week to complete the painting. The initial color she used for the ocean was on the pale side, so she painted over it in a darker color to make it the color of the bottom of the ocean. As a result, it took a little longer than usual.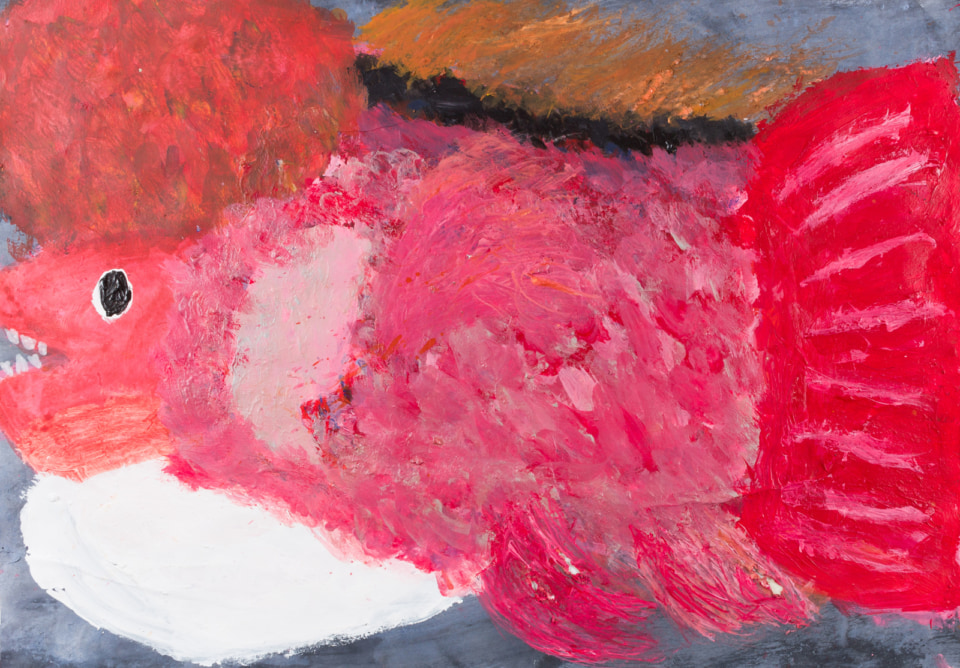 Sometimes Mori chooses to paint a fish because of its visual appeal, such as its patterns, colors, or shape, but she has other reasons, too. For example, she chose to paint an Asian sheepshead wrasse, a fish with the ability to switch gender, "because we are now in an era of gender equality and LGBTQ, in which minorities draw attention." She also chose a Spinosaurus motif "because it can live on land or in the ocean." She often draws animals, fish, and other living creatures. Since her mobility is limited to the range of her wheelchair, she is drawn to creatures that run freely in the grasslands or swim leisurely in the sea, perhaps expressing her feelings through them. That's why the creatures she paints have a certain vitality, seemingly leaping out from the paper. In fact, most of her paintings literally extend beyond the surface of the paper.
Mori's passion leaps from the paper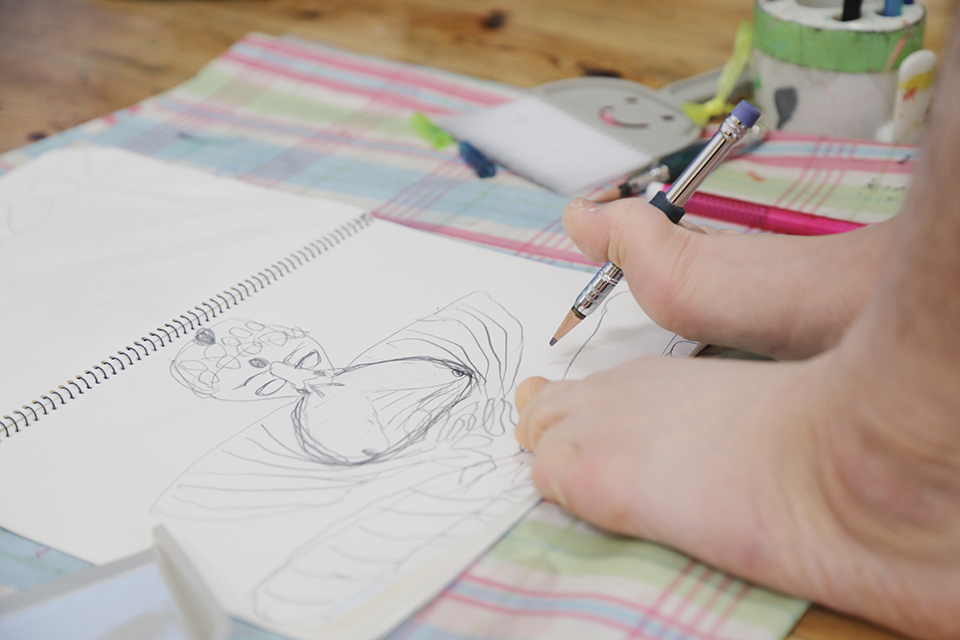 "Because I draw with my feet, it's hard to be precise. But it's my style to go off the paper. I think it's fine not to stay within the lines," says Mori. Her paintings feature dynamic compositions and colors, as well as an overwhelmingly strong touch, but these aspects of her work are actually meticulously calculated and composed by Mori herself. First, she draws a sketch in pencil, then paints over the outlines with paint and markers.
Although drawing paper is her main medium, she also paints on canvas or on poster paper, or uses her feet directly on Cray-Pas oil pastels to spread the colors instead of using a brush, or even applies paint to the soles of her feet to make footprints. Paintings do not need to be made by hand or with a brush. Mori teaches us that there are many ways to create.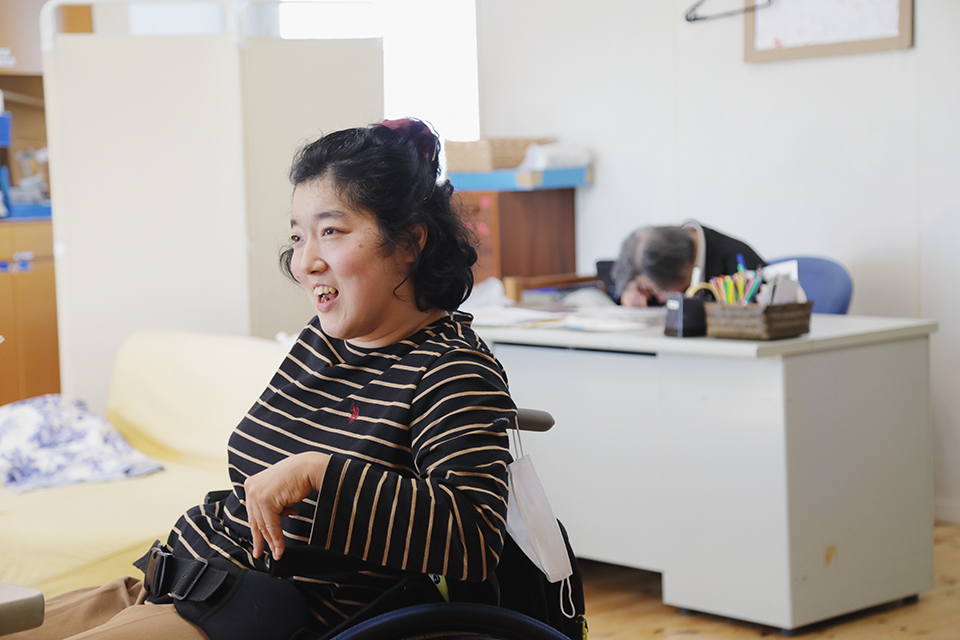 "The other day, I challenged myself to make wheelchair art by painting a picture on a sheet with the tires of my wheelchair," says Mori. Staff applied paint to the tires of her wheelchair with a paint brush, and Mori painted the picture by wheeling herself over the sheets. The randomness of the result makes it look like an abstract painting, but it depicts a flower.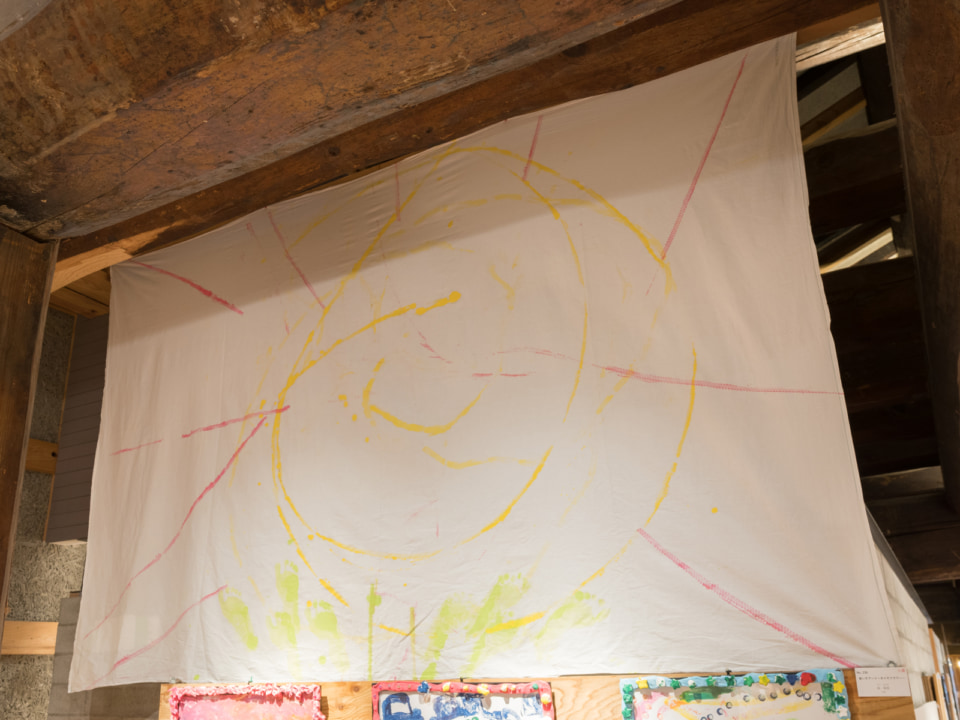 Mori explains, "This time, too, I drew a sketch in pencil and used it as a reference while working closely in tandem with the staff. I'm grateful that the staff enjoy working with me to create the projects that I have in mind." In response, staff member HOSHI Mikoto says, "Haruka is the type of person who can get along with anyone. She knows what to say to make others feel at ease, and the staff is easily won over by her flattery."
Despite the stern and serious expression on her face while she is holding a paintbrush, Mori is as bright and cheerful as the sun whenever she chats with the staff. Her warm personality shines through in her paintings.
---