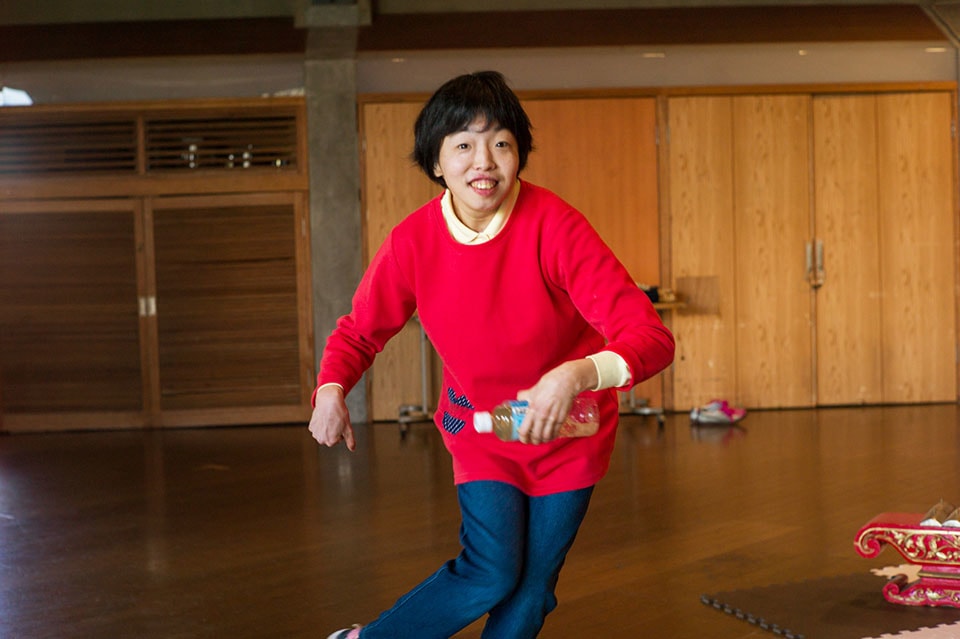 Dancing as if talking.
At 'Hiru no Dance (Dance during the day)' the distance that you want to keep to others and the resistance against their intrusion are broken down. By touching, moving, stopping, and searching, raw emotions immerge in the moment and new relationships are established with the self and the other.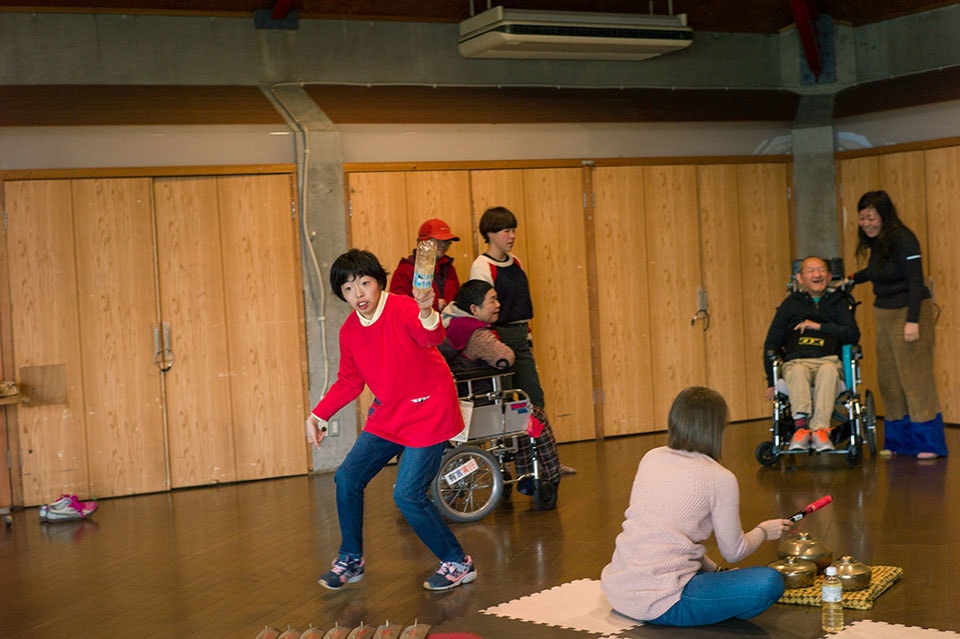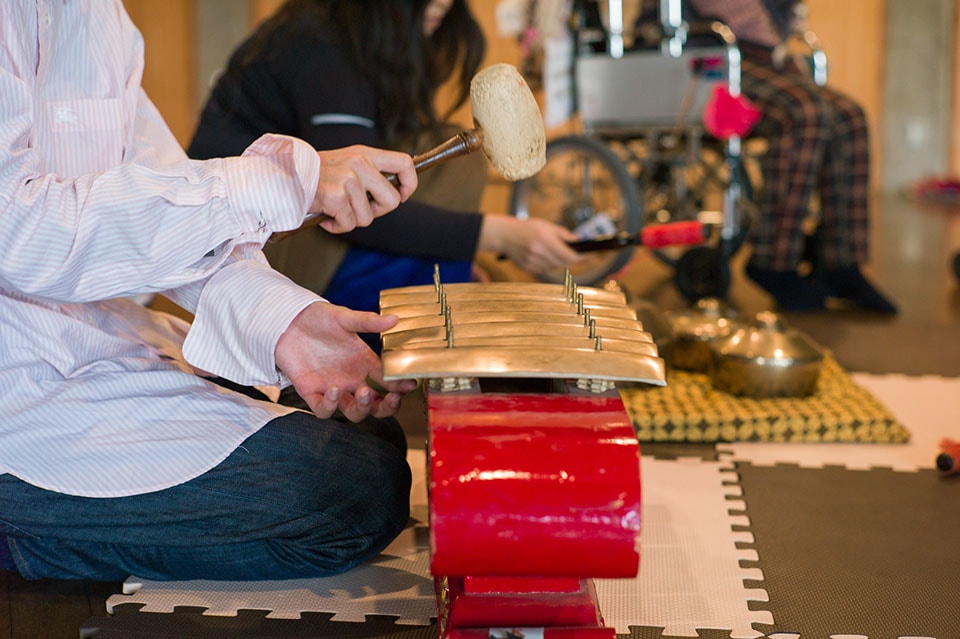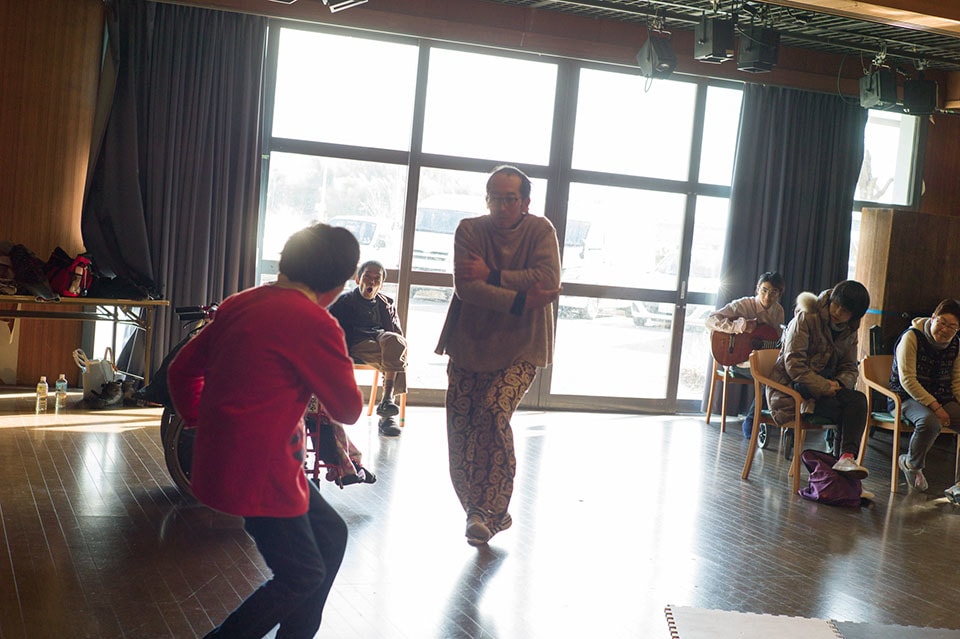 'Hiru no Dance' takes place twice a month as an activity for <Tanpopo-No-Ye> 01 at the <Tanpopo-No-Ye Art Center HANA> in Rokujo Nara led by dancer Mr. Shin SAKUMA. The theme of 'Hiru no Dance' is to explore the possibilities in dance. Aiko ITO, who has mental disability, was among everyone moving their body freely in the space.
Out of the 15 members dancing, Ito's dance was especially sharp and powerful. She would freely trot across the space and occasionally engage in an intimate duet with Sakuma.
The two first met in 2004. Soon after, they performed together in a theater piece with Indonesian Gamelan and actors with disabilities in the Osaka showing for 'Hey, Thomas' (2005). Since then they have made many works together. Sakuma remembers those days.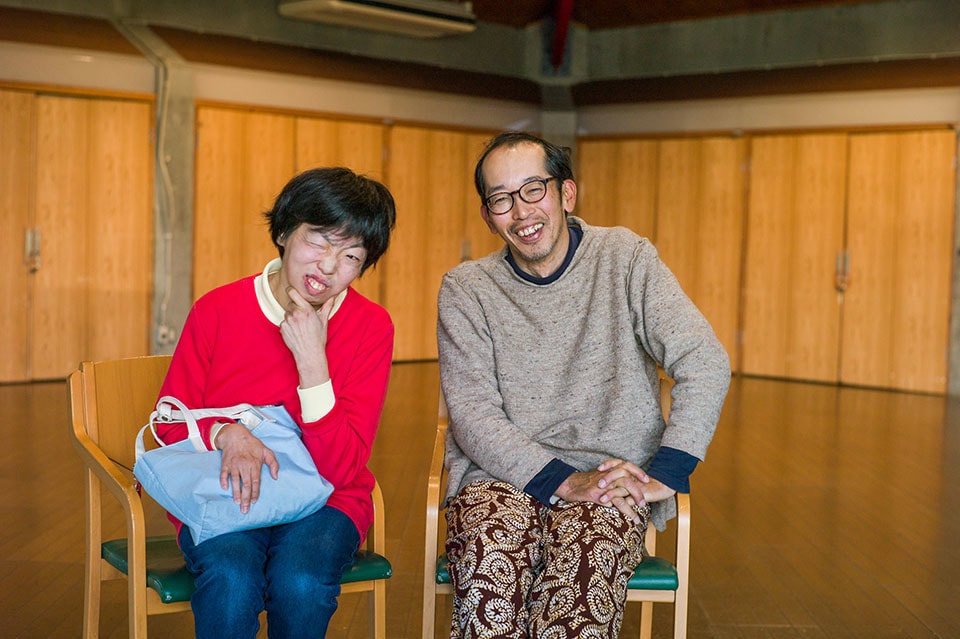 "<Tanpopo-No-Ye> and a gamelan group that I was part of at the time called <Maruga Sari> collaborated on 'Hey, Thomas' and we were performing with people with disabilities who applied to an open call and around 10 members of <Tanpopo-No-Ye>, which Ai-chan was one of. That's when I first danced with Ai-chan, and we matched perfectly. We said to each other: 'let's do something together again.' Ai-chan dances as though she is talking. So I can understand when she wants to do something, or if I respond with movement, she will answer accordingly. To be honest, until then I was not used improvising. But when I met Ai-chan, she gave me so much inspiration, and I started to think that I wanted to be like her myself."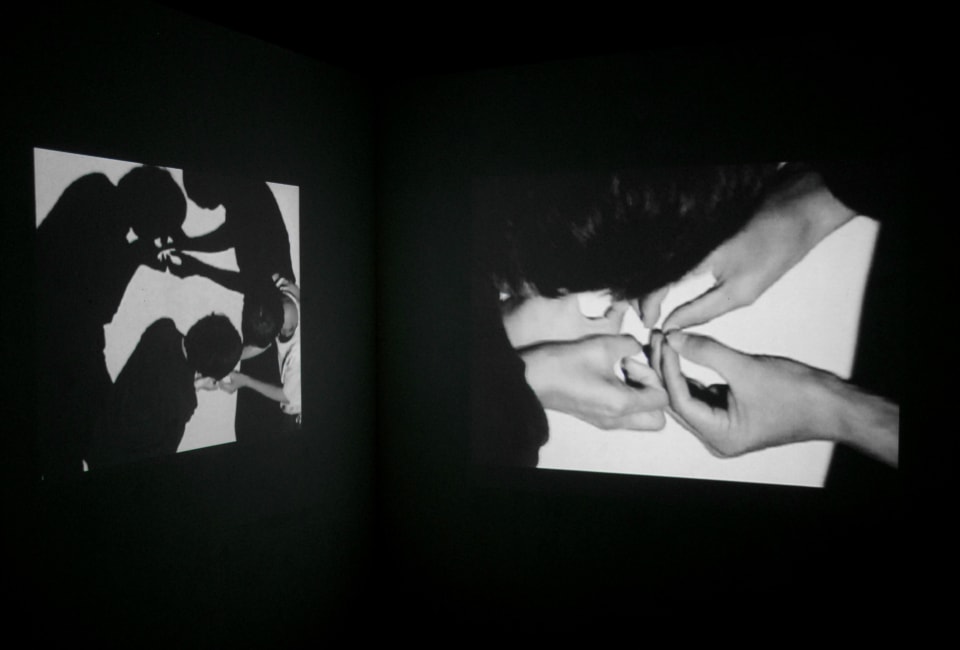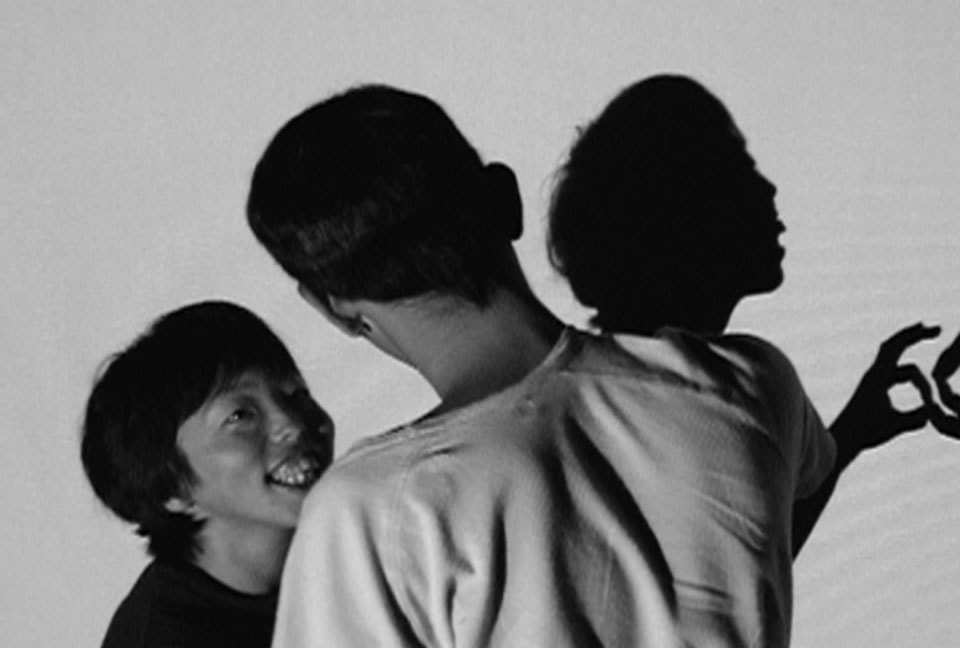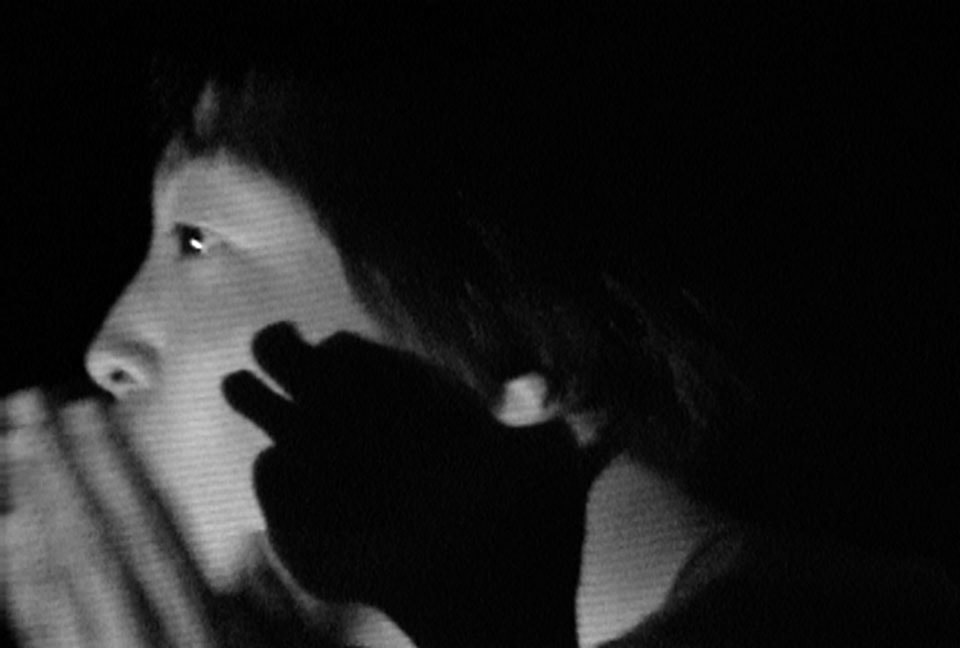 'Hey, Thomas' toured around Japan. The following year, together with the staff members of <Tanpopo-No-Ye>, Ito and Sakuma headed to Shanghai, China. The two were invited to teach an improvisation dance workshop at the local elementary technical and vocational school for people with disabilities. While spending a fruitful time, an unexpected accident happened to Ito.
"I didn't feel well so I went to the local Hosupitaru (hospital). When they checked, they told me that I had a dark shadow on my back, and everyone got very worried. It turns out that my Mazah (mother), had put on my back a Biggu (big) pink heat patch" [Laugh].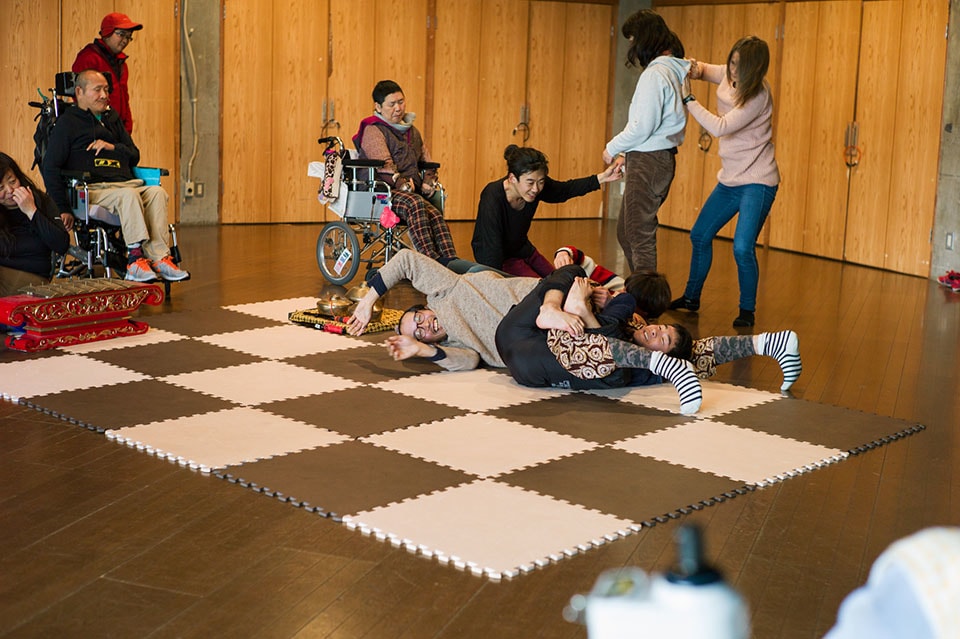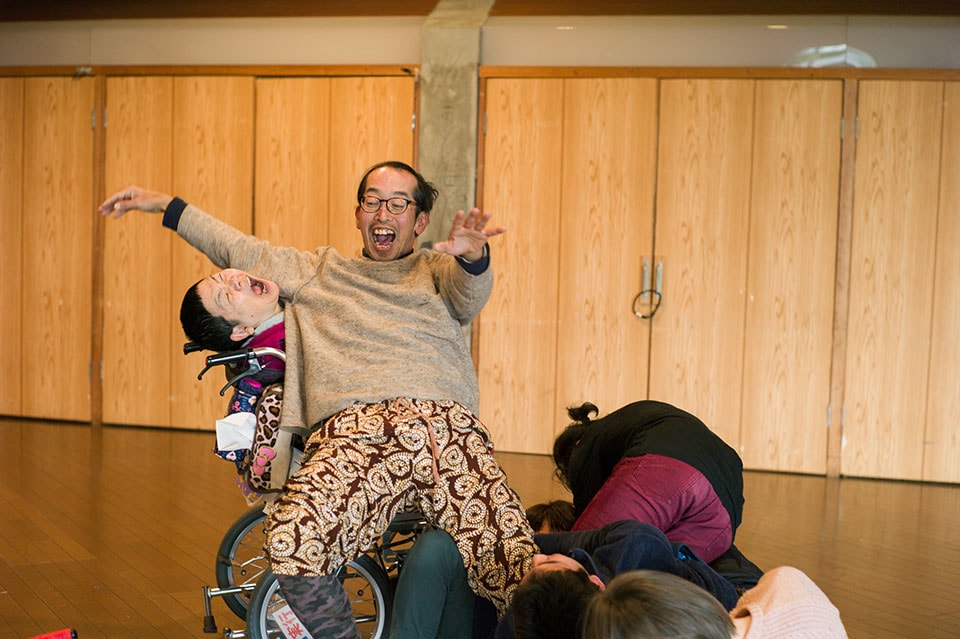 Ito explained to us this accident while laughing. She had taken the X-ray without removing a heat patch, and the doctors mistook it for some kind of malignant disease. They later found out that real reason of her illness was from over eating, and she was able to return to Japan with together with everyone else.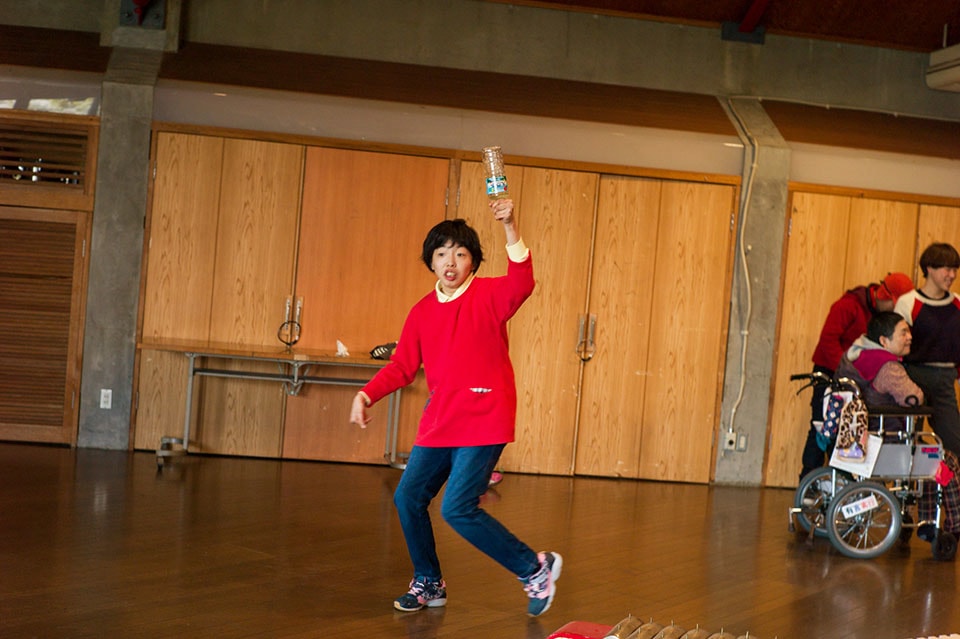 "'Hosupitaru (hospital)', 'Mazah (mother)', 'Biggu (big)' [Laughs]. Its so nice how Ai-chan mixes English words to tell this story because it happened abroad. When we did a workshop together in Osaka, Ai-chan started to say hello in English because there were some people from abroad. It's not that she is very good with English, but she observes her surroundings, and tries to communicate in the best way in that situation. This motivation is reflected in her dance, and what makes her wonderful."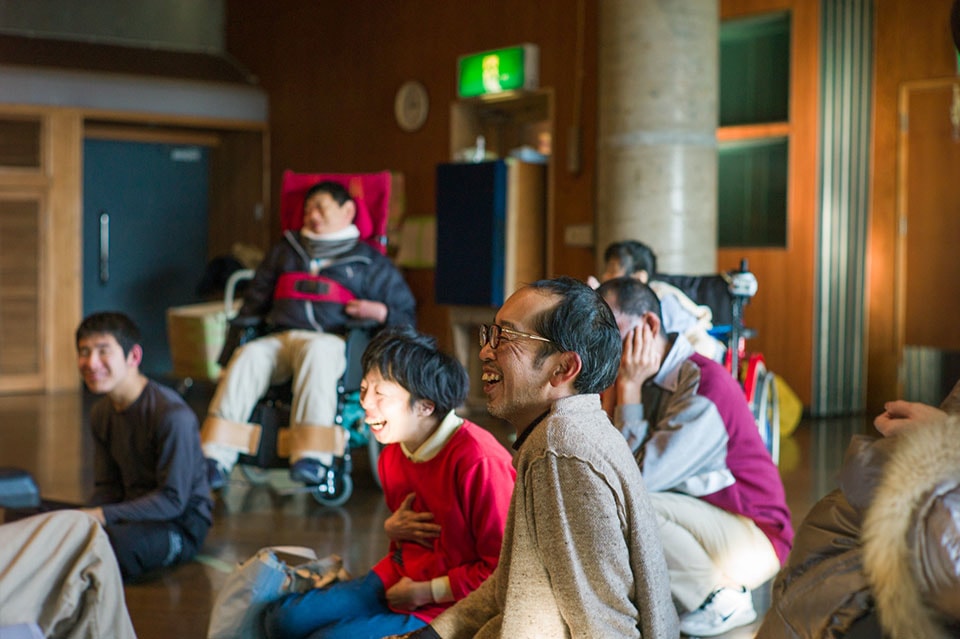 The always charming and humorous Ito's talent as a performer steadily started to blossom. In parallel to her performances, she had started to become active as a professional voice actor for <Tanpopo-No-Ye>'s long-term involvement 'Wataboshi Kataribe' which is theater made from folk stories, creative fairy tails, a self-told personal histories, as well as becoming a narrator for NHK E-Tele TV programs. "There are so many things that I have to do when narrating, and recently it's becoming too much. This is when I need dance" says Ito with blushing smile.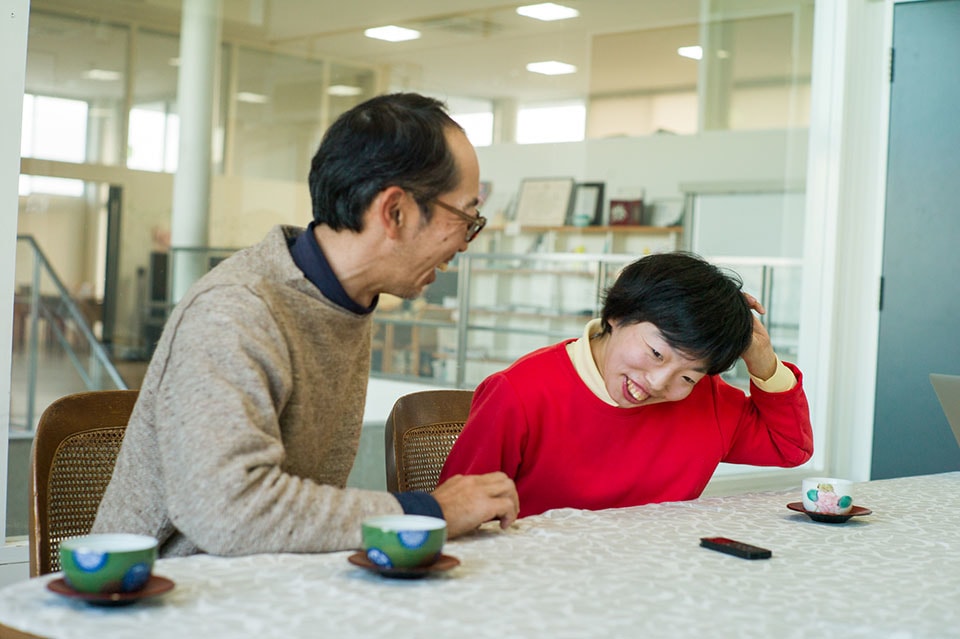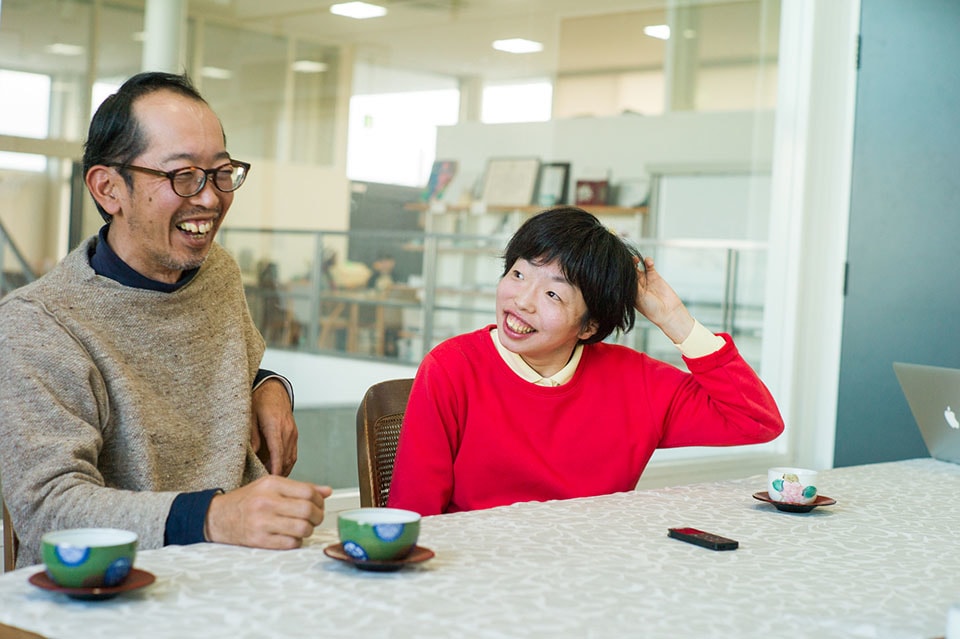 Sakuma says "I used to see Ai-chan every time I visited <Tanpopo-No-Ye>, but recently she has been busy with her narrations, so we hadn't intensely danced together like today for a while. But it was spot on. We probably have both grown up a little bit, so it would be great to perform in front of an audience again."
Ito responded to Sakuma's comment on today's 'Hiru no Dance' and told him how she felt: "I would also like to dance in another place again. It was good for me today that I could dance with Mr. Sakuma face-to-face and that I tried out a Kung Fu dance. Mr. Sakuma was very cool today." She then intuited that our interview was coming to an end and said: "Today was really fun. Thank you very much!" and left the interview room delightfully. As Sakuma said Ito really knows how to sense the atmosphere.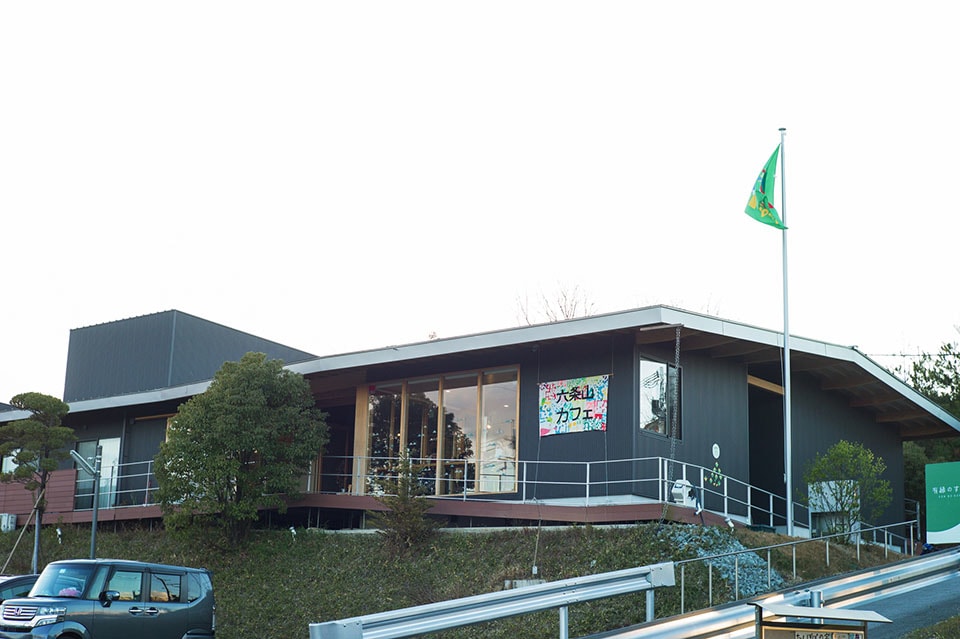 Ito lives at the welfare home <Tanpopo-No-Ye / Uen no Sumika>, which is about a 2-3 minute walk away from HANA. Recently opening in 2016, the idea of <Uen no Sumika> was initiated by parents including Ito's mother, who independently started the "Support Group for the Autonomy of People with Disabilities." Board member of <Tanpopo-No-Ye> Taro OKABE says.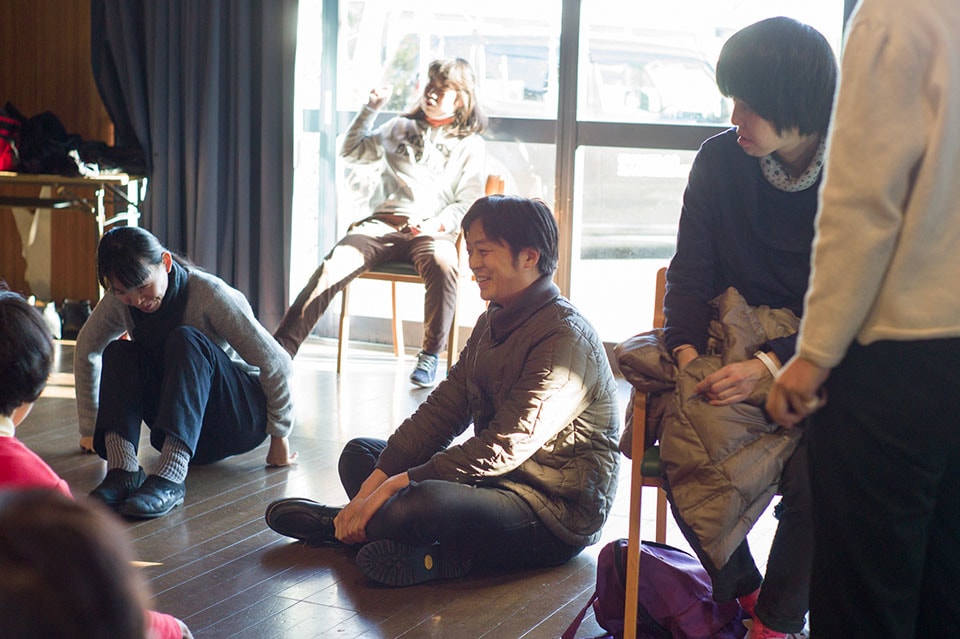 "The parents of the members of <Tanpopo-No-Ye>, including Ai-chan's mother, have very high aspirations and many actively bring their children out into the world. They care with love but also with strictness in hopes that their children will thrive in society even after they are gone one day. We at <Tanpopo-No-Ye> learn a lot from these parents."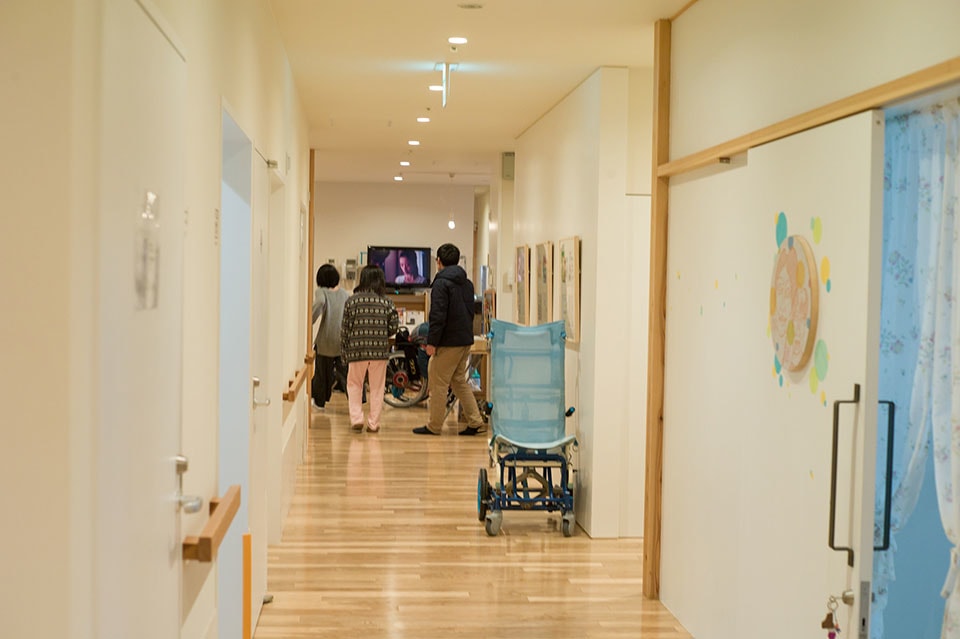 Ito had returned to <Uen no Sumika> after her interview. We wanted to see her again before leaving, and when we stopped by she invited us in to her room. A drawing of her favorite character from the 2017 historical drama series Ii Naotora hangs on the door functioning as a name sign.
She explained to us her daily life there. "We can't mix the men and women's laundry, so we divide it by washing them in these nets." While she talked she also posed for us for every picture we took. Till the end Ito knew what we wanted – truly impressive!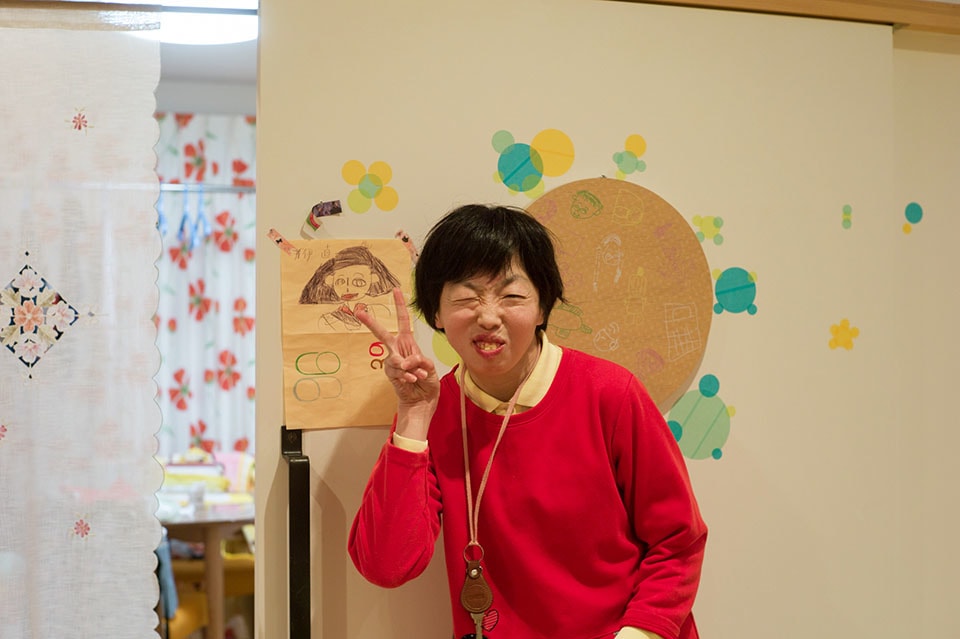 ---