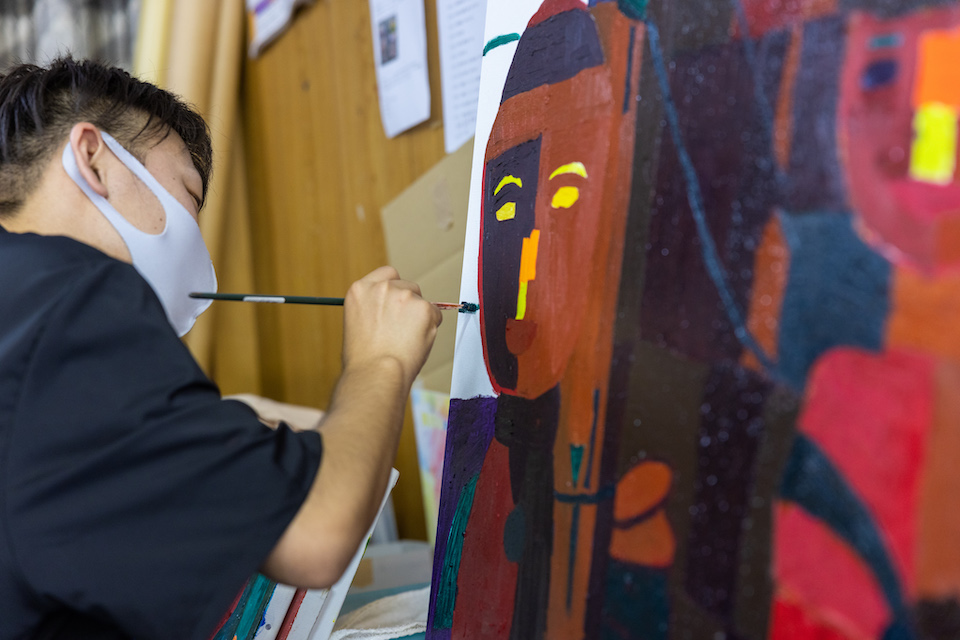 Following in the footsteps of a deeply admired Garden veteran
《President Putin Plays with a Red Panda》,《Health, Labour, and Welfare Minister Tamura Getting a Coronavirus Vaccine from a Chansonnier》,《YAMAMOTO Taro Plays Guitar》,《A Saxophonist and a Dancer Partying to Celebrate the End of the Coronavirus Pandemic》.
Each of these phrases titles a painting by Maeno, who creates his works at 〈The Garden of Hope〉 in Mie Prefecture. His passion for jazz and animals finds its way into the world of current events picked up on TV. The friction between these different worlds gives rise to the dizzying surreality and dreaminess of his works.
Maeno is only 19 years old. Since the age of 13, he has been attending and creating artworks at 〈HUMAN ELEMENTS〉, an atelier run on Saturdays and Sundays by 〈The Garden of Hope〉 Director MURABAYASHI Shinya.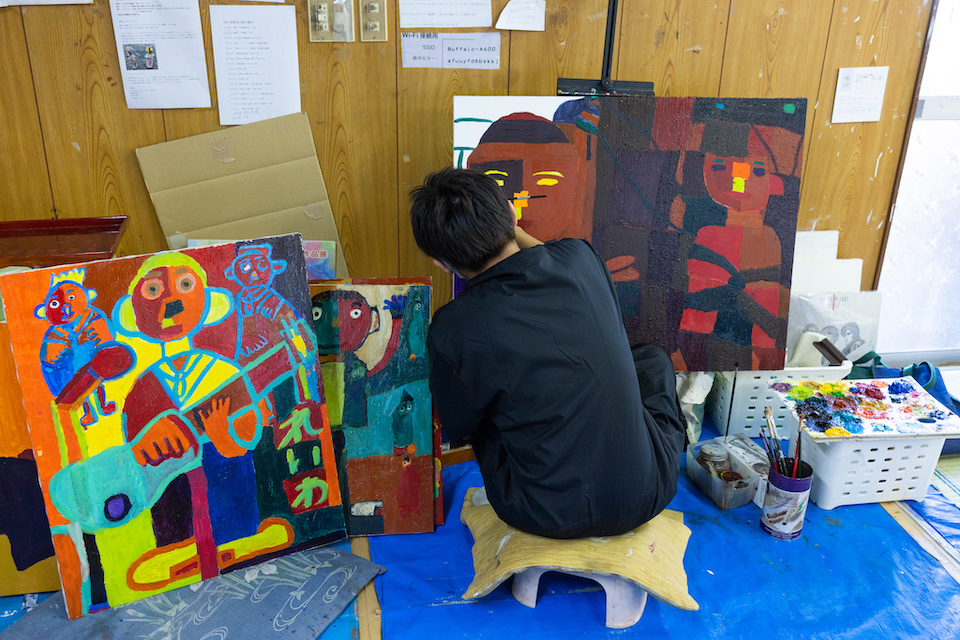 Maeno started out drawing with permanent markers on drawing paper, but before long KAWAKAMI Kenji, known in 〈The Garden of Hope〉 as "the Master Painter," had become his idol. Having painted in oils for the first time in the Garden, today Kawakami's works are exhibited both in Japan and internationally and he is the recipient of numerous awards. Always laughing as he paints with evident enjoyment, Kawakami is a much respected old-hand in the Garden.
"I want to do oil painting on big canvases like Kawakami-san," Maeno told the Garden's staff members and his family.
They agreed, but decided that he should wait until he was a little older before starting.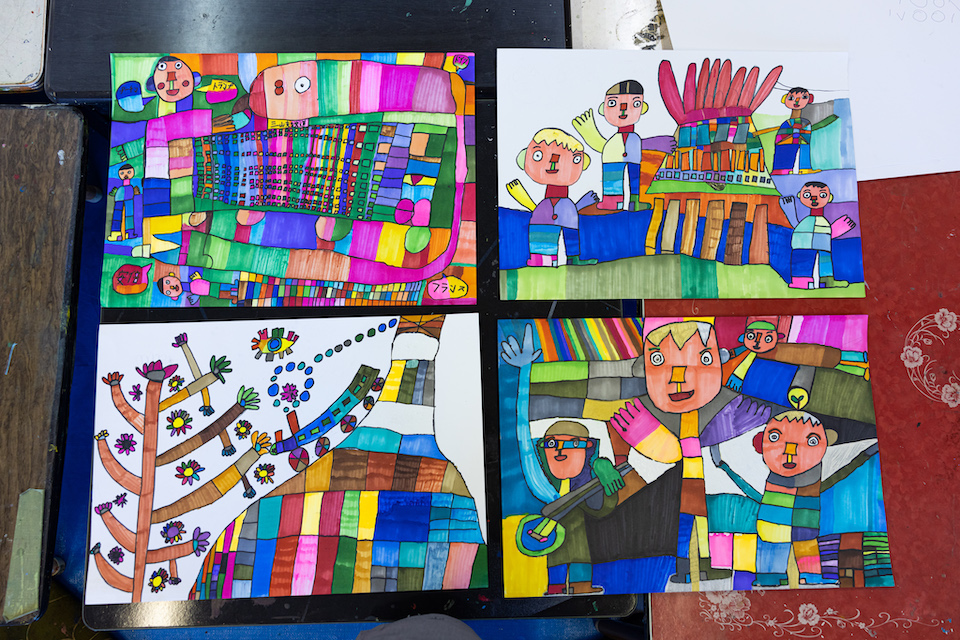 In 2019, Maeno at long last made his oil painting debut, following in Kawakami's footsteps.
The motifs of his first work were inspired by the John Lurie exhibition that he had seen at WATARI-UM, the Watari Museum of Contemporary Art. Maeno wanted to buy a postcard of his favorite piece from the exhibition in the museum store, only to discover there was no merchandise featuring this work.
Deciding that, in that case, he would paint his own, he created his first oil painting, 《Picture of a Monkey and Me》. Since then, he has continued to unveil works at a rate of one painting every two to three months.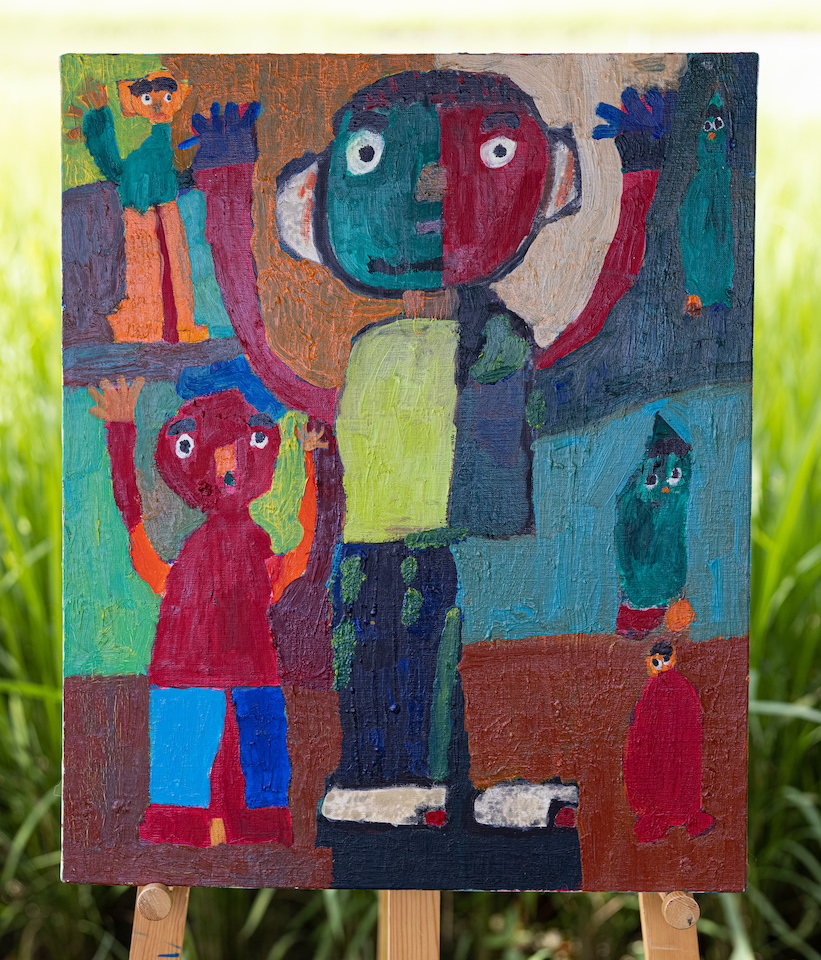 When painting, Maeno establishes the contours of his motifs, then slides his brush over the canvas within these outlines, top to bottom, bottom to top. Placed among restrained, subdued tones, splashes of pop-art color shine startlingly bright. The faces of his human figures are divided into at least two sections of differing colors—top and bottom, right and left—simultaneously relaying different impressions.
With the exhibition of his paintings in various galleries, including in Tokyo, his works are enjoying a popularity that sees them selling in a flash.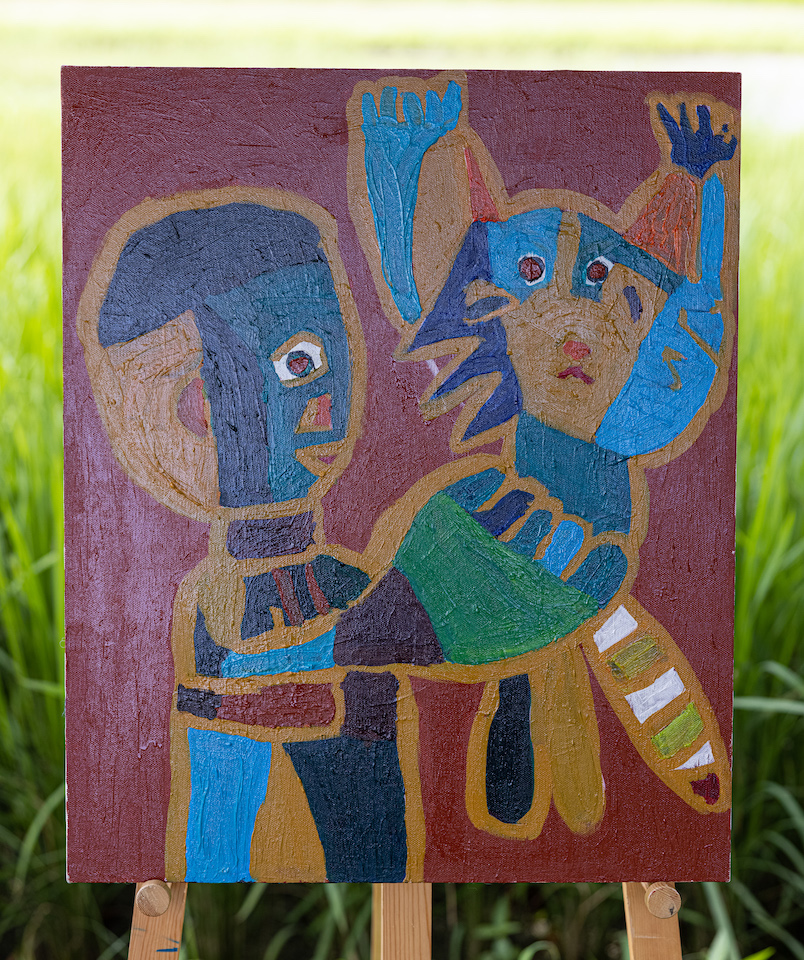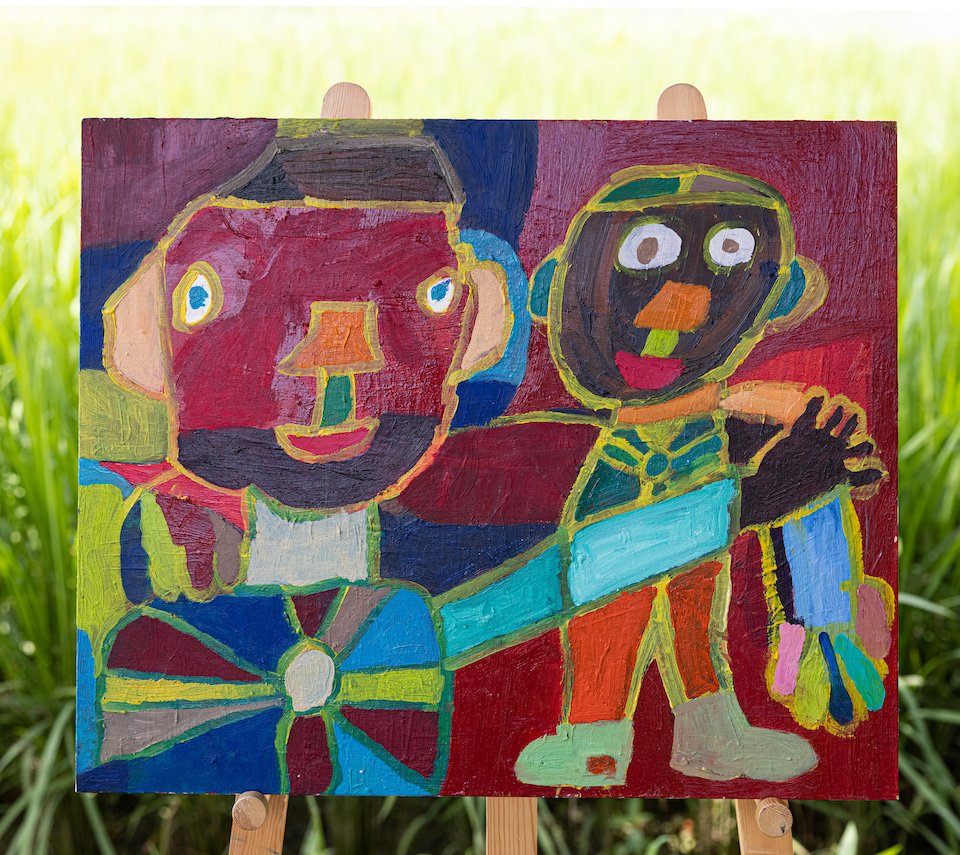 Play it loud: Maeno's limitless love for records powers his creation
Maeno is also a core member of 〈The Garden of Hope〉's Record Club, a group for the Garden's music fans to get together. The Club has eight members, including the facility's Director Murabayashi and NODA Kozo, landlord of the building that the facility uses and part-time staff member. The group occasionally makes the one-hour car trip together to the city of Yokkaichi to buy records.
There is a record player in the studio and Noda keeps everyone's favorite discs playing in turn. Maeno and the other members of the Club are sometimes given work cleaning records at a local store dealing in secondhand vinyl, another manifestation of their deep love of records.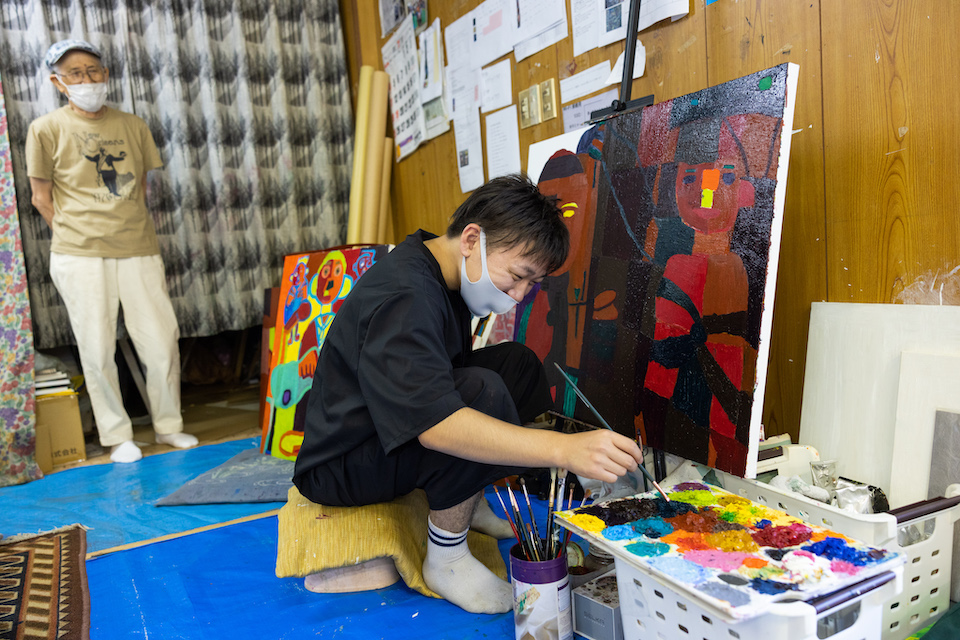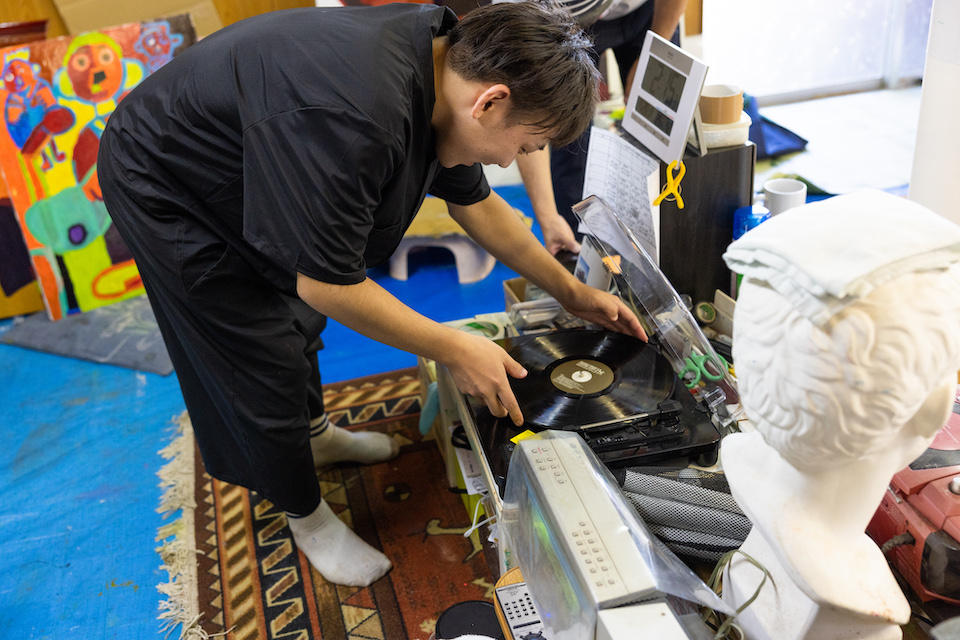 Maeno's vinyl collection is jazz-centric. He tells me that his favorite record is a West German jazz compilation from the sixties. He promises that if we have a session tomorrow, he'll bring records from home and play them for me, and the next day he arrives with seven carefully selected discs.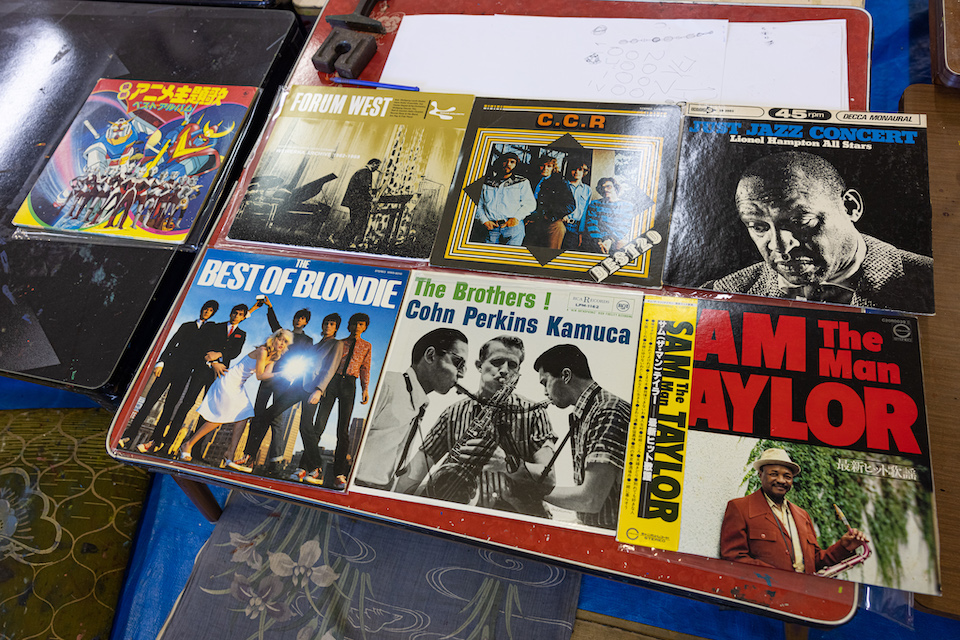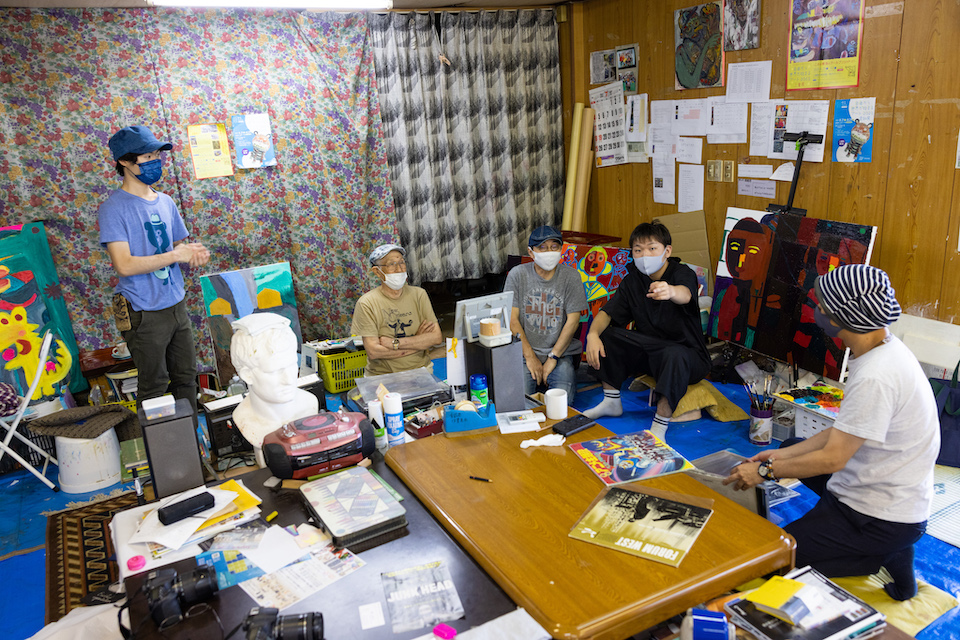 In the studio, Maeno smoothly moves his paintbrush over his canvas, occasionally dancing along to the music playing from the records. He declares:
"Loud music is the only kind worth having"
"Music is what lets me paint this"
"If I have music, I don't need anything else"
His works, his life, and the music that he loves are inextricably intertwined.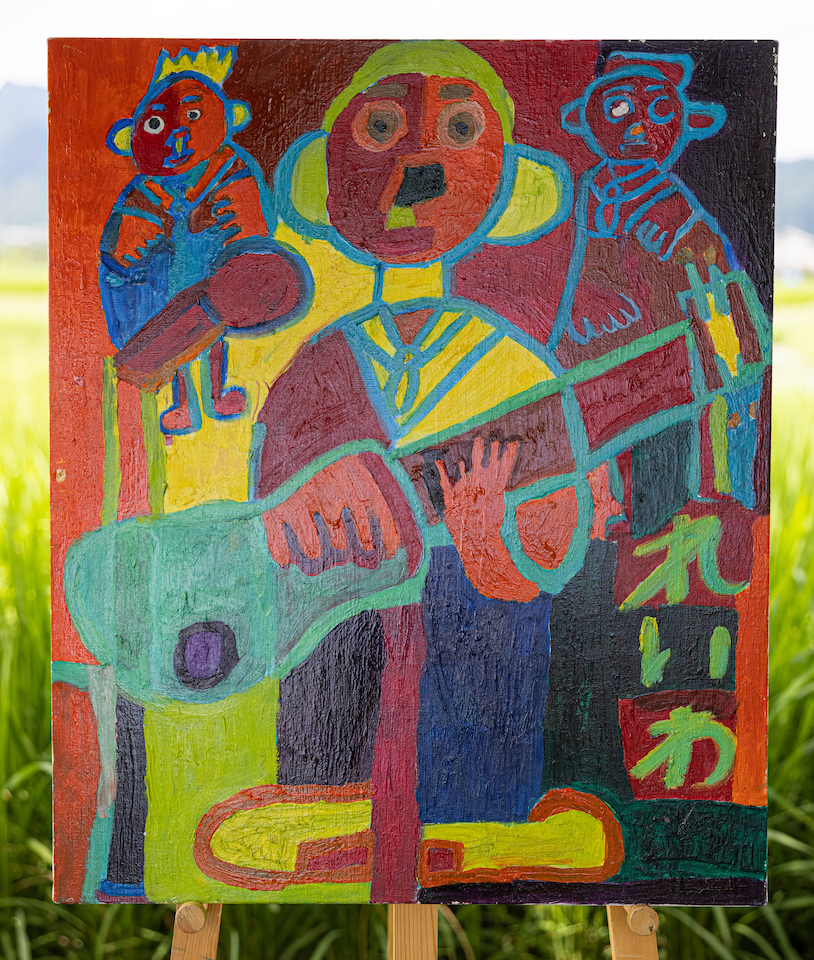 If people strike up a chat in the studio, Maeno slides into their circle. When our reporting team is taking photos, he volunteers his help. I have the feeling that Maeno likes people. He paints, talks, laughs, listens, dances, then goes back to painting. The fruits of this easygoing yet bountiful cycle are borne out in his works.
When I ask Maeno about his dreams for the future, he replies, "Holding an exhibition in Germany." If and when his wish comes true, I'm sure that he will yet again capture the world from his unique perspective and translate this into his works to share with us.
In some parallel world, presidents and jazz musicians and red pandas are dancing along to a record with Maeno, celebrating the end of the Coronavirus pandemic.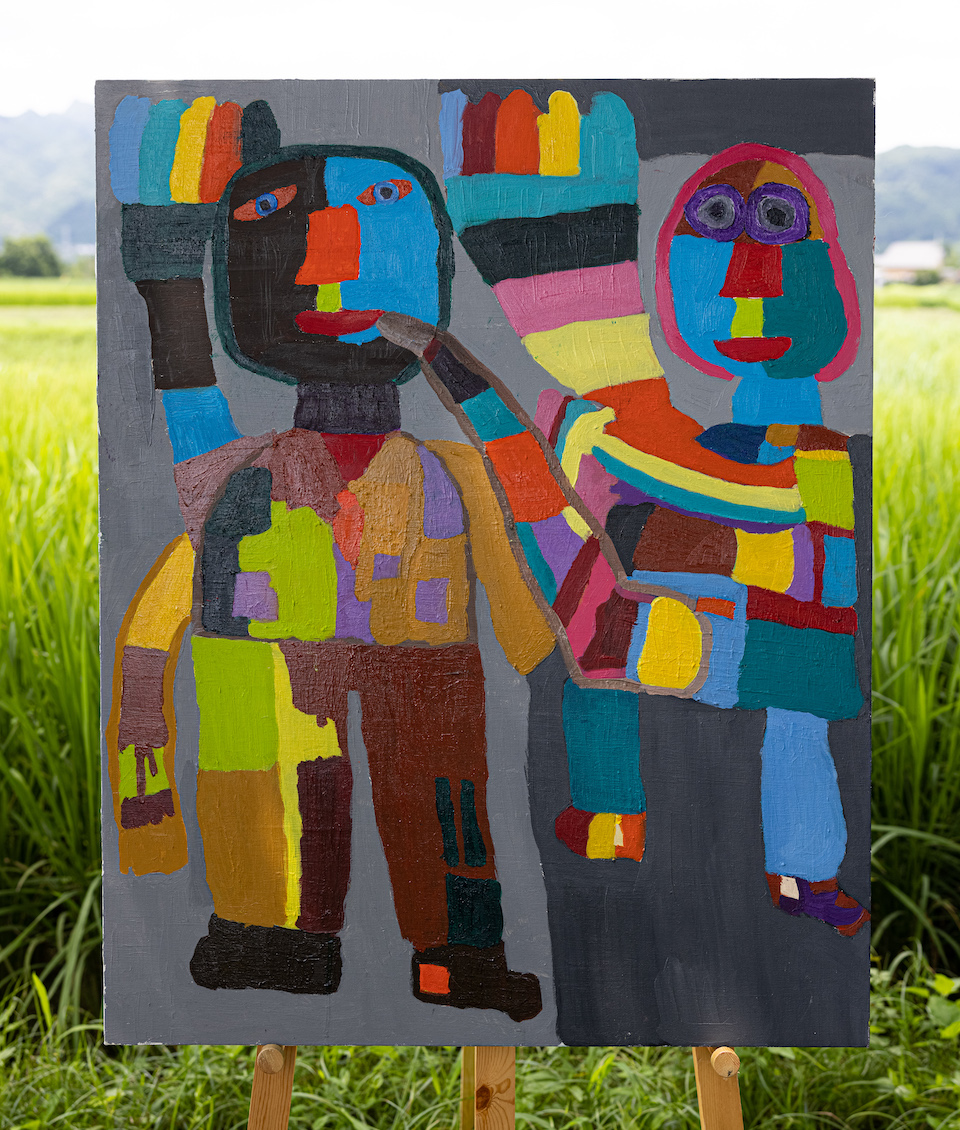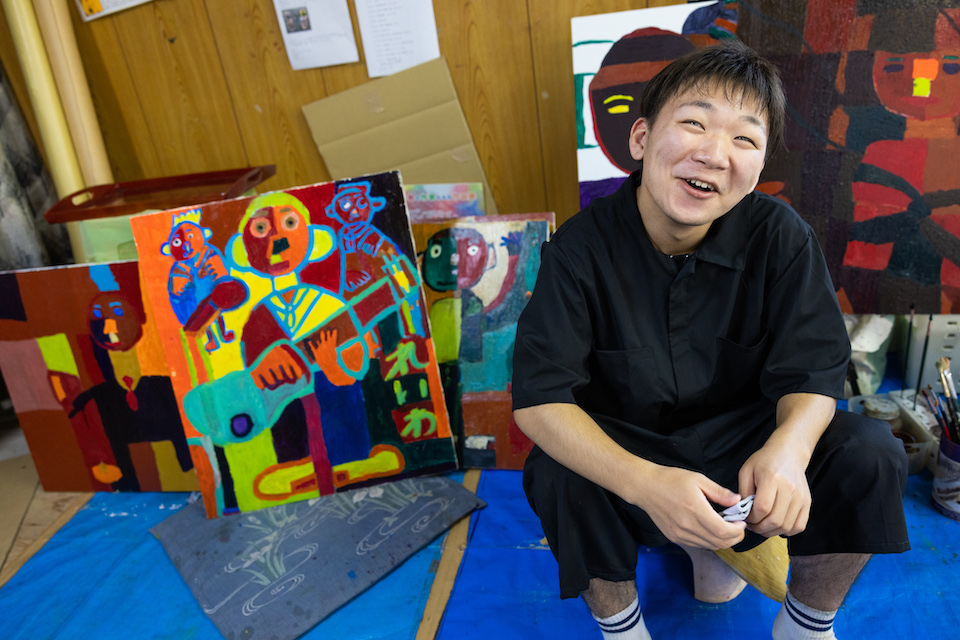 ---